The race is on to build the next generation of autonomous vehicles, and most large companies have already decided on the cutting-edge technology that is going to guide the cars.
Companies such as Volkswagen, Waymo and General Motors are all using so-called Lidar (light detection and ranging) cameras to allow cars to "see" roads and obstacles (by emitting laser beams that are then reflected back at them).
But one small Hungarian startup is pioneering a different approach: using off-the-shelf cameras that cost a few euros mixed with artificial intelligence.
"We [have] kept focusing mostly on cameras," László Kishonti, AImotive's 45-year-old chief executive, tells Sifted. "A good Lidar still costs €10,000, compared to a €15 camera. That's a huge difference."
This has won the company at least one big automaker client and many supporters, taking in over $47m in funding to date from investors including Robert Bosch Venture Capital, Cisco Investments and Samsung Catalyst Fund. This includes $38m in a Series C round in January 2018. The company also has a loan from the European Investment Bank.
But the company needs an edge if it is to compete with better-funded rivals such as Aurora Innovation, Aptiv, Cruise and Argo for a foothold in the lucrative driverless car market, which is expected to be worth over $500bn by 2026.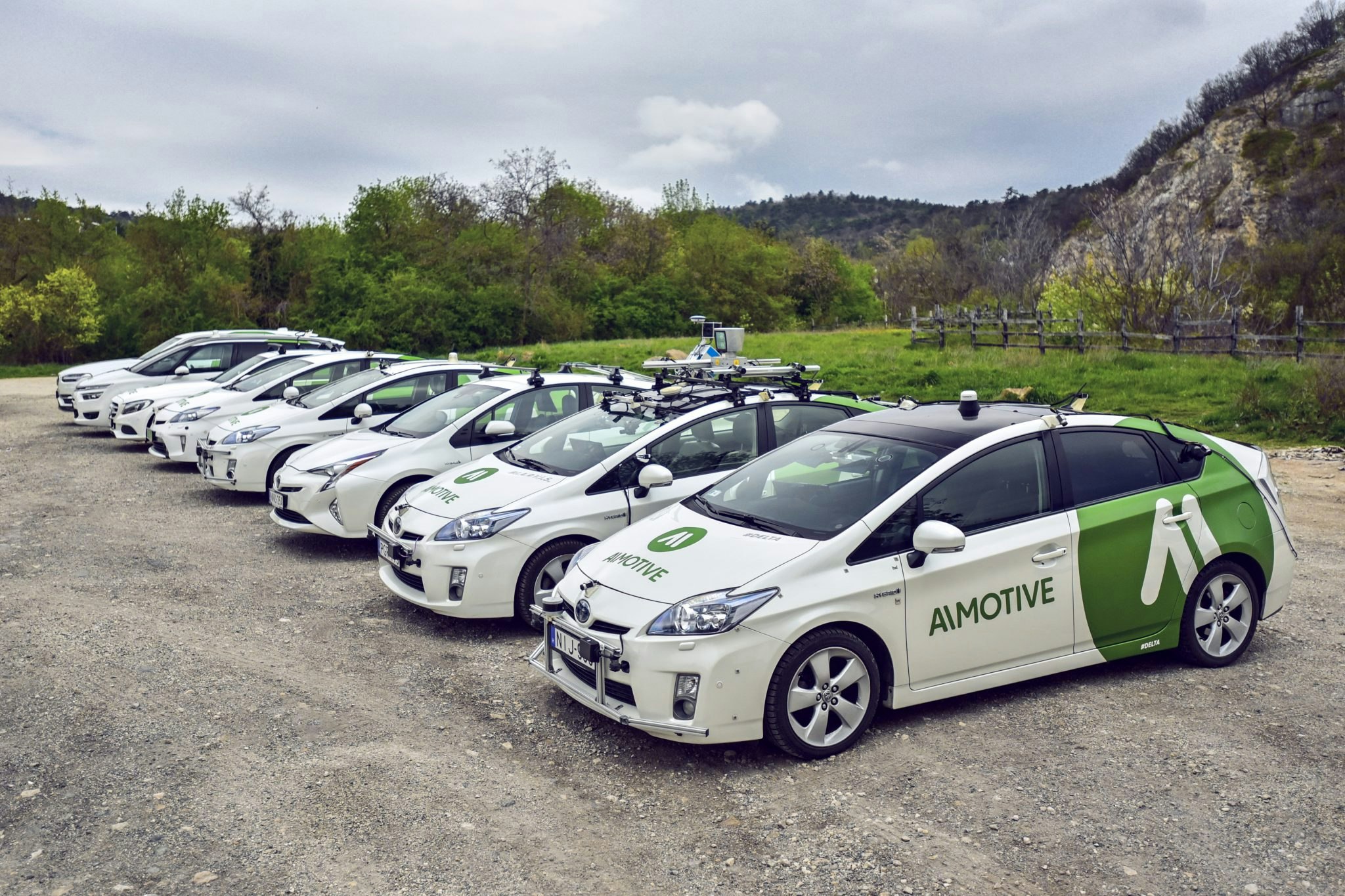 Software is king
The approach of using cameras was born, in large part, out of necessity. AImotive knows that it cannot compete with bigger rivals when it comes to expensive hardware such as Lidar, so it's focusing on what it does best, software, and also finding solutions that it can sell to other companies as they go about developing their own autonomous driving technologies. 
The company has developed tools including aiDrive, aiSim and aiWare, each part of the systems needed to ultimately create self-driving vehicles.
"AiDrive is more popular with the less sophisticated, smaller OEMs [original equipment manufacturers] because we supply them with automated driver technologies," says Kishonti. "For the more sophisticated OEMs, it's more about the development toolchain and the simulation pipeline."
AImotive's simulation technology, aiSim, was originally an internal development tool but is increasingly popular, according to Kishonti — especially now that the global economy is weakening and car sales in countries like China are falling.
"I think simulation, where the cost per mile is less than 100th of the real fleet miles, is a good way to save money. Simulation is not a new thing, we just use it in a new market," says Kishonti (AImotive began testing its own self-drive technology in real life conditions on the roads of Hungary, France and California in 2017).
"We help other companies with tools and algorithms in all levels of automated driving," he adds. "We don't care if the customer builds Level 4, Level 5 fully automated robotic systems, or only Level 1, we provide them tools and the pipeline to accelerate their work."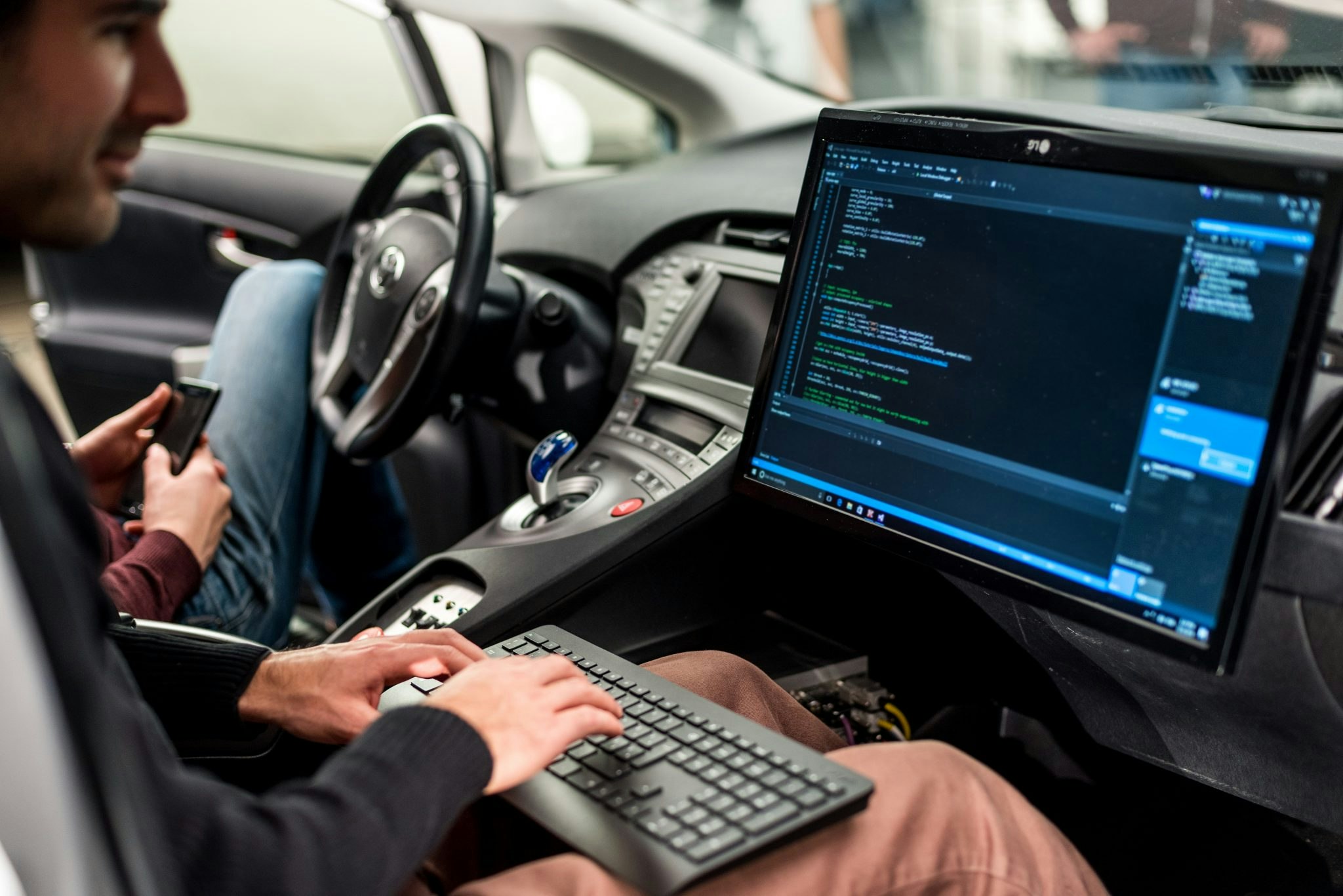 A winning strategy
Kishonti is used to working with large corporations. In 2005 he founded his first company, which supplied chip optimisation services to big handset manufacturers and chip companies like Nokia, Samsung, Apple and Qualcomm. 
This helped shape his approach to his latest venture, having witnessed the very different approaches taken by Nokia and Apple at that time, and the arrival of Android, which enabled Google to dictate hardware specification. "This is what I expected in the automotive space," he says.
However, that hasn't been the reality. Kishonti says he is surprised that major automotive companies still underestimate the importance of software in their value chains and in the creation of their latest vehicles. "Many had this false belief that they can do everything alone," he says. "Now, after burning hundreds of millions, or billions of dollars, most of them recognise that it's not possible to do everything [themselves]." 
However, it's not just about money. "In my experience most of the large OEMs are still industrial-focused companies," he says. "These companies, even with their huge budgets, need help in the software development area, and also in the tools."
He says it's mind-boggling that until recently car manufacturers didn't offer software updates. "Basically, without major costs you can improve the user experience, and your car will also keep its value because that's the reason for software updates — to keep your customer happy and to keep your car updated to the latest technological trends."
Crowded field
While AImotive has raised considerable funds, it is operating in an increasingly competitive field. 
"AImotive has raised a significant amount of money, as far as early-stage startups are concerned, and the fact that they're based in Hungary gives them an advantage, because the cost of work is lower so they will be able to do more," says Evangelos Simoudis, managing director of Synapse Partners, which invests in autonomous technology startups. 
However, he adds that while the company has "achieved critical mass", other companies, like Aurora Innovation, Aptiv, Waymo, Cruise and Argo, are even better financed. The critical aspect, he says, will be what type of long-term partnerships each company is able to establish with incumbent car manufacturers, which will take them from lab to production. 
"We see a lot of corporations that are willing to experiment with one or more startups around autonomous mobility, but we have not yet seen long-term commitments."
Kishonti says AImotive is already working with four of the top 10 original equipment manufacturers (OEMs), though he declines to name them due to confidentiality agreements.
In November, the company, along with Vodafone and HERE Technologies, also announced a scalable automated valet parking solution, following nine months of collaboration. The prototype vehicles, which use AImotive's aiDrive software, are capable of parking in multiple predetermined parking garages around Budapest.
Black box thinking
According to Kishonti, the biggest challenge for smaller players like AImotive — "We are 230 people, so it's not super small, but in the automotive space we are still small" — is the long-standing approach of vehicle manufacturers buying their hardware and software already integrated into a module. 
"The business model of the old-school automotive market is that when the customer ticks a checkbox with a feature then they supply another small black box. We don't see inside and it's not really integrated into the car's other systems," he says.
AImotive has recently finished its first automotive product, a camera module, with a tier-one manufacturer. "It's hardware with our software integrated, that's a module in the old-school way, and will be supplied to large OEMs in the next few months."
It took four years to develop, he adds, because of the need to work together. "I think in the future it might happen that the hardware supplier and the software supply will de-couple, like in the Android space, but that's still a very, very new idea." 
Self-driving pivot
Despite the hype, Kishonti says it is hard to see robo-taxis or similar technology becoming a reality in the near future. "Even Waymo, which was the first participant in this robotics experiment, can still do robo-taxi experiments only in cities where there is no rain, the roads are wide, the traffic is not so heavy," he says. 
Still, the technologies that have been developed so far are now mature enough to seep into the commercial passenger car market, he says. "They are repackaged, instead of Level 4, Level 5 fully automated driving, they are repackaged into Level 2+ products, which still require the driver to be in control. The market has realised and recognised that these technologies are evolving and provide good advantages to ordinary consumer cars." 
Kishonti says AImotive's biggest target in the near future is to start production at scale, and a deployment of all their products. "I think we are already quite good," he says.
"The aiDrive-based camera module has been finished, so I think we will be able to start selling that with the tier-one partner to OEMs this year. We have a couple of larger OEMs doing large evaluations of our simulation system, so that's also in good shape." 
In another sign of its increasing ambitions, AImotive has also started preparation for its next round of funding. "We want to get at least as much money as we have collected all together since we started the company," says Kishonti.