Budapest-based automated driving company AImotive has announced its latest round of funding, bring the total raised to over $70m, which it claims makes it the largest VC-backed company developing automated driving technology in Europe.
The five-year-old company is among the many trying to crack the automated driving conundrum, though its focus is more on affordable and software solutions (as we wrote about back in January), and supplying technology to large car manufacturers as they work towards creating their own fully autonomous vehicles.
"This funding round shows that investors think that software development, especially agile software development in the automated driving space, is very important," László Kishonti, founder and chief executive of AImotive, tells Sifted.
The $20m Series C extension round, led by venture capital firm Lead Ventures, and featuring existing investors like Robert Bosch Venture Capital, B Capital Group, Prime Ventures, Inventure, Samsung Catalyst fund and the Draper Associates, is aimed in part at expanding the company's global footprint.
AImotive, which now has over 200 employees, is set to open offices in Munich and Detroit, in order to provide enhanced support to its automotive partners in those key hubs. The company already has offices in Yokohama, Japan, Budapest and California, as well as staff in Germany and Detroit.
"I think this is a big achievement for the company to get investment in this environment," says Kishonti, referring to the global pandemic and economic downturn. "It also means that very soon after the situation balances out in the automotive industry we will be a key independent software player."
With its technology relying heavily on artificial intelligence-based software solutions, AImotive claims to have one of the largest AI research teams in Europe.
Some see this latest round as a sign of the times.
"AImotive is an interesting company and I suspect that the reason they have been able to continue to get funding in a difficult period is that they are focusing on helping with the creation and validation of autonomous technology, but not necessarily attempting to put out their own product," Mike Ramsey, vice president and analyst at global research firm Gartner, covering automotive and smart mobility, tells Sifted.
"In other words, they are in a role that helps speed up work by other firms, both car makers and technology companies, and that has a lot of value as budgets get tighter," he adds.
In April, the company announced that its aiSim simulator had become the world's first ISO 26262-certified driving simulator for developing automated driving solutions.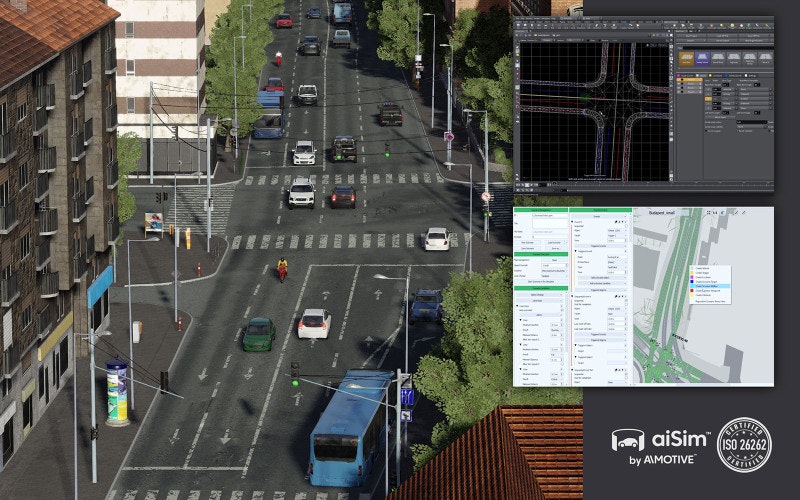 Kishonti says that there is now a shift when it comes to autonomous driving technology, with a move away from fully-automated driving into more assisted driving systems.
"I think it's possible to have fully automated vehicles, but the cost of building such a vehicle, especially if you want to have a global reach, is enormous," he says.
"Because of the huge costs and the unstable business model, I think it's a natural phase of the market. Everybody sees it's not a very short-term goal to have fully autonomous vehicles."
The company says its current development efforts are focused on deploying automated driving technologies to highway driving, taking over from drivers on long drives or deploying emergency technologies to mitigate and avoid accidents.
"Instead of saying that this car will drive you fully autonomously from home to school, or home to your workspace, it just says that this car will save you in 90% of potential accidents," says Kishonti.
The company is also working to further advance its automated valet parking technology, which allows drivers to exit their vehicles at the entrances of supported parking lots.
Alongside the funding round, AImotive also announced a new board member, bringing in Bernhard Bihr, the long-time president of Bosch Engineering GmbH. "The fundamental challenges AImotive solves will define the next age of the automotive industry. I look forward to being a part of their journey," Bihr said in a statement.