Tech startups are often seen as synonymous with being "young and ambitious", rarely having a big percentage of "oldies" employed. However, with a growing cohort of workers over 40 who appear increasingly dissatisfied with the corporate world, the tech scene may be in for a change.
Monika Liikamaa, a 43-year-old mother of four, is a great example.
"I often get that 'wow, you're not the usual startup founder'. And no, I am neither 22 nor male," she says when Sifted reaches her.   
Liikamaa, born and raised in the far north of Sweden, now works in Helsinki where her fintech company Enfuce Financial Services is based. And even by the standards of a 43-year-old, she has a pretty impressive CV.
A student of systems analysis in the 1990s, she has worked at Capgemini, Aktia Bank and the telecom company Telia in the past. Before the birth of her third child she was offered the position of CIO at the Finnish bank S-Pankki.
Later, she was responsible for building the bank's card and payments systems across Finland and Sweden. Although it was a success, Liikamaa felt dissatisfied.
"Banks are always a bit conservative and they did not have the same global ambitions that I had. So then I resigned".
I often get that 'wow, you're not the usual startup founder'. And no, I am neither 22 nor

male
Enfuce, which she started in 2016 with four co-founders, has the goal of becoming a global card payments system.
"Cloud-based payment services was not how you did things in 2016 but it needed to be based in the cloud or not done at all. So I contacted Amazon Web Services to get started".
Sifted Newsletters
Sifted Newsletter
3x a week
We tell you what's happening across startup Europe — and why it matters.
With an experienced team, Enfuce has already succeeded in attracting paying customers. But Liikamaa only made her first ever pitch onstage at the Sthlm tech meetup last week, as she attempts to build her company into a major player.
"You know what you get when you mix a Swede and a Finn? You get shit done".
Liikamaa stands out not just because she is about ten years older than most attendees at the tech meetup, but also because of her style.
"I don't really hang around at this kind of event for startups. We just get down to it and do our work. I don't see us as a startup. We are a business," she says later on.
"Our goal is to become a global player but we haven't thought about raising capital until now. Instead, we have done it the old way of getting paying customers. It's been tight but we've managed to stay afloat."
Ageism is the second most common form of discrimination in tech
Monika Liikamaa is not alone. Several reports show that the average founder is not, as one may expect, in his or her 20s but actually in his or her 40s. Harvard Business Review found that the average age of a successful founder is 45, MIT Sloan found it to be 42.   
Still, there is a bias against age in the tech industry. Some aging workers go as far as plastic surgery to even out the odds. As stated in an article by Wired, plastic surgery among men has more than tripled over the past decade, according to the American Society for Aesthetic Plastic Surgery. In particular, it is the tech industry in Silicon Valley that has increased the need for men to look younger, according to the article.
In the latest State of European Tech report from the London based VC firm Atomico, 5,000 industry respondents replied to questions about discrimination. Apart from gender discrimination, age is the most common. Almost one in five said they had experienced discrimination; 40% of those said that it was age-related.
Some companies deliberately employ older people as in some industries it can be helpful when penetrating client

organisations
This may not come as a surprise. Studies, such as Visier Insight report from 2017, show that the tech industry favours younger candidates and that older employees are a minority of the workforce in these companies.
Minorities, and women, are strikingly under-represented. But in an industry in which companies are eager to show their diversity by highlighting the number of different nationalities working for them, the issue of age is often neglected.
For companies with fewer than 100 employees, such as Swedish companies Natural Cycles and Truecaller, the number of people over 45 is about 5%. The older and bigger the startups become, the higher the number of older employees. According to Izettle, 11% of its workforce is over 40.
According to investor Benjamin Ratz at the Scandinavian VC company Nordic Makers, this may be because companies need more experienced employees once they grow to a certain size, particularly in their sales operations.
"Many in sales, especially in slightly more mature companies, are likely to be a little older. Some companies deliberately employ older people as in some industries it can be helpful when penetrating client organisations. Industries such as education, health and cyber security are well known for this," Ratz says.
I have seen the corporate world and I have worked in it, learned it and I didn't like

it
For founders, it is a different playing field, at least in Finland, according to Liikamaa.
"In my impression of the Finnish tech scene, many of the startups that are alive and well have founders that are aged 35 and above", Liikamaa says.
The 47-year-old Mikko Vesa, CEO and co-founder of the Finnish medtech startup Cutosense, is a case in point. Vesa started working at Capgemini in 1997 and then had a succession of IT and management jobs with various employers.
"At that time they would hire anyone who was walking around with a plastic bag with a Microsoft logo on it. I told them that I had no knowledge of IT systems but it did not matter. I learned. And I found that coding was a bit of fun but like with crossword puzzles, it gets boring after a while".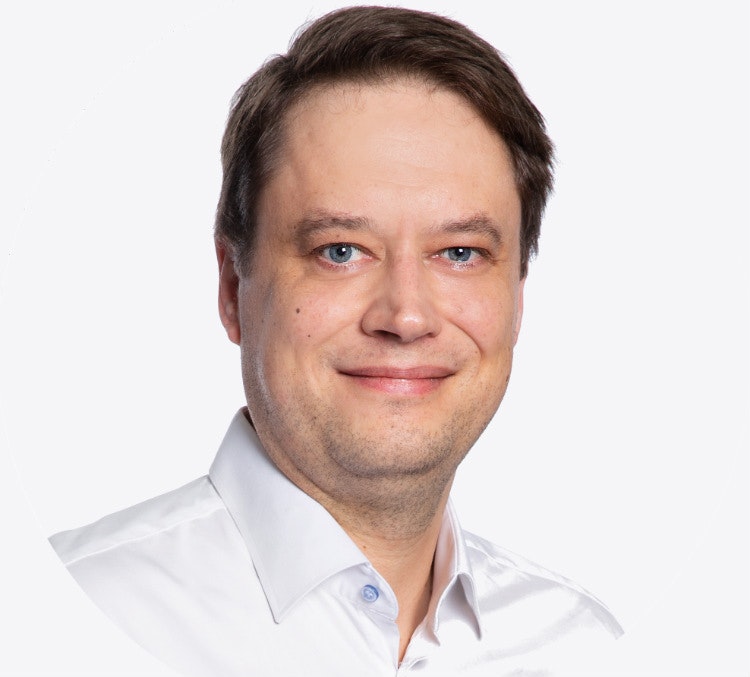 Vesa's company Cutosense has developed a product, based on university research, that will help measure and treat chronic wounds with electrical stimulation. He argues that especially startup companies that are spun out of academic research often have founders over the age of 30. He also senses that VC companies are looking beyond the stereotypical image of startup founders.
According to him, age is not the issue so much as the aspiration to learn new things.
"You need to have a want for continuous learning. When you don't want to learn anymore, and that has nothing do with age, then you better retire. I am older than the typical startup person, but I always valued the science behind everything, and I have always been thinking outside the box. And that leads to the startup sector", he says.
Both Liikamaa and Vesa have gained years of experience working in the corporate world. Maybe they are the forerunners of what startup founders will increasingly look like in the future.
"I have seen the corporate world and I have worked in it, learned it and I didn't like it. This is a perfect position for me. I don't need to follow any silly processes. If I don't like them, I change them," Vesa says.