The wind turbine industry is growing fast and with that, the demand for repairs. A good time for Latvian startup Aerones then, which has designed a family of robots that can fix many of the most common faults that wind turbines develop in a fraction of the time and cost that a human would need.
Today it's announcing a $9m seed funding round led by Future Positive Capital, with existing investor Change Ventures also piling in. Several well-known founders from the Baltics have also invested, including Vinted cofounder Mantas Mikuckas, Printify CEO James Berdigans and Skype cofounder Jaan Tallinn. 
It's already working with nine of the world's ten largest wind companies, including Siemens Gamesa, Enel, GE and Vestas, and has serviced over 3,000 wind turbines in Europe, Brazil, Costa Rica, the US and Canada. 
It plans to more than double its team over the next year and expand to China in 2023 — which has as many wind turbines as the whole of Europe. 
And, with Europe pivoting towards green energy amid the Russian invasion of Ukraine and rising gas prices, the timing is spot on. Over the next five to seven years, the wind industry is expected to grow tenfold, with the $30bn maintenance industry also expected to double in that time.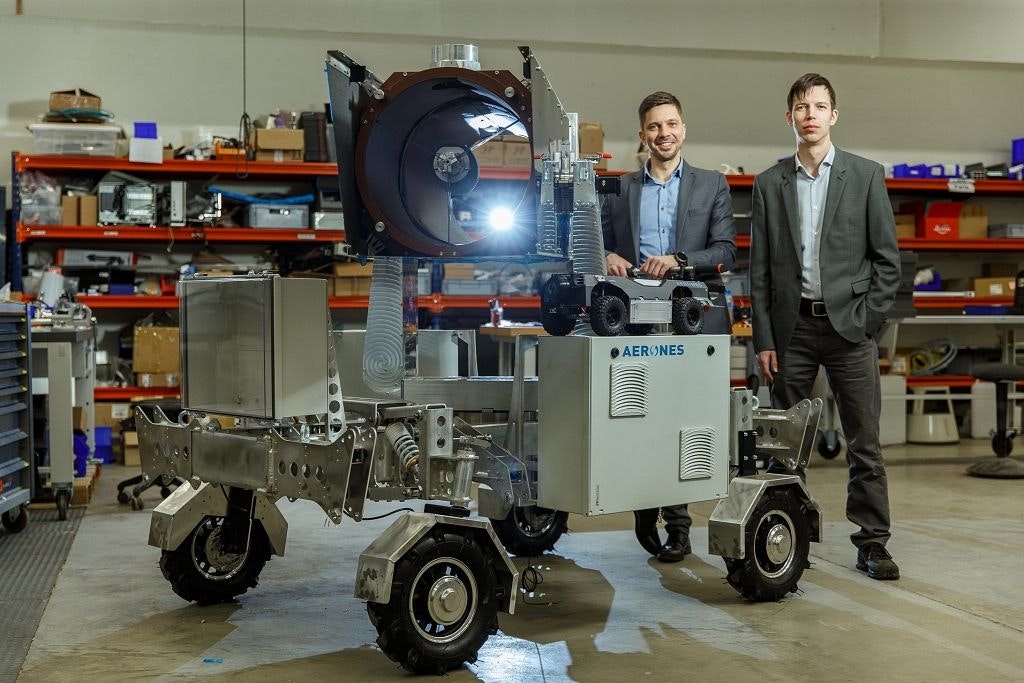 The cost of repairs
Aerones cofounder and CEO Dainis Kruze tells Sifted at the TechChill conference in Latvia that his robots can inspect and maintain turbines up to six times faster than humans — and they're also 40% more cost efficient. While it might take a human six to nine days to sharpen the blades of one wind turbine (to reduce air drag and help the blades move more efficiently), it takes an Aerones robot just half a day.
👉 Read: The climate startups that scientists are excited about
There's also a lot of money to be saved by anticipating faults and fixing them early. A 2cm crack inside the blade of a turbine can cost €5,000 for a human to fix, while a 1m crack would cost €50k-70k and a snapped blade might cost upwards of €1m to repair. Aerones's robots — including one which scans turbines using ultrasound — can anticipate damages coming. "We can see a crack before it actually happens," Kruze says. 
Scanning and repairing turbines also leaves Aerones — and its clients — with a whole lot of data. "We're creating digital twins of turbines," says Kruze. The company is developing a portal to enable clients to use this data to plan future maintenance works, and figure out the cost of repairs ahead of time.
They are becoming the one-stop-shop for O&Ms to streamline operations, and help accelerate the scaleup of renewable energy to reach Net Zero

emissions
The Aerones team
In July last year, Aerones's team was just 20 people. Its headcount is now 150, and the plan is to reach 400 people by the end of the year. 
Most of that growth will come from hiring more people to work in the field — currently, teams of people drive the robots to location and supervise them — although in the next few years, the plan is to control the robots remotely. This will mean that one team on the ground could operate multiple robots servicing several turbines at once.
"Aerones is the first full-stack player in the industry," said Sofia Hmich, founder of Future Positive Capital. "As opposed to companies that merely use remote sensing to capture data or focus on analytics, Aerones automates complex operations. They are becoming the one-stop-shop for O&Ms to streamline operations, and help accelerate the scaleup of renewable energy to reach net zero emissions."
Amy Lewin is Sifted's editor and cohost of the Sifted podcast, available on Apple & Spotify. She tweets from @amyrlewin