Lina Chan makes being seven months pregnant look effortless. "It's huge," she says of her growing bump, before joking about the four outfits she's now forced to rotate on repeat.
The London-based founder has met me at Spaces, a coworking office near the capital's hipster centre, Old Street. Casually chatting to Chan over her flask of coffee, you'd never guess that she had experienced a stillbirth in 2013, or that when she finally became pregnant again in 2014, she miscarried at 8 weeks. Today there's no sign of the many anxious four weeks spent in the Neonatal Intensive Care Unit (the "NICU" as she familiarly refers to it) at Paddington's St Mary's Hospital when she gave birth to her first living child eight weeks early in 2015.
Instead, Chan says she's feeling positive, not only because she's pregnant again, but because she's trying to make pregnancy better for other women through Adia, the healthtech startup she's founded to support women throughout their childbirth journey.
Adia is an online service that provides women trying to get pregnant with a range of services including one-to-one fertility coaching, support from doctors (specialising in fertility, obstetrics, gynaecology, nutrition and psychology) as well as digital content which ranges from expert articles to downloadable mindfulness sessions. They also sell home fertility tests.
At the moment, the online platform is free for consumers, but ultimately Chan wants the service to be paid for by companies who want to provide better care for their employees or even the government through the national health service. Chan this month launched a pilot with the Wellcome Trust and London-based universities Imperial College and UCL to try to prove Adia's positive impact on women's health.
"I felt like each pregnancy showed me different parts of the health journey a woman can go through from stillbirth to miscarriage to premature labour," says Chan, pointing out that one in eight recognised pregnancies in the UK end in miscarriage. "Many women are told not to tell anyone about their miscarriage — it's a very, very isolating experience. But tech is a way of breaking down isolation and access to services."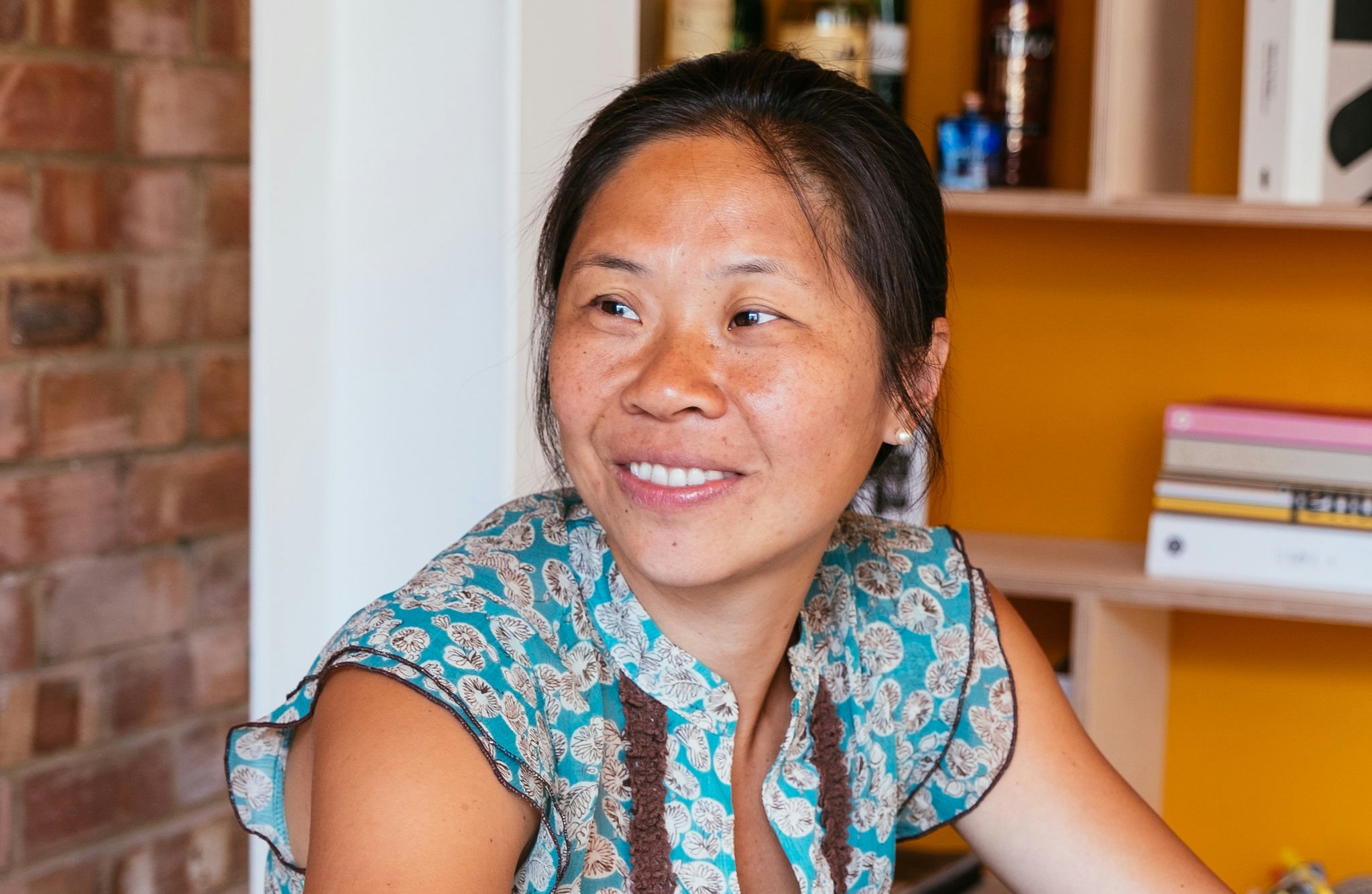 Building Adia Health
Chan founded Adia Health in 2017, after a decade spent working in investment banks such as Credit Suisse. She signed up to Zinc, then a brand new socially-driven accelerator which had an open-call for startups that improved women's and girls emotional and mental health.
Although Chan initially focused on supporting women through miscarriage, she quickly realised a broader approach would not only better support this market, but all women going through the trials of pregnancy.
"It was often people struggling to conceive more than people who had had miscarriages who came to Adia," Chan recalls of her open beta. "When you are struggling to conceive you are still struggling with a form of loss — the loss of the dream of having a child. You relive that loss every month when you retest and realise you're not pregnant."
Life on Zinc's 9-month accelerator wasn't entirely smooth. Chan met and "broke up" with her first would-be cofounder because he wanted the business to be more bot-centric. "Most of the teams ended up working with a group for longer than they should have," she says.
You need to learn to break up quickly and reform

again.
Still, in Chan's sixth month she met Rose Acton who now stands as one of Adia's cofounders. Chan's husband, Tyler Christie (who already ran his own environmentally-focused data analysis startup Amee), is the third cofounder at the firm.
When Chan left the accelerator in April 2018 she raised a £250,000 round lead by Seedcamp and the London Co-Investment Fund. The company rebranded and launched its business.
But Adia still needed to prove its women's health tools actually worked: that they did improve users mental health and that this would lead to healthier pregnancies.
Piloting proof of concept
Last year Chan successfully applied for an additional grant of £30,000 grant from Wellcome Trust to fund a proof-of-concept pilot. Normally intended for academics, this was the first Wellcome Trust grant to be aimed at startups. "They're a great example of an organisation that has traditionally done things one way but is willing to put forward resources to test a new model," says Chan.
In January, the Adia team kicked off their study in partnership with UCL and Imperial universities, and the team is now collecting data on more than 200 women using the platform (it plans to publish its findings in September 2019).
While Chan is confident the pilot will confirm Adia supports positive outcomes (she points to existing studies that have already linked mental health to pregnancy outcomes) she also hopes to be able to compare which interventions have the biggest impact (be that medical advice, or mindfulness courses, for example).
It's just as important for us to know what's working as what's

not.
"It's just as important for us to know what's working as what's not," says Chan, who knows that users don't always behave as expected. The founder remembers being surprised when only a few women self-referred to the free therapy sessions Adia first offered. "We realised many women don't even realise they're going through emotional distress, and that getting therapy can still feel like a taboo," she recalls. To manage this Adia played up the role of its one-to-one "coach", knowing the coach could always refer a therapist when needed.  
Perhaps most interesting are the next steps for Adia. Assuming Chan is able to connect its interventions with improved mental health, the team then hopes to launch a second study researching the impact of better mental health on better physical health (eg whether improved mental health leads to quicker conception, fewer miscarriages, and healthier babies being carried to term).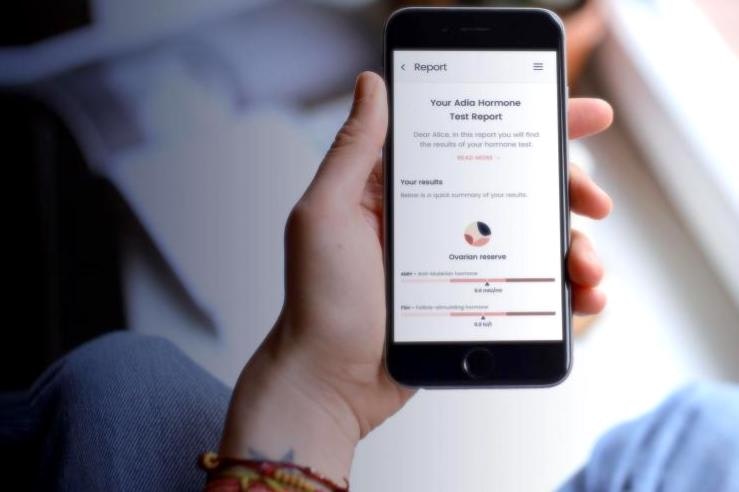 Scaling a femtech startup
Currently, Adia is selling its home testing kits direct to consumer (for £160 a pop) and its wider services remain free. "We can reach people and get feedback a lot faster," she says of this B2C model.
However, in order to scale, collaboration and business-first models will be key to success, says Chan. Some employers have already approached Adia as a way of adding to their benefits they offer their staff, including large tech companies like Amazon Web Services. "It will be very easy for us to sell into large corporates (so women can get Adia for free), and if we're successful with our research there's an argument we can have a more in-depth conversation with the NHS about selling it into clinics and hospitals," says Chan.
Adia has also made its mark in the private healthcare market as a finalist at the AXA PPP Health Tech & You Awards in 2018. It's now in conversations with British provider BUPA having met through the London Mayor's communication company London and Partners.
Investors are providing useful collaboration leads too. As part of the Seedcamp portfolio, Adia has partnered with Thriva (the £1.5m funded DNA test kit company) and is looking at working with Elephant Healthcare (who bring healthcare services to emerging markets). Another backer, the London Co-Investment Fund took the team to a trade show in China where it's now considering a second market from English-speaking areas like Hong Kong and Singapore.
Leslie Harris, the UK-Ireland MD for EU-backed healthtech network EIT Health, is not connected to the Adia project and warned that the startup will likely face bumps in the road ahead. "We see many promising digital health startups like Adia having a hard time after their initial funding rounds," she warns. "In parallel, we also see British startups often feel the need to resort to the US market in order to raise capital and have an impact." That said, Harris said Adia is exactly the kind of startup EIT Health is keen to support through new programmes like WE Health, which is aimed at empowering female entrepreneurship in health innovation.
Chan knows the wider femtech space remains "taboo" but believer her company is a sign of the changing tide. Other players like Baby2Body are focused on promoting wellness before, throughout and after pregnancy, and some startups like Barcelona-based Bwom are even supporting women beyond pregnancy as they experience the menopause. 
"You will start seeing more and more women-founded businesses and women-focused businesses grow," she says calling out other London-based founders like Tania Boler (maker of the Elvie kegel trainer), Gabby Edlin (Bloody Good Period charity), and Affi Parvizi Wayne (the founder behind Freda, the organic tampon brand).
"Any woman starting a business in femtech is doing us all a favour."