It's safe to say that European software-as-a-service (SaaS) is having a bit of a moment. Long thought of as a sector dominated by American heavyweights, European and Israeli SaaS startups are catching up. 
The latest Euroscape report from VC firm Accel shows that Europe and Israeli SaaS startups are on the road to global dominance, posing a threat to the primacy of American SaaS.   
"Now we're kind of five years into it and in 2021, we're seeing the ecosystem has really exploded," says Philippe Botteri, the author of the report and a partner at Accel. The VC has published the report since 2016 when the sector only netted a mere €4bn, versus more than €26bn so far this year.
We dove in and outlined seven things you should know from the new report. 
1. SaaS capital raised in the EU, Israel and US is at historic levels thanks to this year's megarounds
This year, funding to SaaS in the west has hit the $78bn mark in private capital — a huge jump from $37bn in 2020. EU and Israeli private cloud funding grew 3.2x between 2020 and 2021 versus a 2.4x increase recorded in the US for the same time period. 
95 new unicorns were also minted in 2021, adding to 2020's 131 and creating a total of 226 unicorns across the three regions.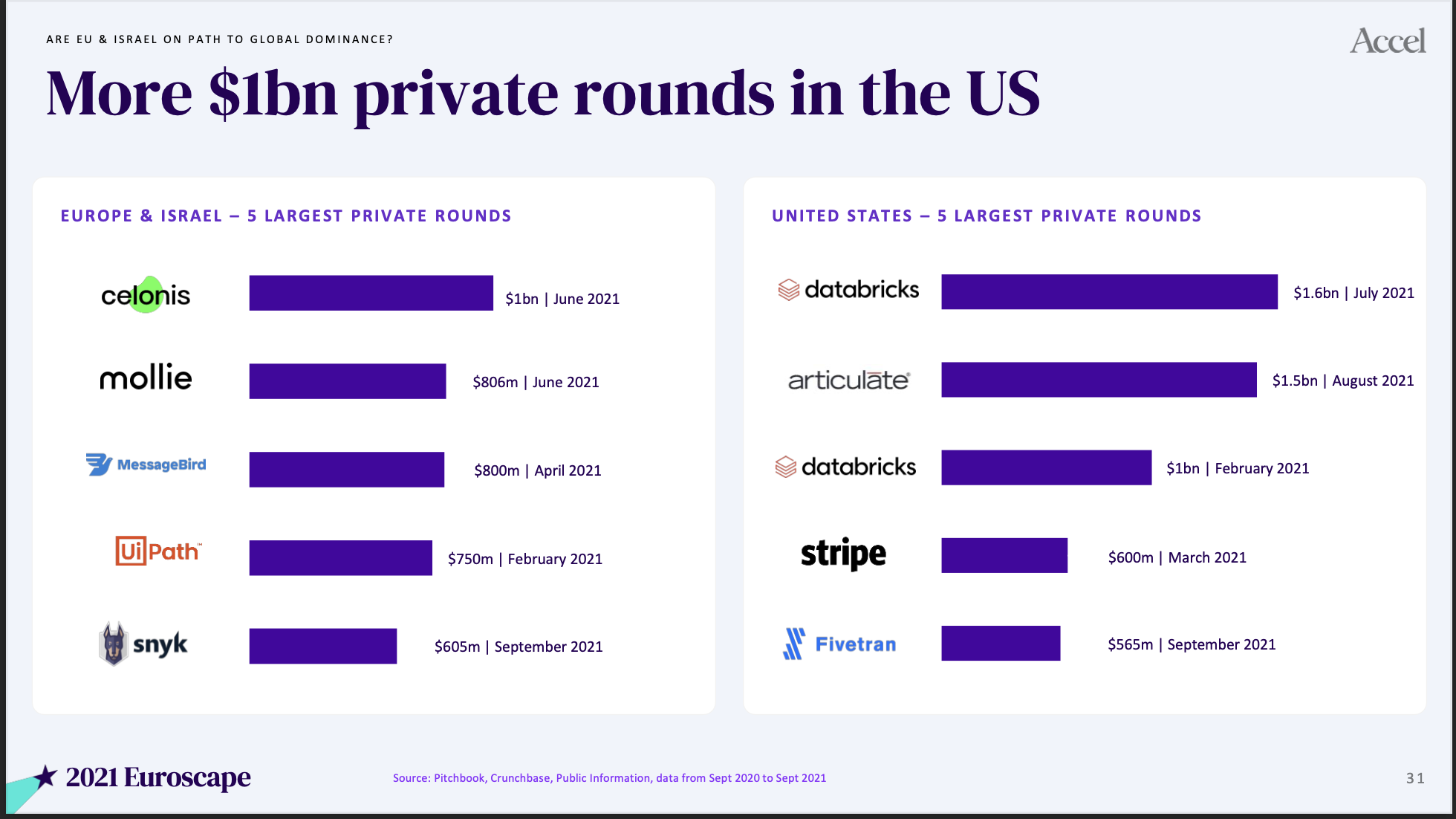 The driver of this surge in capital is megarounds. The top two largest rounds were still US companies (Databricks and Articulate).  But German analytics startup Celonis snapped up the bronze medal with its $1bn Series D in June — the largest SaaS round in Europe ever. 
2. Valuations have nearly doubled across Europe and Israel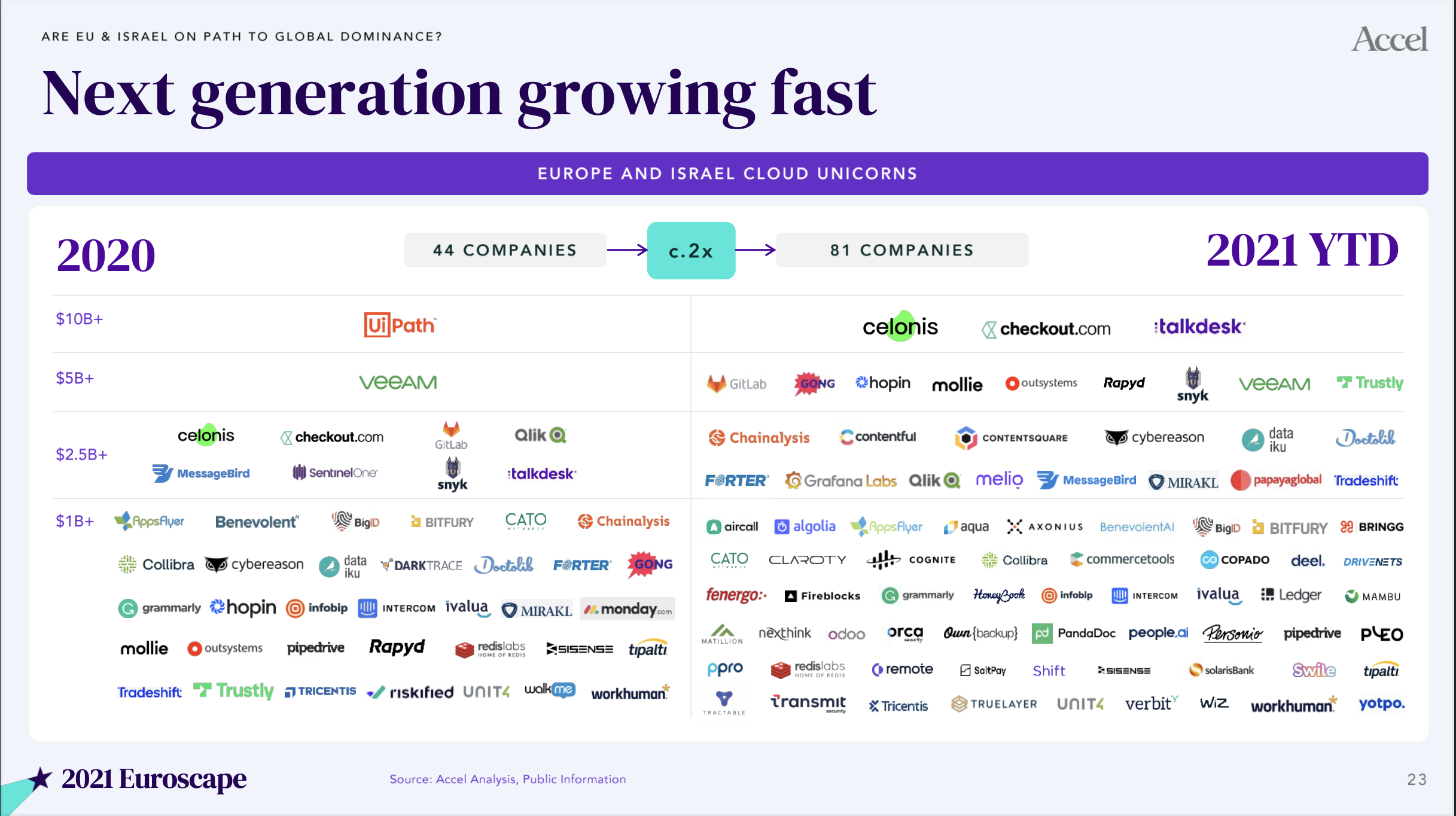 The European SaaS unicorn stable shows no sign of slowing down. In 2020, there were 44 cloud unicorns versus 81 in 2021. 
This year has also seen the emergence of three SaaS decacorns, Checkout.com, talkdesk and Celonis. Previously, Europe had only made one $10bn SaaS company, UiPath. 
Veeam is also no longer the lone soldier in the $5bn club. Nine companies reached that milestone in 2021 — all of which were previously valued below or at the $2.5bn mark. 
3. There is more funding for EU and Israeli SaaS companies in the private than the public markets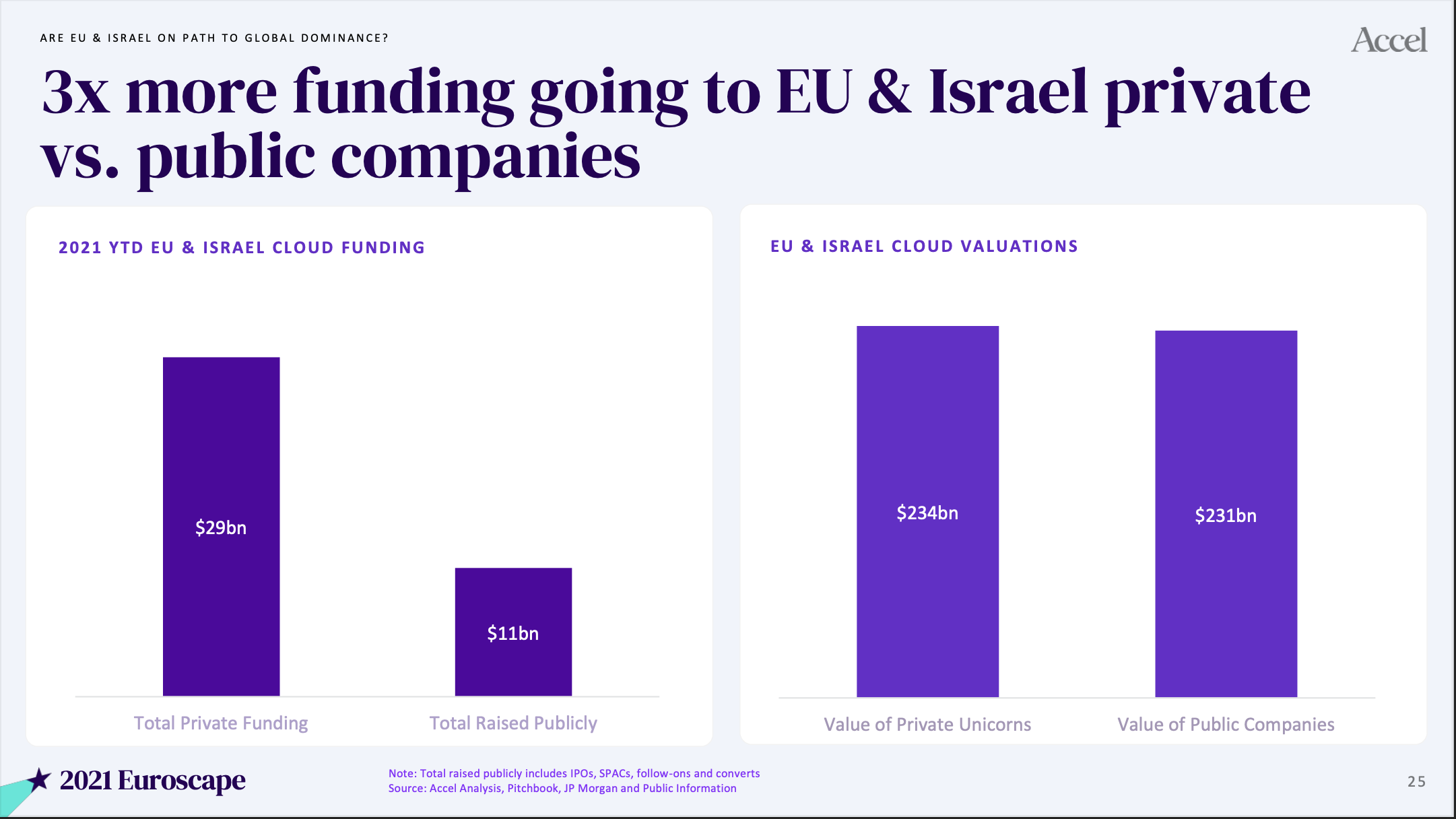 In 2021, three times more funding went to private SaaS startups with only $11bn raised publicly. This means that the value of private unicorns has now edged out the value of publicly tradable unicorns by $3bn. 
Explaining this shift from public to private, Botteri says: "Now, hedge funds and public funds are moving into the private market, because that's where they see the growth and the opportunity."
4. Even so, 2021 has been the year of the SaaS IPO in Europe and Israel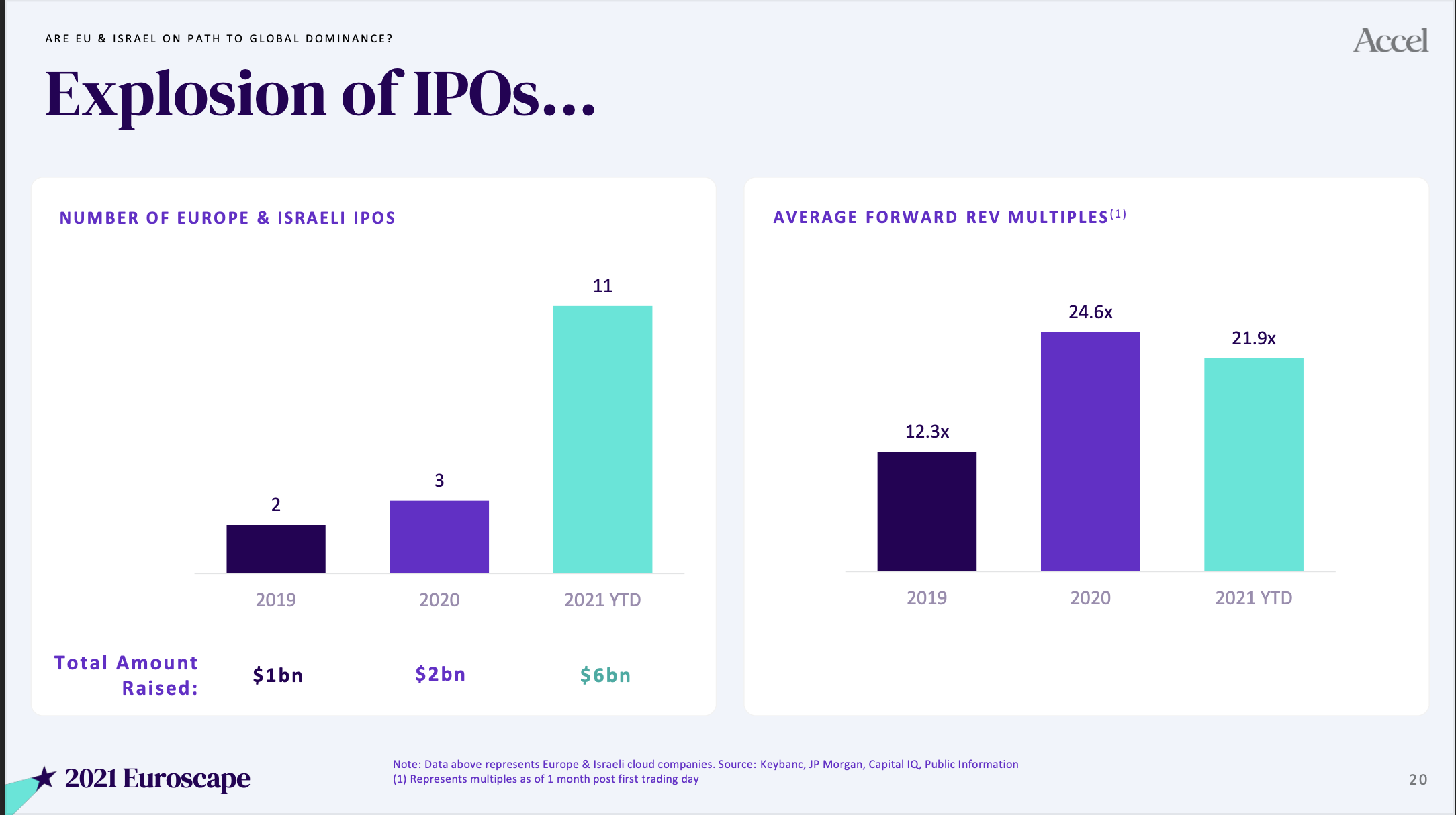 Eleven European and Israeli SaaS startups went public this year versus only three the year before. As a result, the value of public companies in the two regions has more than doubled from $105bn to $231bn.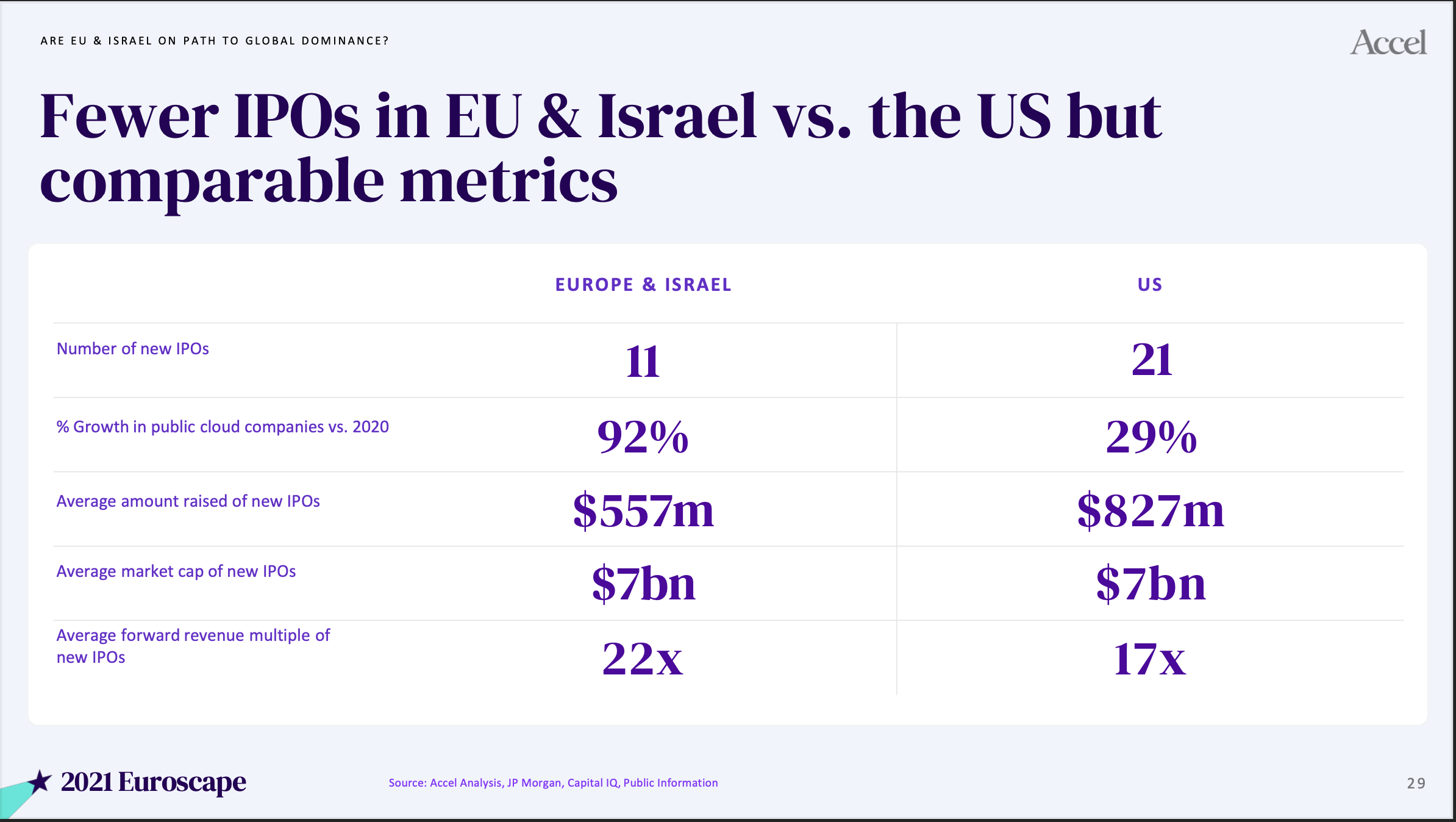 While the US again has the upper hand in terms of the number of IPOs (21) and cash raised ($827m), European and Israeli SaaS IPOs have higher growth numbers and the same average market cap despite having ten fewer public floats this year.

5. Europe and Israel are making SaaS unicorns faster than the US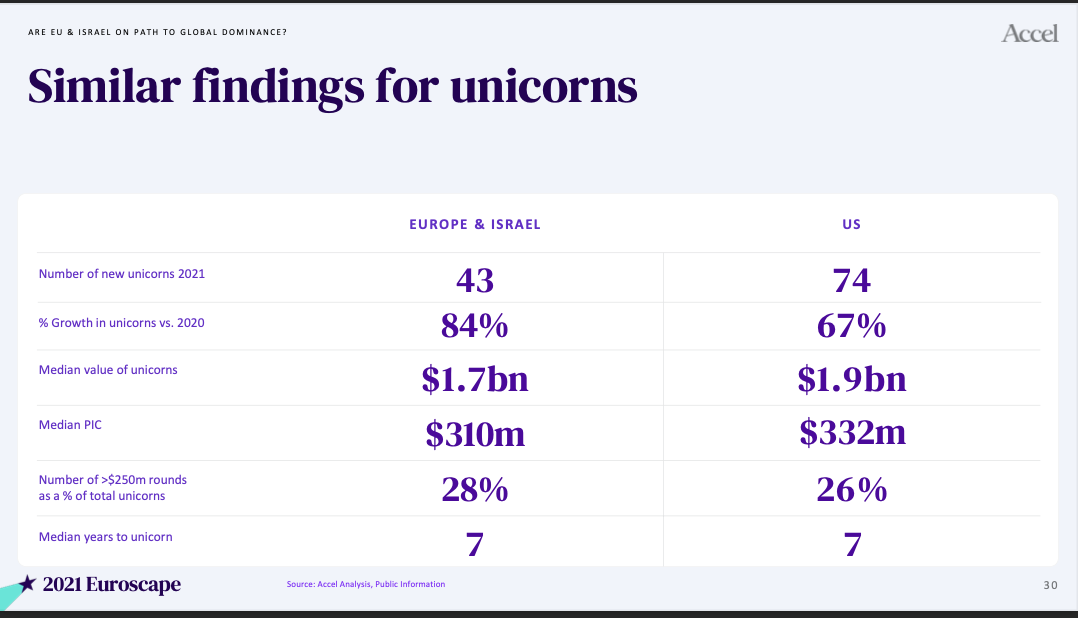 In a similar vein, whilst Europe only produced 43 unicorns this year  compared to 74 in the US, Europe and Isreal shows signs of faster growth with similar levels of valuations, number of megarounds and years to reaching unicorn status. 
6. Accel has tapped 100 startups to become the next SaaS unicorns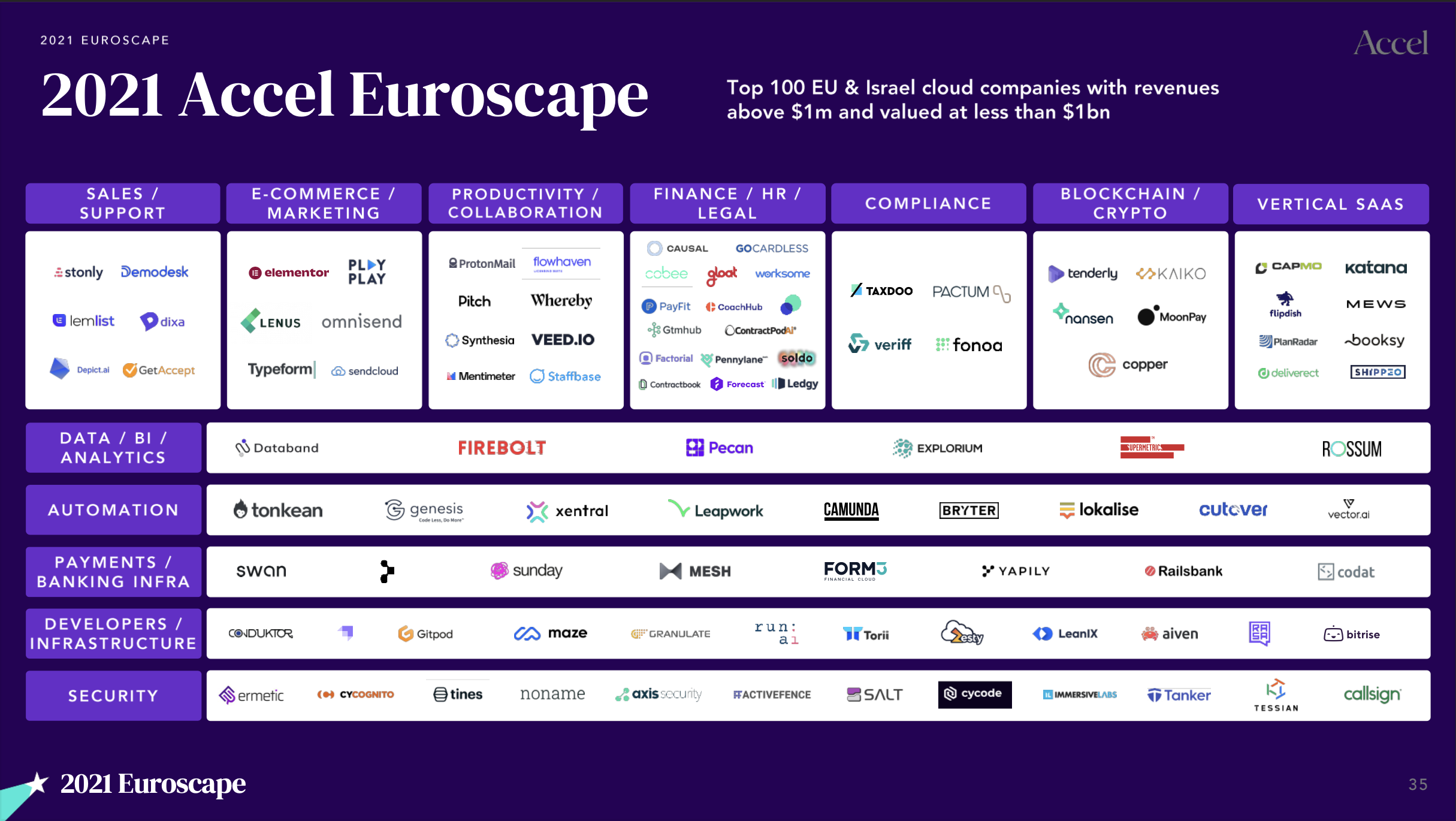 Speaking of unicorns, these are the SaaS unicorns-to-be according to Accel — termed as companies with revenues above $1m and valuations at less than $1bn. 
They include Aiven, an open-source cloud data infrastructure tool tapped by Sifted in June as a SaaS soonicorn, and Sunday, a QR code ordering tool, that recently had a $100m Series A despite being founded only in April this year.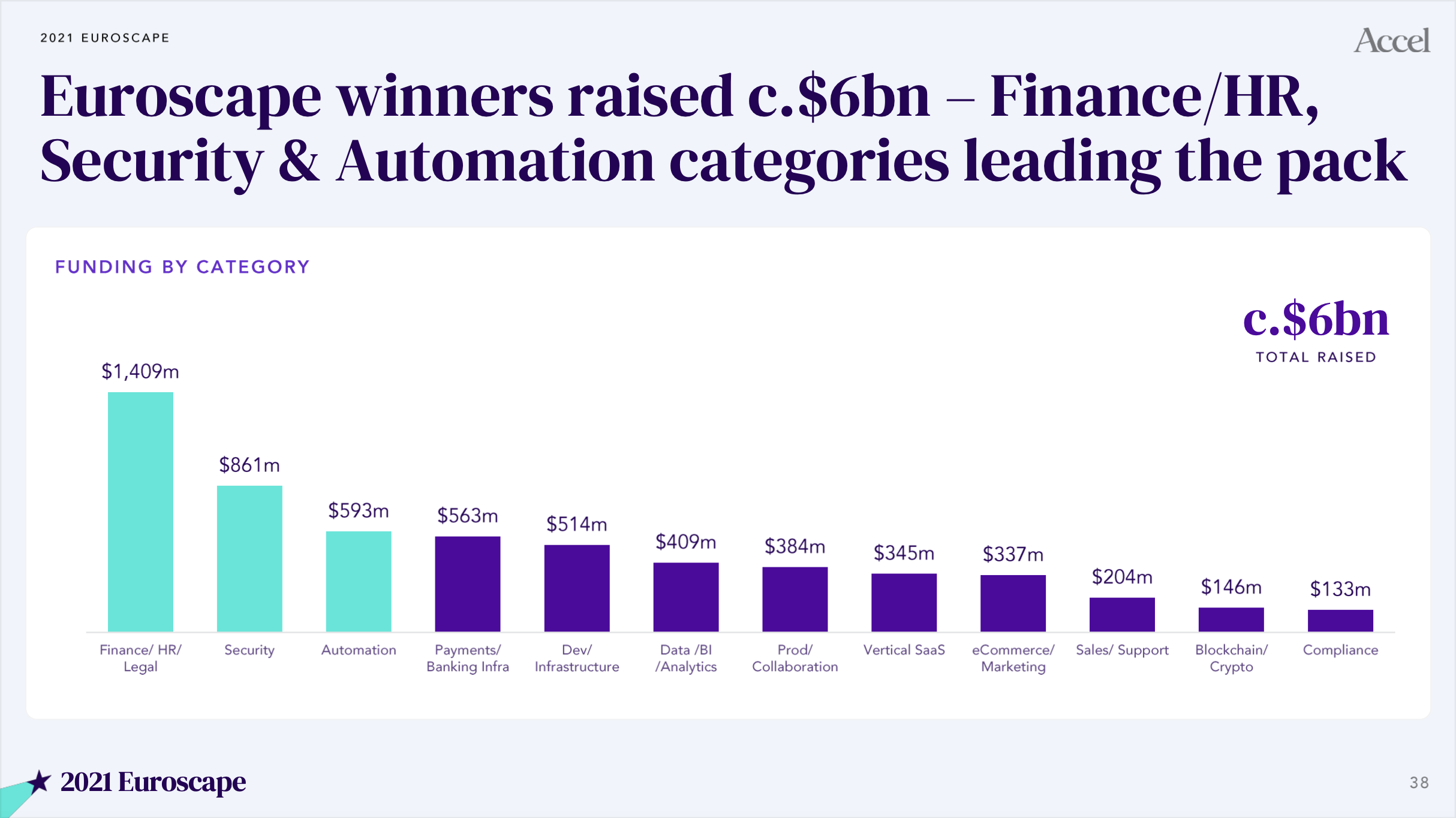 The finance/HR/Legal category led the Accel Euroscape pack, netting around $1.4bn of the $6bn of funding that flowed into the 100 startups, with Security and Automation following suit.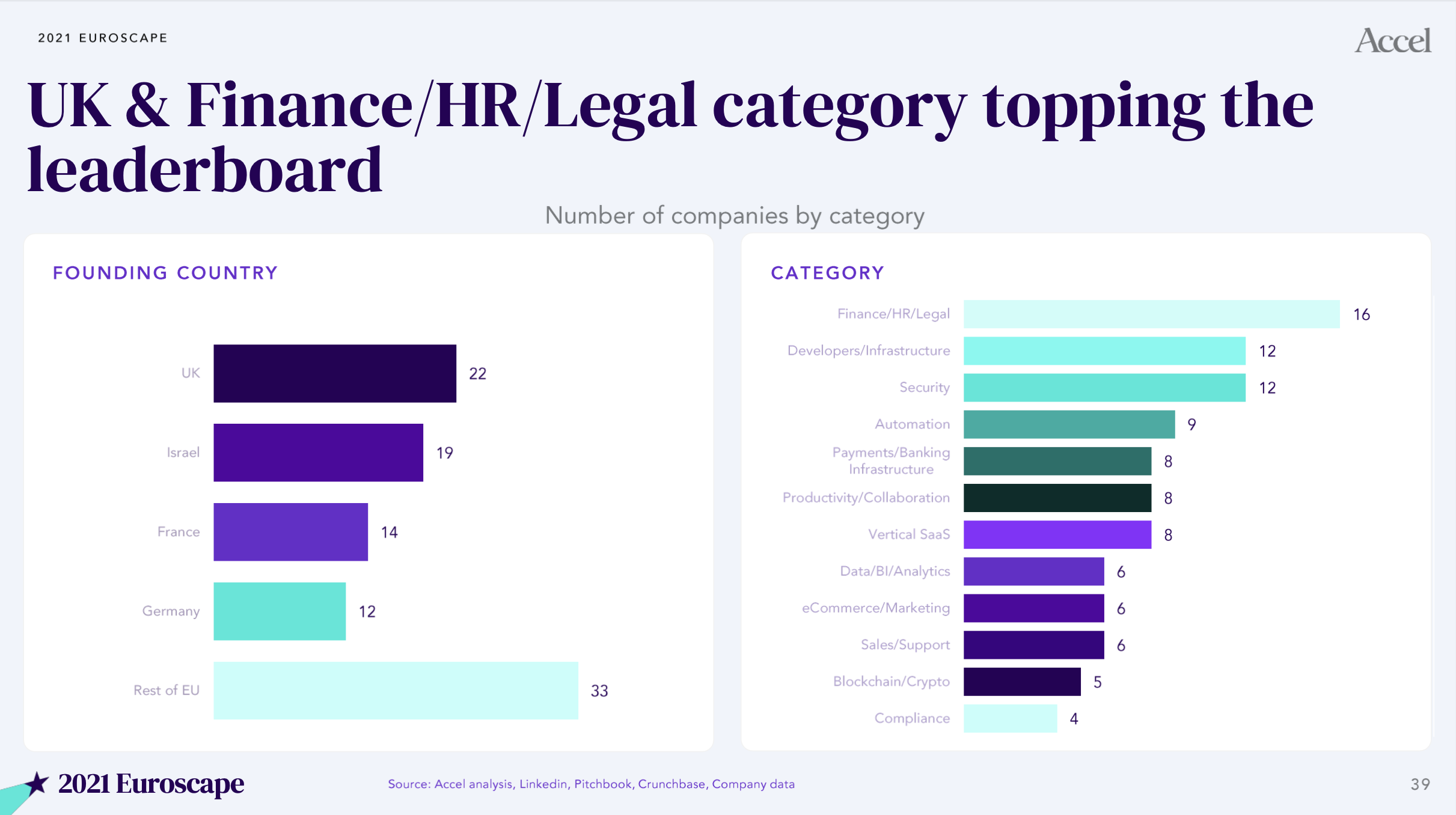 The vast majority of these companies also hail from the UK but France's recent boom in startup funding hasn't gone unnoticed — it follows Israel to get the bronze medal. 
7. Accel bets big on crypto and DeFi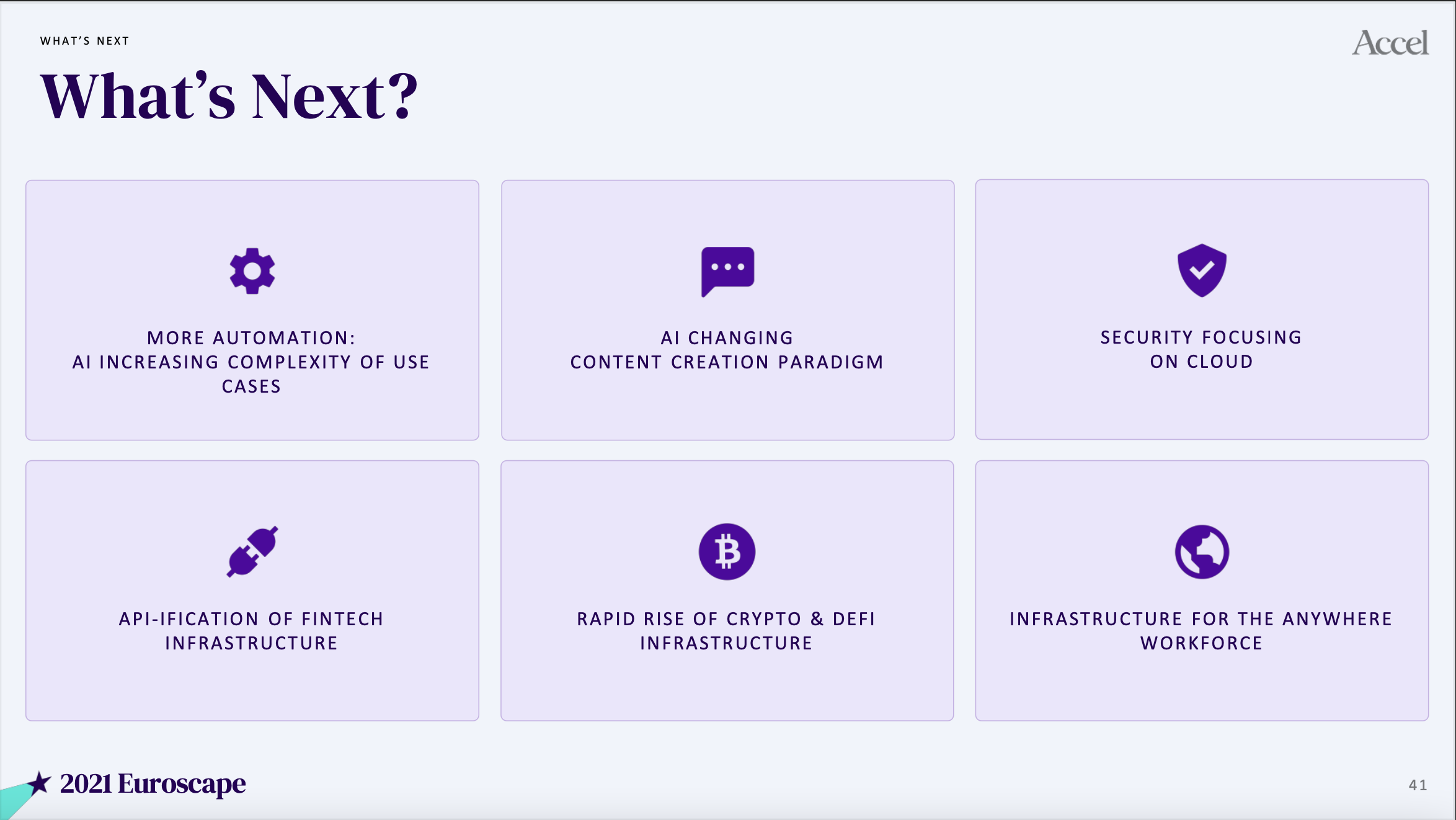 Much of the predictions of this year's report was a consolidation of the previous year's, with remote work, automation, AI and fintech APIs dominating.
But one new category has emerged out of the pandemic: crypto.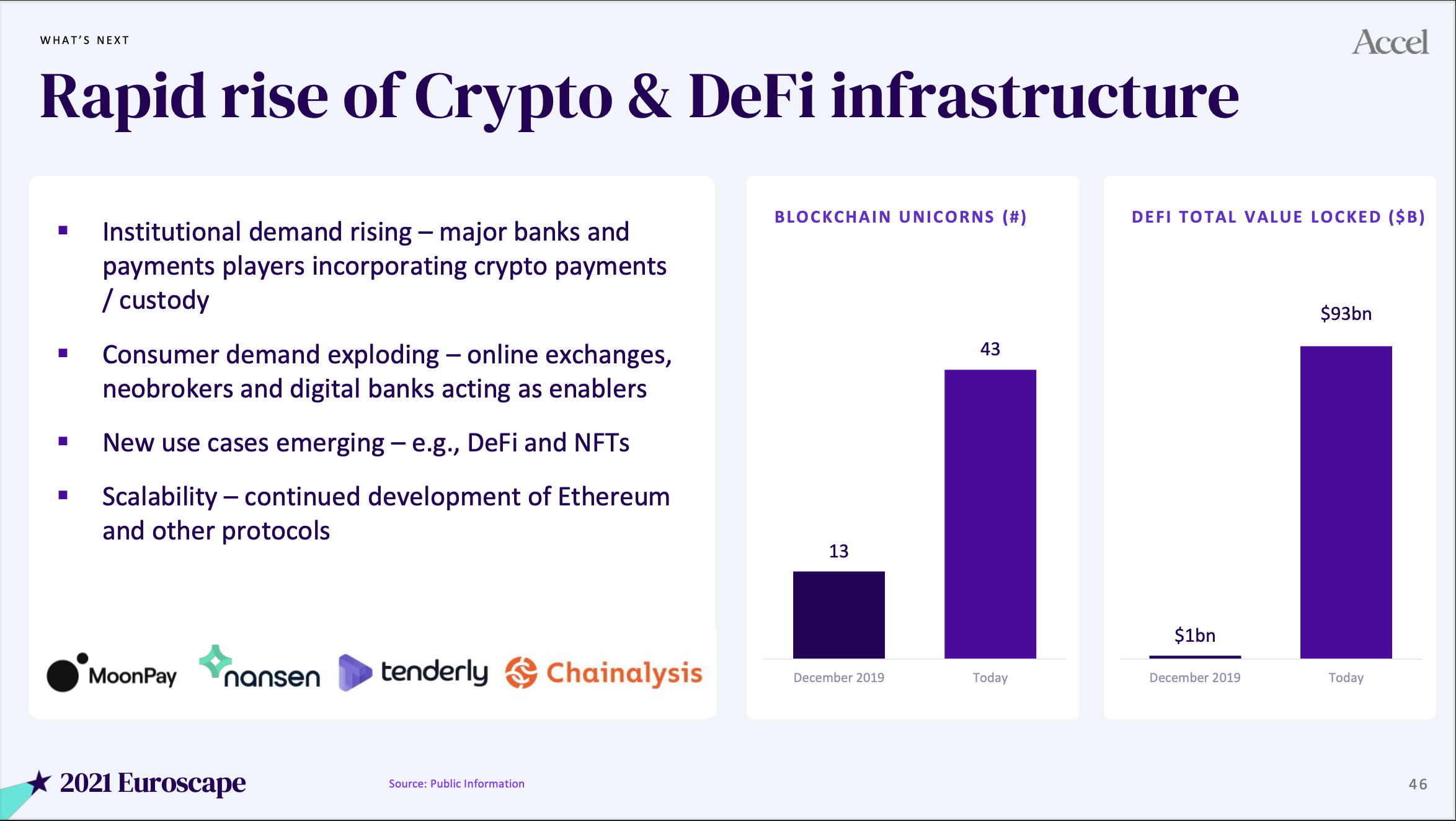 Citing increased institutional demand, the emergence of NFTs and DeFi along with the explosion in blockchain unicorns matching customer demand, Accel are enthusiastic about the rise of blockchain. 
It looks like their bet may have already paid off — the Accel Euroscape-listed MoonPay is reportedly courting both Tiger Global and Coatue for a $400m round. This will be the bootstrapped startup's first round of VC and will value the crypto payments startup at $3.4bn. 
"Crypto is really booming right now," says Accel's Botterri. "And that's opened up the need for all this new generation of infrastructure technology ranging from things like [block]chain analysis for compliance and investigation to asset management [and] storage." 
The full report is available here.