More than a million people in France downloaded the government-backed tracing app StopCovid in the first week after it was launched — about one in every 50 smartphone owners in the country.
The app went live on June 2 on Google and Apple's stores after it got a green light from parliament. It passed the 1m installs mark on June 6, in a country where more than 50m people own smartphones.
The software came as France enters its second month of lockdown easing, and the number of coronavirus positives steadily drops. With a few hundred new contaminations each day, France is nowhere near the thousands of people who were recorded daily as falling ill in March.
Still, the way Emmanuel Macron's government sees it, the aim is to maximise the number of downloads even if the virus is currently receding, in case a second wave hits later.
"The goal of the app is to avoid a second wave of coronavirus," France's secretary of state for digital affairs Cedric O told BFM TV over the weekend. "We want to avoid another Covid-19 cluster growing — the app is like another prevention reflex for people to use."

Milestone
O has estimated that if a little under 10% of a given population (that could be a region or city) installs the app, it'll be enough to help the government reduce the spread of the coronavirus.
While 1m is still far from the 10% goal nationwide, getting to that level in the first week is a significant milestone for StopCovid. Whether the French would adopt the app at all wasn't a sure deal as late as last week.
In recent months, as Google and Apple pushed out their tracing architecture on a global scale, France said no thanks and instead assembled a grouping of research labs, big corporates, as well as startups, to build its own software.
That generated some back and forth with Google and Apple, and flag-waving from O and others in France about preserving Europe's digital sovereignty. 
The StopCovid launch was pushed back a bunch of times, as it underwent technical revamps and adaptations dictated by France's privacy watchdog CNIL.
The version that is finally out uses Bluetooth to record (anonymously) when people stand less than one metre from each other for 15 minutes or more. If one of the people gets tested positive for Covid-19 within 15 days, and logs it into the app, everyone who crossed their path and had StopCovid installed will get a warning.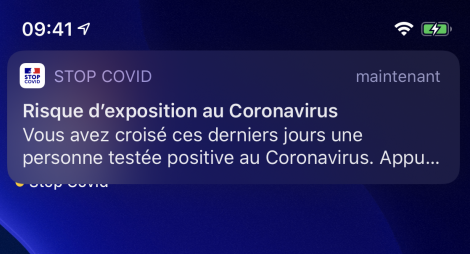 No European app
The next piece of the puzzle for France is figuring out interoperability with its European neighbours.
While there's been some coordination between companies and research labs in the region, including between France and Germany, European countries have broadly gone their separate ways on building tracking apps. 
French software is likely to interoperate with the UK app in the future, but not with the Italian one (the Italians have adopted the Google and Apple standard), according to O.
"It's a work in progress," O said.