If you believe the evangelists from telecoms companies, 5G or fifth generation cellular mobile technology, will become a feature of our lives in 2019, and it will change everything, making it possible to connect millions of objects in smart cities, run self-driving cars and stream high-resolution videos at lightning speed. But how much of this is actually realistic?  
Why do we care?
It potentially affects every industry.
Almost any industry, from gaming to transport to healthcare, could be changed by 5G, if indeed it realises its promises of being able to knit together huge networks of sensors and machines, all communicating with each other. In this Forbes article Daniel Newman outlines five emerging technologies that 5G will propel forward: among other things it will make immersive gaming cheaper and it will make robotic telesurgery more reliable.  
Self-driving cars will need highly reliable networks to send data back and forth: Rob Topol, general manager of Intel's 5G business, said in a VentureBeat interview that 5G was like "oxygen" for self-driving cars. Anyone working on Internet of Things projects is also watching developments closely as 5G could change the way IoT devices connect to each other.
Interesting European startups working on 5G technologies
Athonet, an Italian software company that wants to rival Nokia and Ericsson
Continual, an Israeli startup working on connected car technologies
Berlin-based Core Network Dynamics makes mobile network infrastructure software.
Vsora, based in Paris, provides multi-core digital signal processing for 5G chips.
Accelleran, based in Antwerp, Belgium, provides small cell networks for mobile carriers.
U-Linc, in Guildford, UK is a spinout from the University of Surrey's 5G innovation centre and has discovered a new way to connect IoT devices.
CommAgility, based in Loughborough, UK, develops embedded signal processing and RF modules for mobile networks. It recently acquired its German rival MimoOn.
Should your company be on this list? Tell us: maija@sifted.eu
There is a lot of money sloshing around in the 5G ecosystem.
The EU has committed to investing €700m in 5G solutions and technologies through the 5Gpp project, with the private sector expected to put in a further €4bn. It's a good time to be a 5G-related startup or researcher.
Lenders seem willing to support 5G projects. The European Investment Bank has lent Nokia €500m to help support 5G research, followed by a €250m loan from the Nordic Investment Bank.
Barcelona has set itself up as a city-wide test lab for 5G technologies, as has Umea in Sweden..
Governments will also raise money from selling telecoms companies 5G spectrum. Here is a roundup of planned spectrum sales in Spain, France, Germany, Italy and Finland. Telecoms companies like Vodafone are already starting to worry about potential high prices.
What is 5G?
It is definitely fast.
A key feature is that 5G will be a lot faster than 4G connectivity. While 4G mobile networks were able to download data at around 50 megabits per second (although in practice most people have experienced nothing like those speeds) 5G is expected to reach a download speed of 700 megabits per second. This mean that you will be able to, in theory, download a 4K movie straight to your phone with no lag at all. The BBC has a short video that shows you what that speed looks and feels like here.
But that's not the main point.
High speed video downloads are not really the most interesting thing about 5G. It also can also handle a lot of connected devices in a dense area (this is what makes it good for connecting sensors in smart cities) and work at high reliability (which is useful for connecting networks of self-driving cars to each other to, for example, help prevent accidents.)
5G is not really a single new capability but three. This often-shared diagram from the International Telecoms Union helps explain it: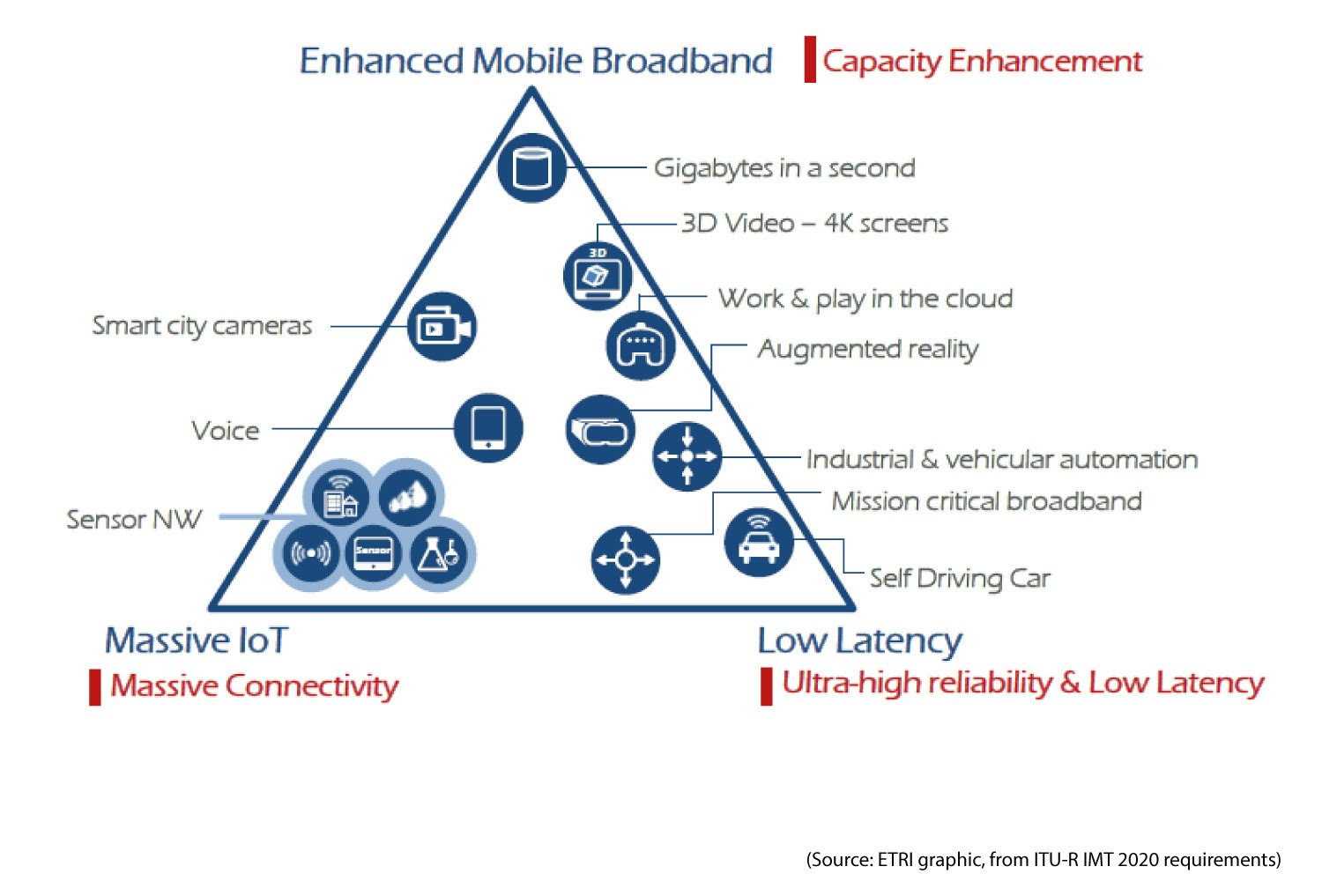 Many of the first 5G trials that we are hearing about now are about the enhanced mobile broadband at the top of the pyramid - that's the fast video stuff. The self-driving cars and sensors use different parts of the radio frequency spectrum, and in many cases these capabilities will come later.  
When is 5G coming?
Handsets: 2019
5G-enabled mobile phones are definitely getting closer, especially after chipmaker Qualcomm unveiled its Snapdragon 855 chipset that will form the basis for many 5G handsets.
The first 5G handsets are expected to hit the market in 2019. OnePlus, the Chinese smartphone maker, has said it wants to be the first to launch a 5G phone in Europe. Samsung is also planning 5G phone in early 2019, so it is a safe bet that Mobile World Congress, Europe's big telecoms conference in February, will be full of 5G phone announcements. The iPhone is reported to be getting 5G in 2020.
These first phones are unlikely to be cheap, with analysts predicting that a OnePlus phone could cost around $650 (£513). Cristiano Amon, Qualcomm's president, predicts that 5G will be in mid-range handsets in 2020. It is worth bearing in mind, though, that that would be a faster ramp-up than we saw with 4G.  
Networks: don't hold your breath
But you need more than devices, you need networks to run them on. These will roll out more slowly. There is a flurry of 5G trials going on around the world, such as Vodafone testing whether 5G could bring broadband to rural parts of Ireland. There is a list of all the publicly-announced 5G tests in Europe here, although the page might be slightly out of date.
Some 25 wireless operators will launch 5G services around the world in 2019, a figure that will likely double by 2020, predicts Deloitte. But many of these are likely to be limited to small areas in big cities, with countrywide coverage coming much later. T-Mobile launched a commercial 5G network in Poland in December, for example, but this is limited just to central Warsaw at the moment.
A wide-scale roll-out is probably at least seven years away. The European Union has said it would like 5G to be available across the bloc by 2025, but the institution has been overly-optimistic about technology rollouts in the past and has had to revise ambitions for fast  broadband coverage for example.
The UK government has set a slightly more conservative target date of delivering 5G coverage to a majority of the country by 2027. Possibly only a micro-state like San Marino is going to be able to boast of ubiquitous 5G coverage in the next few years.  
What's the catch?
There is a range problem.
5G uses several different parts of the radio spectrum, both the very low frequencies - which can go long distances and travel through walls - and the very high frequencies which can handle more data. (There is a good guide to 5G frequencies here.)
The high, above 6 gigahertz frequencies are the most interesting because those will give 5G its very high data handling capacity. But these have quite a short range and will be blocked by objects such as walls and trees. This piece in Computerworld estimates that while a 4G mobile phone tower can cover an area of around 30 miles, 5G has a range of about a third of a mile.
Mobile operators will need a lot of 5G towers - imagine boxes on every street lamp and traffic sign - which won't be cheap. Vodafone, for example, is looking at installing 5G antennas in manhole covers in order to get coverage across the city. It also raises the question of whether this will really be the answer to providing broadband for rural areas. McKinsey's look at infrastructure costs gives more detail. 
It has become very political.
5G has also become very geopolitically contentious, with many countries worried about using equipment from China, especially Huawei. US politicians and executives are pushing to keep Chinese companies out (£) of the lucrative 5G market, while Japan, Australia and New Zealand have banned Huawei from taking part in their countries' 5G build-out.
Not everyone is keeping Huawei out. The Chinese company is working with Altice Portugal, for example, to upgrade its network to 5G standard; the latest in a series of 23 commercial 5G contracts it has signed – 14 in Europe, five in the Middle East and three in Asia.
Photo credit: Christoph Scholz