Anything we do for human health is being translated into veterinary services for cats and dogs, too, with companies developing everything from wellness testing to pet health chatbots. DNA testing has some immediate uses in purebred dogs and cats with their hereditary health problems, but genetics can go a lot further — as cutting edge antibody treatments are being developed for dogs and cats with cancer and rheumatoid arthritis.
Some of the animal healthcare may even have an impact on human treatments, as it can often be quicker to launch and develop for the pet market. Learnings from these early pet pioneers can be fed back into human medicine and may end up helping the owners, too.

PetMedix: Antibody therapies for cats and dogs
Antibody therapies for treating diseases like cancer and rheumatoid arthritis are still right at the experimental edge of human healthcare. But these treatments could be soon extended to dogs and cats too, thanks to Cambridge startup PetMedix.
"Dogs and cats get cancer just like we do — in fact, the incidence is higher than in humans — but they don't have the same range of therapies available to them," says Tom Weaver, founder of the 2019-founded startup.
It's not as simple as taking human antibodies and putting them in dogs or cats. They just won't work or will be rejected. You have to take the human antibody technology and apply it to a whole new set of genes for dogs or cats.
For a long time, says Weaver, there were concerns that this would be so expensive the treatments would be far beyond what pet owners would be willing or able to pay. But Weaver, whose own background includes viral oncology and working on viruses related to HIV, says PetMedix has developed a system which would allow them to bring costs down.

The 35-strong team of scientists, including Allan Bradley, whose antibody development company Kymab was recently bought by Sanofi for more than $1.1bn, has built a platform in which allows them to create dog and cat antibodies in a transgenic mouse and then purify them for mass production using gene sequencing.
Once you have isolated the antibody it is easy to grow it in volume inside cells, "a little bit like brewing beer," says Weaver.
The first therapies they have planned will be for targeting cancer and inflammation — Weaver keeps exact plans under wraps for now for commercial reasons. The company says that it has so far proven that its therapies work in the lab, and is now beginning the first series of clinical trials.
It will take at least 4 years to get regulatory approval, so the antibody therapies are unlikely to be available on the market until 2025. It takes around $20m and 4 years to bring an animal therapy to market, Weavers says. But that is a snip compared to the development process for a human drug, which costs upwards of $1bn and at least 8 years.
Weaver's dream, eventually, is to be able to feed some of their learnings back to human antibody therapies.
"In time we hope we will learn from the results of our animal therapies things that will translate back to human antibody therapies. There may be therapies we can try out faster and more affordably in dogs and feed that back into the human therapeutics," he says.
In the meantime, the company is raising a Series B round, which it hopes to close this spring, to help finance the team during the development process. The company has also partnered with Boehringer Ingelheim, the pharmaceuticals company with a big presence in animal healthcare, to co-develop drugs. "It is a major external validation of our approach and our team," says Weaver.

Bisu: Wellness testing for pets
Just as people are starting to track various health indicators at home via apps and home-testing kits, pets, too are becoming a market for wellness testing.
"People are starting to look at pet wellness because they see pets as extensions of themselves and part of the family," says Daniel Maggs, founder of wellness testing company Bisu.
"A couple of years ago testing pet urine was seen as a bit weird. But there has never been a better time for doing this."
Bisu is mainly focused on human testing — Ii is developing an easy, at-home urine testing kit that families can use to track biomarkers like minerals, vitamins and hydration, for a subscription fee of around $20-$30 a month. But they are also making it possible to add Rover or Fluffy to the list of family members that can be tested.
Bisu's kit includes a lab-on-chip test strip and a table-top device that can read the results and ping them to a connected smartphone. Part of their development work has involved clever ways of collecting urine — including test strips that can be put in babies nappies, and cat litter that can collect droplets of urine for testing.
Pets might not be an insignificant side project for Bisu. There are various reasons why home testing is useful for pet owners, explains Maggs. Veterinarians have difficulties, for example, getting accurate readings for a pet's cortisol level, because a visit to the vet would tend to elevate the production of the stress hormone in any case. Home testing may give more accurate results.
Bisu is a cultural hybrid. The company is based in Tokyo, but registered as a US business, while Maggs himself is a Brit and the company has received support from the UK Government.
Bisu's human nutrient test is currently in beta, and the pet test is in early pilots. A bigger consumer launch is expected in 2022.

Felmo: Vets are not just for video
As their human owners switched to digital doctors appointments during the coronavirus pandemic, veterinary consultations too migrated to video calls too, with companies like FirstVet building up big businesses around these services.
But many competitors are cropping up, and are experimenting with finding the right combination of digital services and at-home vet visits. Berlin-based Felmo, which raised a Series A funding round in January, is one of those that believes video consultations alone are not enough.
"Video consultations are mostly good for insurers but not really for pet owners. It can be hard to hold the pets at the right angle. It may be better to send pictures and then have a phone call," says Philip Trockels, who founded the company together with Lars Giere. "Many go for a purely digital angle, but we want to be more of an end-to-end solution."
Felmo began offering a video consultation service, before eventually discarding it as unhelpful. What the company is developing, on the digital side, is a chatbot that can talk pet owners through many of the commonly-asked questions on pet health, such as how to treat parasites, for example.
The company employs around 30 vets directly who can do the home visits. Collecting a large group of vets like this is useful as the team can share knowledge and standardise the treatments they do, says Giere. "They feel they are becoming better veterinarians."
The approach seems to be popular. Giere says the company has tripled its business since raising a seed round last July, and that revenues are growing at the same rate.
The company is just starting to roll the service out beyond just Berlin, first to other German cities and then across Europe "Our goal is to build a European brand," says Trockels. The team is considering making acquisitions to really consolidate its position — although this may require them to raise a Series B before too long.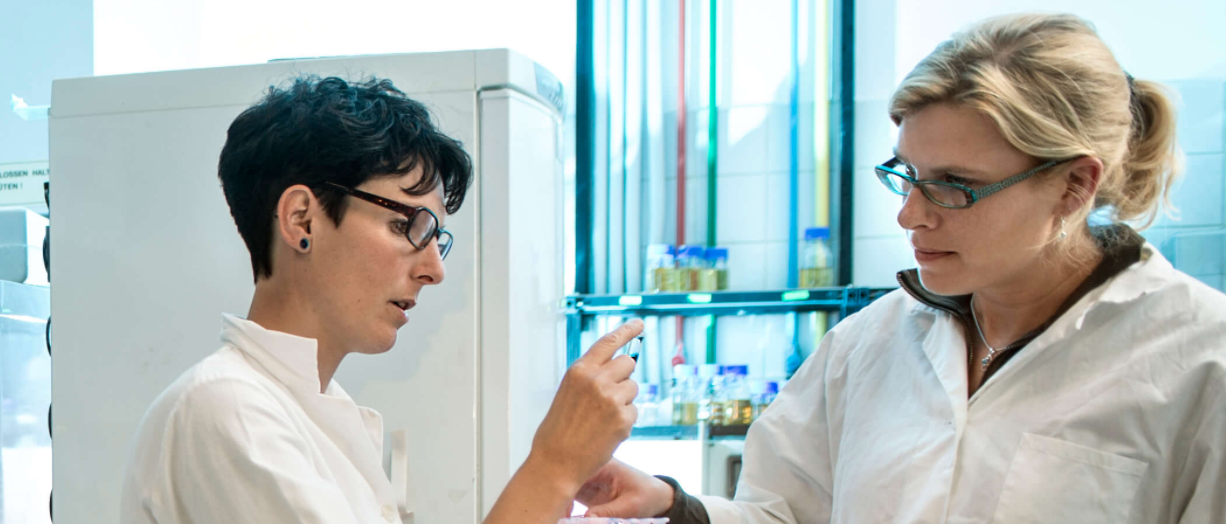 Feragen: Tinder for pets
As DNA testing becomes more and more accessible and affordable, pet owners are turning to it to find out more about their animals. Many people who take in a rescue dog, for example, turn to DNA testing to find out what kind of breed mix it is, says Anja Geretschläger, who cofounded Feragen, an Austrian pet-testing lab.
Equally, breeders of pure-breed dogs are interested in genetic testing to see if their animals have hereditary disorders that can cause them severe health problems throughout their lives, Purebred dogs, which are bred from an increasingly narrow gene pool, are disproportionately prone to any number of conditions, from heart and neurological conditions in Cavalier King Charles spaniels and breathing difficulties in bulldogs. Concerned breeders often want to make sure they pair animals with partners that are less likely to have these hereditary problems.
This has led Feragen to devise a sort of doggy-dating service, where breeders can screen their dogs DNA and look for a breeding mate that would minimise the risk of getting a poor combination of genes.
"The gene pool for pure breeds is getting smaller and smaller, but this can help breeders find optimal partners, even if the other dog is on the other side of the world," says Geretschlager. "Even if flying over would be too difficult at the moment, packets of sperm can be sent by post."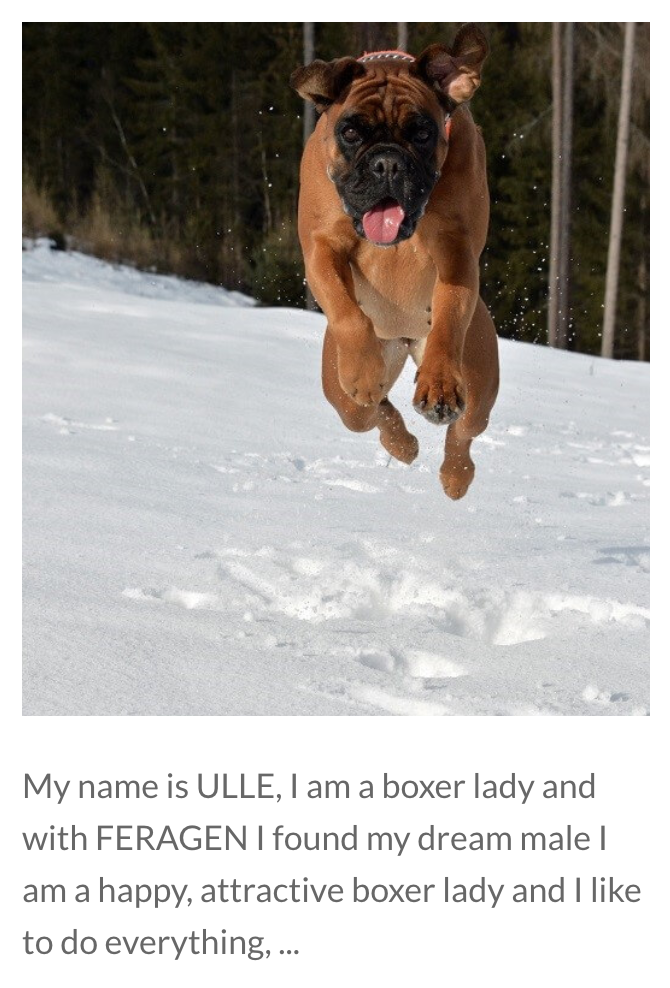 "We have been monitoring puppies conceived this way for three years so far and the results look really good. Of course, there can still be disorders, we can't guarantee there won't, but we can minimise the risk."
Feragen, which has a team of 12, is already working with various professional breeders on the doggy-dating service and has plans to expand this to the general public of dog owners. The company is working on a more easy-to-use website and diagnostics reporting system — at the moment results come on quite technical spreadsheets that can be hard to interpret.
The company was founded by Geretschläger, originally a plant geneticist who switched to studying dog DNA when looking for ways to help her own dog who was suffering from health issues. So far the company has been bootstrapped and makes enough of a profit not to need external funding. But Geretschläger says they may seek out external investment in order to really scale up the company.
This article first appeared in our monthly Unleashed Pet Tech newsletter, a collaboration with Purina Accelerator Lab. All content is editorially independent. Sign up to our newsletter here to keep up to date with the latest goings on in the European pet tech industry.