Despite the Covid-19 pandemic, 2020 was a record year for VC investment across major European cities, with a strong fourth quarter making up for a slow start to the year. Total fundraising for the year reached $43.6bn according to calculations by NGP Capital, up 4% from 2019.
Fundraising by startups in key European metropolitan areas, 2020 vs 2019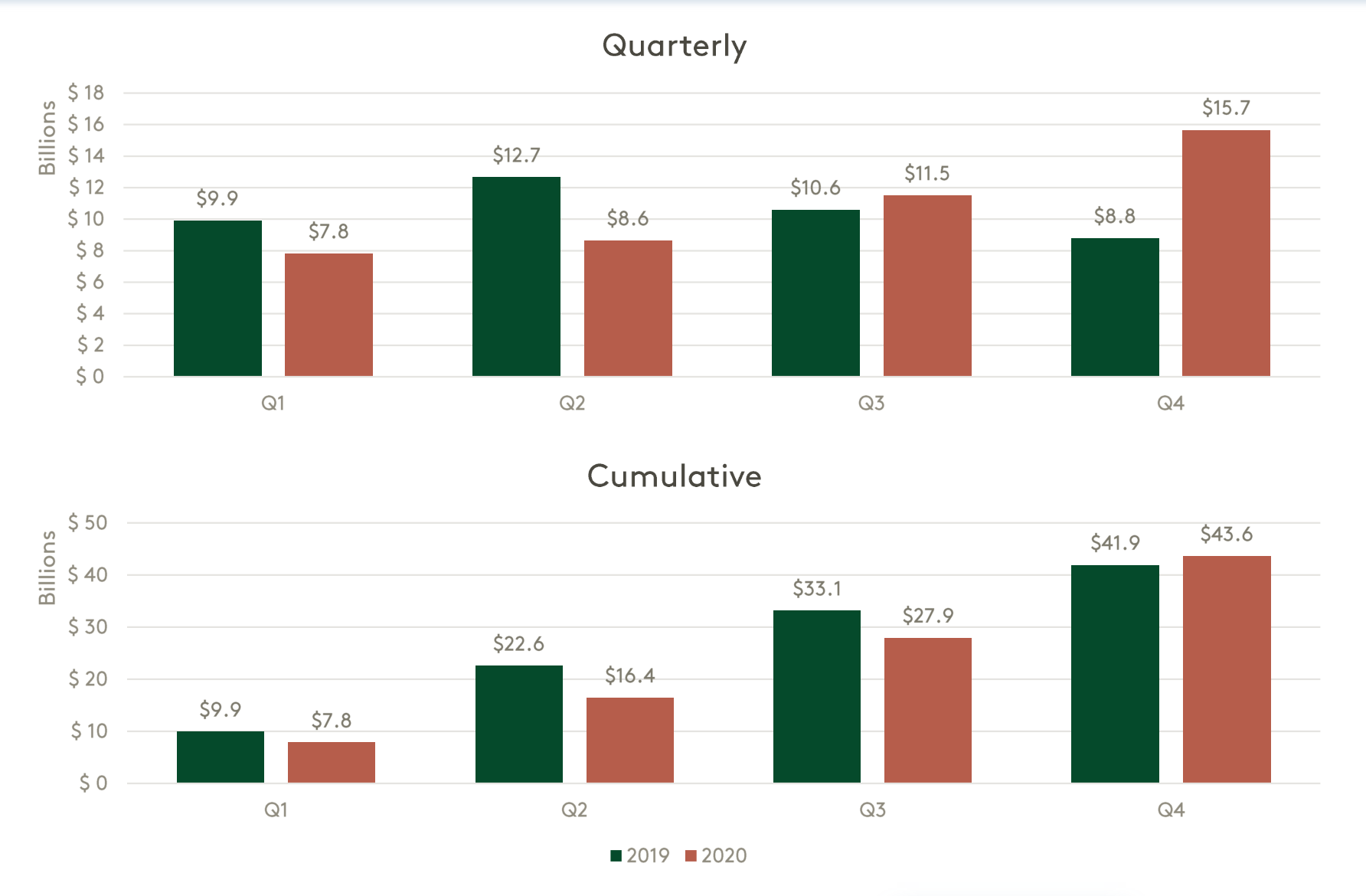 But fortunes of different cities diverged sharply, with London and Paris surging ahead, while Berlin and Tel Aviv fell back. Startups and scaleups based in London collectively raised $19bn last year, up $5.1bn from 2019; while Paris-based companies raised $5.3bn, a 29% increase from the previous year.
Berlin-based companies, on the other hand, raised nearly 37% less funding, while fundraising in Munich fell by nearly 16% and in Tel Aviv funding was down more than 24% from 2019.
City by city comparisons for fundraising, 2020 vs 2019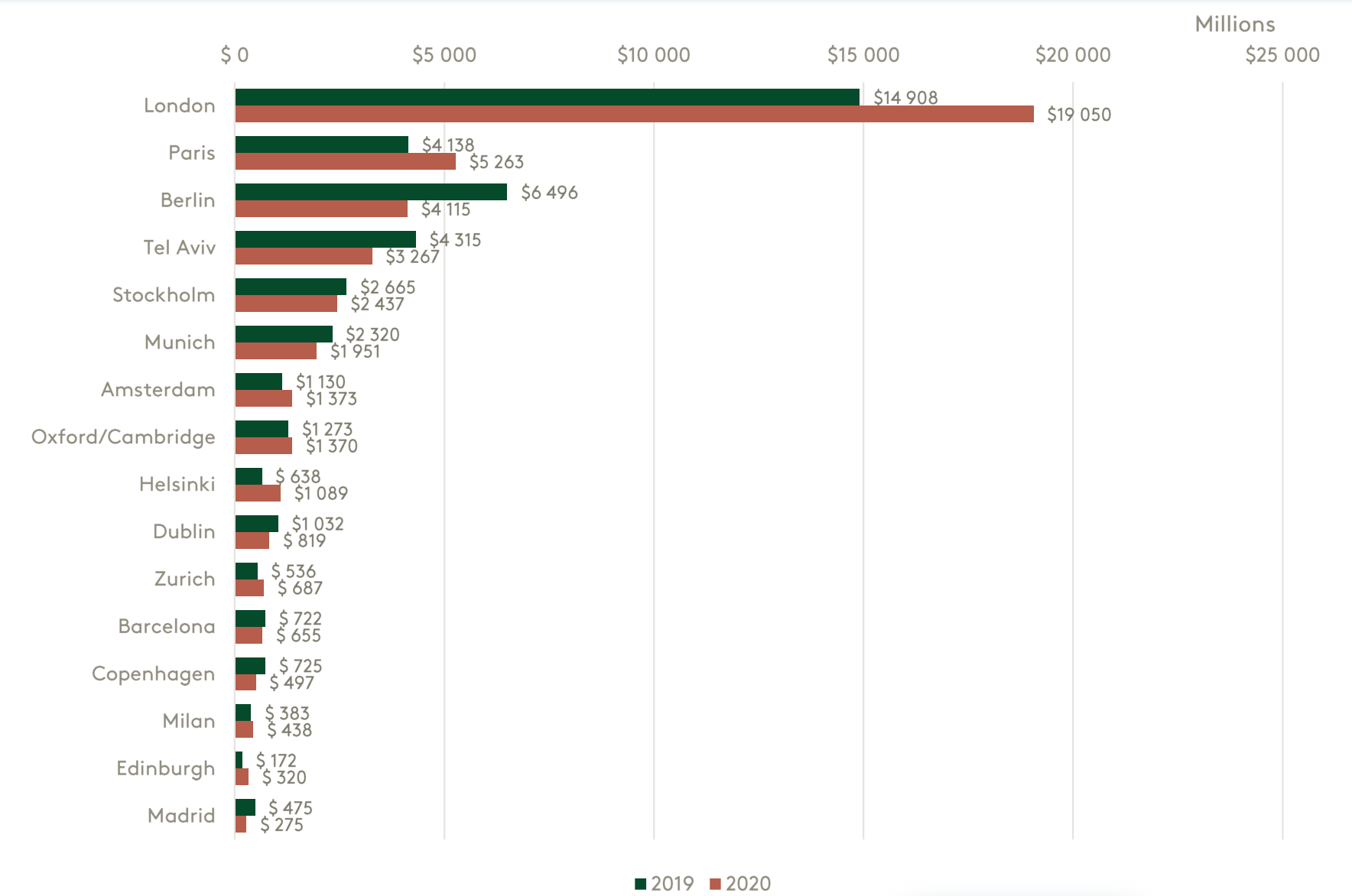 Bo Ilsoe, partner at NGP Capital, said London was likely to be benefitting from the fact that almost all big European and international VCs have an office in London — despite the pandemic, entrepreneurs and investors had been able to meet in person, albeit outdoors.
London's fourth-quarter numbers were also boosted by a handful of very large funding rounds such as the $400m funding round for Arrival, the electric carmaker, the $310m Series D round for car buying website Cazoo, and the $125m Series B round for webinar platform Hopin.
In Paris, numbers have been boosted by the French government's active support of the digital industry, which is also showing in the VC sector. The biggest fourth-quarter funding rounds in Paris included the $86m Series B round for payments app Lydia — the largest fintech round in France's history —  and the $70m Series C round for sustainable protein company Innovafeed. Paris had fewer, but bigger VC deals than the previous year. 
In Berlin, meanwhile, 2019 had been boosted by a handful of very large deals, such as the $400m funding round for Frontier Car Group and the $110 Series B round for Wefox. No deal in the fourth quarter of 2020 — even the $250m Series C round by scooter company Tier was not able to bump up the total to outdo these. There were also simply fewer VC funding deals in Berlin in the last quarter of 2020 than the year before.
In Tel Aviv the deal sizes didn't shrink, but there were fewer deals overall.
Percentage change in funding raised in key European cities, 2020 vs 2019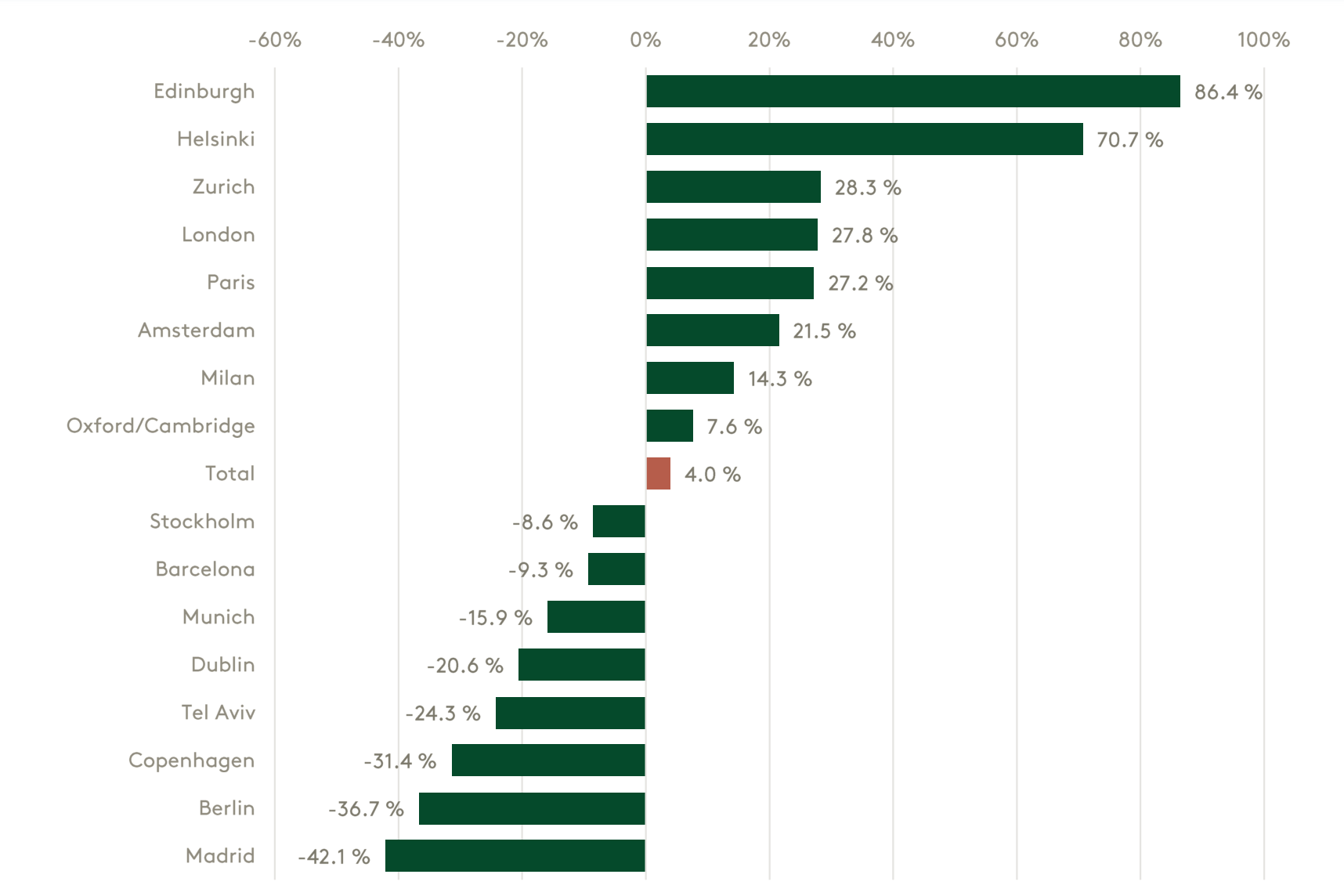 In smaller hubs like Helsinki and Edinburgh relative increases were particularly pronounced — fundraising by Helsinki companies was more than 86% higher than in 2019. Much of that increase came from the $100m growth equity round for Kodit.io, the AI-powered real estate platform: in these smaller hubs, year-on-year differences can be swayed by just one big deal. Helsinki's 2020 does not even count the $530m fundraising by food delivery company Wolt, which came in 2021. Helsinki's 2021 growth numbers are likely to be even more impressive.
Sifted Newsletters
Sifted Newsletter
3x a week
We tell you what's happening across startup Europe — and why it matters.