Unless you're one of the small but growing number of fintech obsessives that hold an opinion on the relative merits of Monzo vs N26, it's unlikely you will have heard of 11:FS. However if you have it's because 11:FS is an active player behind the scenes of the fintech ecosystem, advising a number of well-known banks and in some instances, building new ones from scratch. 
Founded by Jason Bates (cofounder of Monzo and Starling), and run by CEO David Brear, 11:FS is currently in the process of developing a modular banking platform to make it easier for new entrants in the space. It also hosts the popular Fintech Insider podcast, and organises London's fintech football league.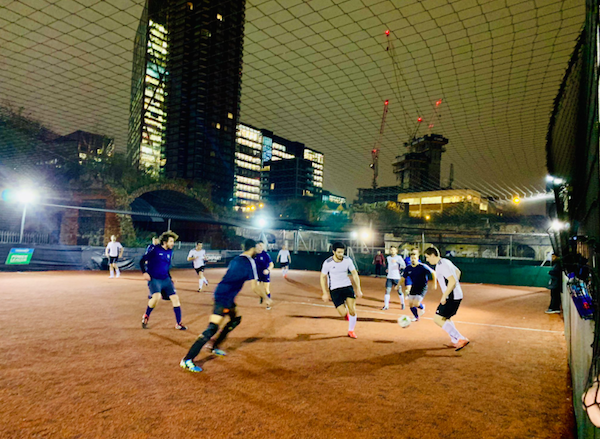 Continuing our book club series Sifted spoke to Brear about his reading habits.
Before running 11:FS Brear led large transformation projects at Aviva and Lloyds (after his dreams of becoming a professional sportsperson were dashed) and launched business challenger bank Mettle for NatWest.
Is there a book you wish you'd read before running a business?
The "High Growth Handbook" by Elad Gil
Everyone talks about startups, yet comparatively little is written about scaleups, especially the size of companies where processes start to break. The reality of really running a business is looking out for where a process might have an impact from a cultural or talent acquisition perspective. The High Growth Handbook is the book I found most helpful for its practical examples in dealing with these problems, including how to establish a culture in a way that actually makes it sustainable. 
What was your favourite book as a child?
The fable of the little red hen is one I tell all the time because I can vividly remember my mum reading it to me — it's about everybody wanting to share the fruit of the hen's labour without contributing towards it. The lesson that really stuck with me is work ethic, that if you really want to benefit from something then you've got to put in the effort to make it happen. 
Does that mean you go around giving children's books out as a gift?
I've actually never given a book as a gift since my relationship with books is very academic and I'm more of an audio visual person!
What about a specific business problem you've overcome with an idea from a book?
"Blitzscaling" by Reid Hoffman
Which as well as being a book is also a great YouTube channel by Greylock Partners filmed during a class taught at Stanford University.
I found it fascinating how the companies featured in the different case studies, from Y Combinator to Microsoft and LinkedIn shared the ways in which they created their culture around understanding how to evolve and how to change. I think culture is a misunderstood phenomenon within organisations, particularly large corporates, and enjoyed learning the tactics used by those that have done it properly. 
What is the best introductory book on your industry?
"Digital Bank" by Chris Skinner
Chris Skinner, one of our non-executive directors (and also a serial author) has written about the strategies needed to move from being an incumbent organisation to a digitally native bank. Again it has lots of good case studies from those that are actually doing it. A lot of people don't look to the past for the future but I'm a believer in looking at previous cycles to see what future models might look like, which Chris does as well. 
If you don't have the right culture to really unlock the potential within the people that you've got, you're going to be spending billions not achieving

anything.
If you were to write a book, what would it be about?
Culture, since it seems to be the one missing ingredient holding back a lot of the people we work with from being really successful. You can have all the money, people, and customers, but if you don't have the right culture to really unlock the potential within the people that you've got, you're going to be spending billions not achieving anything. 
Which book is most frequently recommended to you?
The "Hard Thing About Hard Things" by Ben Horowitz
I've never gotten around to reading it, but I've heard it's very good in terms of rationalising the magnitude of the problem in front of you. I've got a holiday coming up in October; maybe I'll give it a go then. 
Is there anything else that has really had an impact on you? 
Alex Ferguson: My Autobiography
One of the few books I've ever read for pleasure is Alex Ferguson's biography, which details how he picked up the team every year, irrespective of whether they had won or lost, to get them ready for the next season. I think it's a real masterclass on management, including the attention to detail to ensure they had the right environment to succeed.