For years, Stella Artois has been the official sponsor of premium horse racing tracks such as Ascot.
But now it's taken this same idea to the metaverse with a deal to sponsor Zed Run, the blockchain-based online horse racing platform.
Brands will need to find places to be in the virtual world in parallel to where they are in the real

world.
Zed Run, launched by Australia-based startup Virtually Human, lets users buy virtual racehorses using non-fungible tokens (NFTs) — a new way of securely buying and selling digital items.
Horses can be raced against each other on the Zed Run platform, or bred and traded, much like real racehorses would be. Race success is determined by an algorithm.
The Zed Run platform has become a rising star amid the recent NFT craze, with more than 1,000% growth over the last three months. Virtual horses were initially sold for $30 on the platform; now they can trade for $165k.

Stella Artois's parent company, AB Inbev, has long been the biggest 'sugar daddy' for real life sports — from Wimbledon to the Superbowl. It was eager to be among the first to stake a claim for sports sponsorship in the metaverse, says global head of technology and innovation Lindsay McInerney, who led the Zed Run project.
"The future of sports, media, and entertainment is virtual," she told Sifted. "Some 2.5bn people already participate in the virtual economy. This is where the world is moving to and there is no question that brands will need to find places to be in the virtual world in parallel to where they are in the real world."
AB InBev is one of a handful of brands to run early experiments with NFTs and virtual worlds.
Other early entrants into this space include Gucci, which recently sold a virtual handbag on the Roblox platform for the equivalent of $4,115 — more than the cost of one of the designer handbags in real life. Meanwhile, Warner Brothers has created a virtual block party on Roblox to celebrate the film remake of Lin Manuel Miranda's new musical In The Heights.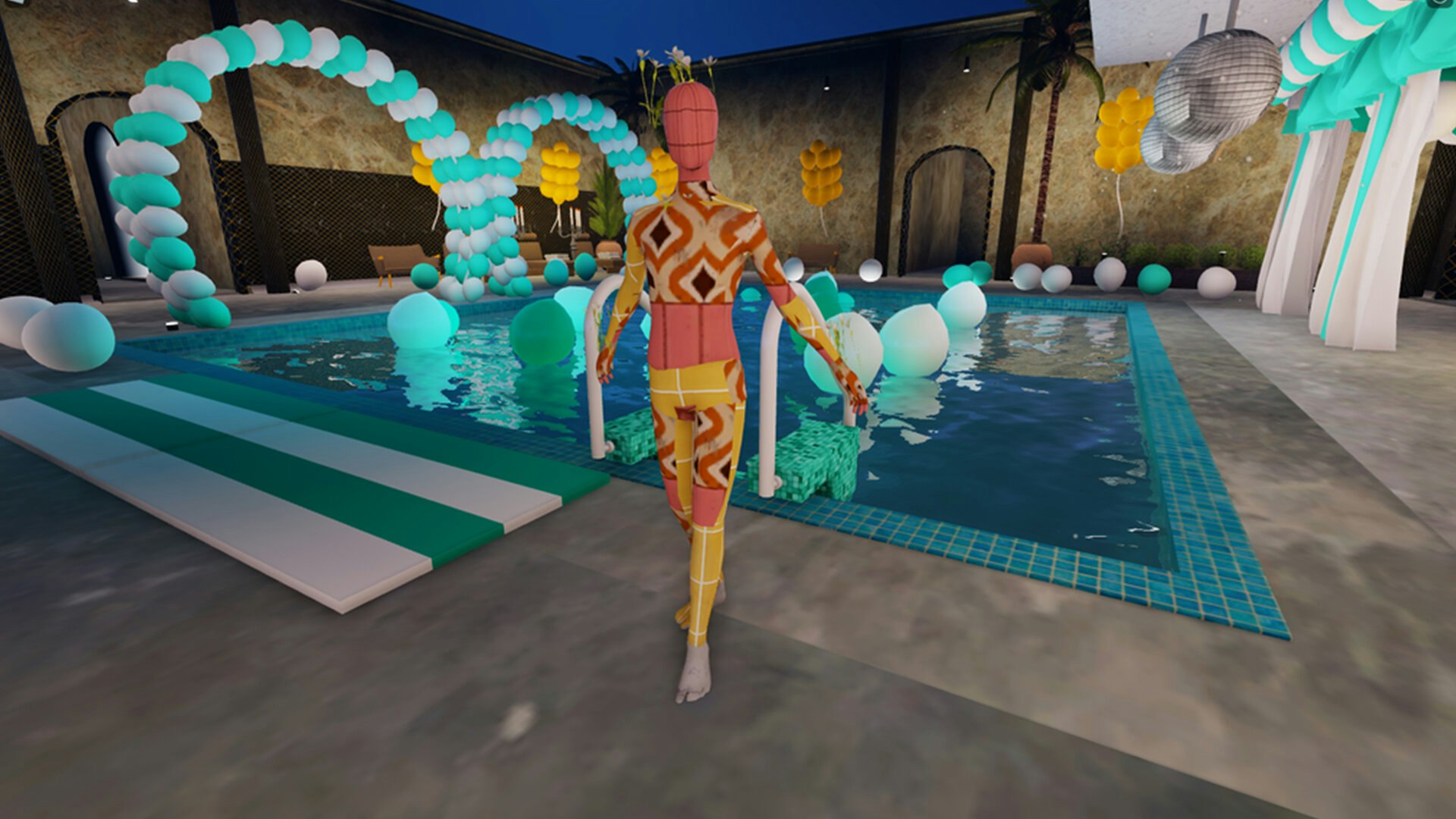 The hype-filled NFT bubble crashed along with other cryptocurrencies in May — with sales decreasing 90% — but this has not prevented brands from exploring long-term possibilities.
Boson Protocol, a London-based startup that is building a blockchain-based ecommerce system, says a number of brands are eager to explore the possibilities of decentralised commerce where goods are bought and sold using NFTs.
You could buy a pair of Gucci shades for your avatar to wear in Decentraland and get an NFT to redeem them at a real-world store as

well.
Boson Protocol recently paid $709k to buy a virtual piece of land inside Decentraland, the Ethereum-based virtual world, on which they plan to build a virtual shopping mall. Visitors can buy fashion NFTs which can then be exchanged for physical versions of the same cap, shoe or bag.
"For example, you could buy a pair of Gucci shades for your avatar to wear in Decentraland and get a Boson NFT to redeem them at a real world store as well," says Justin Banon, cofounder of Boson Protocol.
"Brands are keen to reach younger customers in these new worlds," Banon told Sifted. "Many brands want the media opportunities of doing something like this. They want to differentiate, same as when shopping first went online."
McInerney, who took on the global innovation role at AB InBev last autumn, told Sifted she had spent the last year immersing herself in the blockchain and metaverse space, looking for ways in which ABInBev's drinks brands could build a presence there.
"I've never been so excited about something. This is such a new space and AB Inbev has the first swing at trying it out. "
The Zed Run deal involved Stella Artois sponsoring a racetrack on Zed Run and auctioning off 10 bundles of horses, Stella Artois-themed skins and original Stella Artois artwork. The first day's auction raised more than $197k, with one horse selling for the equivalent of $54.8k.
It wasn't so much this total that made McInerney happy — she wasn't doing this for any direct financial gain and it is (excuse the pun) small beer for a global company — but a well-attended auction was a sign that the Stella brand could be accepted into the community.
Here are a couple of learnings that McInerney was happy to share with other brands looking to try this out.
1. Do things in the virtual world that are similar to what you do in real life
McInerney says she feels brands should be careful about how they go into the virtual space and focus on the things they are best known for and which they already do in the real world.
"If you're not an art dealer in real life, why should you sell art in the digital world?"
This is why AB Inbev has started with sports, she says.
"In reality we appear at the most premium sports events and that's how we should appear in the digital world. Zed Run is the most premium horse racing platform. Stella Artois sponsors similar events in reality so this felt like a really natural, authentic way of extending that legacy to the virtual space."
2. Be respectful of the virtual community
Many virtual worlds like Decentraland are owned by their users and have a very democratic, consensual vibe. McInerney told Sifted one of her primary concerns was not to do anything that would upset the Zed Run community.
"I was more concerned about the community reaction and very pleased to see the respect we got," she says. "I want to be very thoughtful with how we do this. It has to add value to the community."
This might be true of any community that a brand wants to work with, but in the metaverse, the power of individual users is often stronger than in the real world. Brands can't just do a blanket deal with a venue or big owner. They might need to engage with individual users who have bred a very successful virtual racehorse or a popular racetrack, so a positive reception from the user community is crucial.
3. Accept you will make some mistakes
Everything about virtual deals is new and untested, and McInerney believes we are bound to see things brands make some blunders as they try this out.
"There is no roadmap for this, we are writing the roadmap as we go," she says.  "Brands are going to screw it up a lot and we will learn as we go."
Working closely with a partner like Virtually Human, who can help steer through some of the etiquette and protocols of the metaverse can help avoid some of the most egregious mistakes.
The long-term vision
Like the idea of buying sunglasses for both your avatar and your real-life body, AB Inbev's longer-term vision is to find ways to blend real world and virtual world activities, preferably in a way that involves the consumption of ABInBev drinks.
For example, you might enter the Zed Run virtual world, meet a friend and buy them a beer. The beer is delivered to your friend's house in real life, and consumed while you and the friend watch virtual races. Later you might buy a virtual t-shirt to commemorate the day, and a real version of the t-shirt will also arrive for you through the post a few days later.
Even further down the line, McInerney says, ABInBev could develop virtual world sports stadiums and concert venues in the same way that it has the Michelob Ultra Arena in real life.
Now every company has a social media budget, it's a no-brainer. It will be the same with virtual

budget.
McInerney doesn't share how much ABInbev spent on the Zed Run deal or what KPIs the project will be judged on, but says it was run as a pilot scheme with a focus on learning rather than on making a return for the company.
In the future, however, she expects that a portion of a brand's budget for marketing will go towards virtual world projects. It is much the same, she says, as what happened when social media began to replace traditional media 15 years ago. At the same time as ANInBev has been exploring virtual events, the portfolio of real-world sponsorship has been pared down.  
"Now every company has a social media budget, it's a no-brainer. It will be the same with virtual budget," she says.