Floral facades bloom across the buildings of Riga's Old Town, helping to earn its title as a UNESCO World Heritage Site. Yet those living in the historic centre of Latvia's capital city don't live in the past — the Old Town also serves as the biggest startup hub in the Baltics.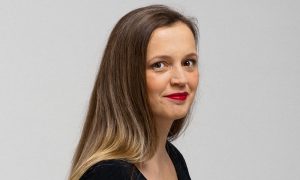 While Riga's tech scene is smaller than comparative centres in France, Germany and the Nordics (the city has a total population of 641,000) its close-knit community has supported home-grown global successes in the likes of Printful and Infogram. 
Ieva Upenience is Head of Partnerships at startup accelerator Baltic Sandbox and previously lead community relations at Latvia's landmark startup festival Tech Chill. Today, ahead of the launch of Tech Chill 2019, she explains why Riga as an affordable launchpad for startups to take on Europe.
Advertisement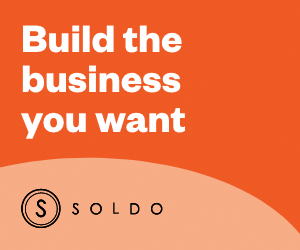 What is Riga's biggest strength?
Riga is a stepping stone for startups to enter Europe. Many come from the Baltics, but also from our closest neighbours like Belarus and Ukraine and from India and Asia. Everything that happens in the startup scene is multi-language and is usually in English so it's a very easy scene to get into.
One recent report showed that around €1,000 [for a person] lasts 31 days in the Baltics, compared to just 11 days in London, and 19 days in Berlin. If you get €100,000 funding you can imagine how long you would survive.
What is the biggest challenge?
Western investors still lack knowledge about Riga and none of the big funds will establish an office here as there are not enough startups. More collaboration and co-investments with local funds would work well.
How easy is it to find funding full stop?
It's relatively easy to find early funding through our acceleration funds. We now have three EU-funded acceleration funds focusing on deeptech (Commercialization Reactor), hardware and the internet of things (BuildIt), and b2b software startups (Overkill). Those are in addition to our own established accelerator for business to business companies Startup Wise Guys.
There's also follow-up investment available, it's just later stage investments which are a challenge. There are more VCs funds here than five years ago, so it's going in the right direction. We are seeing a lot of cross border investment.
In what ways has Riga changed over the last five years?
In the last five years, the government has got really involved.
The Ministry of Economics launched an investment agency called Magnetic Latvia Startup which supports projects which benefit the community. StartinLV, the Latvian startup association, also started a number of now government-backed initiatives including the Startup Law to create a new tax regime.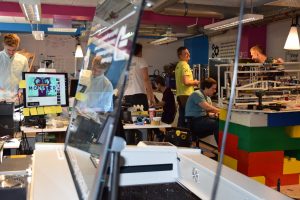 How easy to hire people?
We have a lot of tech talent and a very strong technical university, but the market is running short (there are quite a few big IT companies such as Accenture, Toronto and Mateo which can definitely offer bigger salaries than startups). This just means we're now also attracting talent from outside of Riga. Riga Technical University also runs Design Factory.
What are the day-to-day challenges startups face?
Bureaucracy. You might go to the tax office and if you're doing R&D work for a year, they get confused at how you can have so many expenses but no income. That's a bit frustrating when it happens for the third time and fourth time. But I think when you live somewhere, you always feel you have the biggest bureaucracy in the world until you go somewhere else and realise it's not true.
What area is the best place to work?
Everything happens around Old Town and the centre of the city. People here have different concepts of what 'the centre' is but most agree that it's anywhere that's fifteen minutes from Old Town. It's literally old buildings. There are medieval buildings and churches. Our startups events don't happen in shiny new sports halls, they are in the VEF Culture Palace (built in Soviet 60s style) or in the Latvian Society House (built in 1909).
What are the best coworking venues?
I'm located in OracleTang Space which is a mix of people. The main coworking venue is Techhub Riga, but there's also People Work which is big. The Mill and DarbaVieta are more for designers and creatives. And Teikums is the only coworking space outside of the city centre.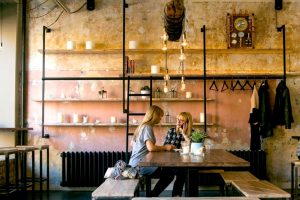 Where is the best place to meet people?
Rocket Bean. They make their own roastery coffee and have two or three spots in Riga which are cosy and modern. There are always people sitting working, having meetings, or grabbing breakfast on the go.
What is the social side of Riga like?
As a startup, part of your life will be connected to the community, even if you don't do nightlife and parties.
Riga is the biggest city in Baltics, so we have lots of cultural things happening from exhibitions to opera and theatre and music concerts. The Old Town is the hub for nightlife – which is probably the best in the Baltics – and a lot of bars and clubs. There are also breweries because we are quite big on our craft beers!
What are Riga's best meetups?
TechHub Riga was the first tech hub outside London, and they have monthly meetups. Around 100 people attend and each month discuss a different topic – sometimes with founders stories, sometimes tied to an event, or with pitch competitions. Last month had the finals of a pitch competition. Every evening is very different.
There's also Tech Chill festival which happens once a year (and is happening this week). In 10 years it has grown from a small meetup to hosting more than 2,000 people with a presence from across Europe.
And there is the Digital Freedom Festival, which celebrates digital culture.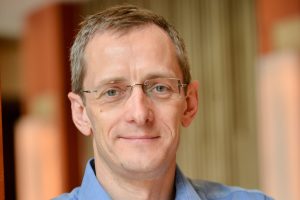 Who do you need to know?
Andris K. Berzins, managing partner in Change Ventures VC fund, co-founder of TechHub Riga.
Egita Polanska, chair of the board at Latvian Startup Association and the head of operations at Startup Wise Guys. 
Olga Barreto Goncalves, head of Magnetic Latvia Startups.
Kristine Kornilova, chief executive of TechChill
Dagnija Lejina, co-founder and chief executive at Digital Freedom Festival
What are Riga's biggest startup success stories?
Printful, a design on-demand firm which is the most successful startup in the Draugiem Group.
Infogram, the infographics platform acquired by Prezi in 2017.  
Sonarworks, an established audio tech startup which has raised €1.8m. 
Mintos, a loan marketplace which raised €5m series A in 2018. 
Giraffe 360, a subscription service for professional real estate photography. They just raised €1m investment.
Which are the most exciting companies to watch?
Nordigen, a fintech startup building the "credit bureau of the future". They're working with banks and alternative lenders. 
Aerones, a drone startup which made it into the top three finalists at Finland's Slush festival in 2018.
Castprint, who are 3D-printing casts to disrupt the healthcare market. 
Anatomy Next, who have created an education interactive anatomy platform for medical students, and have teamed up with partners like Microsoft and the US Army.
Coffee Pixels, who make a sustainable edible coffee bar. I love their product.
Which newsletter and websites to follow for Riga news?
StartinLV, the Latvian Startup Association.
Riga Fact List
Total investments in the region (euros per capita)
€62.2m (2017)
Average software developer salary (euros per month)
€2,013
Price of coworking desk (average, euros)
around €150 per month
Tax rate
41.9% (with government reductions for qualifying startups)
Further stats can be found in the Baltic Startup Scene Report 2017/2018 by Startup Wise Guys.