King's College London spinout Hypervision Surgical has raised a £6.5m seed round from investors including HERAN Partners, Redalpine, LifeX Ventures and Zeiss Ventures, the corporate venture arm of optics company Zeiss Group.
The money will be used to grow the team and seek regulatory clearance for its first product.
The problem Hypervision Surgical is trying to solve
According to CEO and cofounder Michael Ebner, between 10% and 30% of surgical procedures involve complications, whether minor or life threatening. A lot of that comes down to surgeons not always being able to distinguish between infected tissue and healthy tissue in a patient because current surgical imaging cameras don't show colour well enough.
That leads to complications when it comes to deciding which parts of the tissue to remove, and which to leave intact. It can also lead to complications when a surgical connection is made between two tissue parts after an infected area is removed.
Hypervision Surgical has developed hyperspectral imaging software that makes it easier for surgeons to distinguish between healthy and infected tissue. Its first product provides a smarter camera to surgeries that captures hyperspectral imaging traditionally lost on standard RGB cameras (example below). "It gives them a better understanding of tissue pathology and tissue margins," Ebner says. 

Ebner uses the example of colorectal cancer surgery, which is the company's first market. You first need to identify where the tumour is within the bowel, then identify the healthy margins around the diseased bowel. After you've taken that out you need to join the healthy bowel ends together. "It's like plumbing," he says. "You need to make sure the pipes are intact, not just mechanically but that they're well perfused. If it's not, it won't heal properly."
The solution
Hypervision has built a miniaturised compact sensor and camera head that can be integrated into existing surgical systems. It can detect and show a tissue heat map that identifies which areas are more prone to healing poorly.
Ebner says the company is also creating what he calls "a spectral fingerprint for tissue", which surgeons can use to more clearly define the lines between infected and non-infected tissue when operating. All of these fingerprints will be added into a database, which will be updated and refined surgery by surgery, and accessible to users.
The company is currently evaluating suitable software-based business models, including charging a fee for its tech per surgery.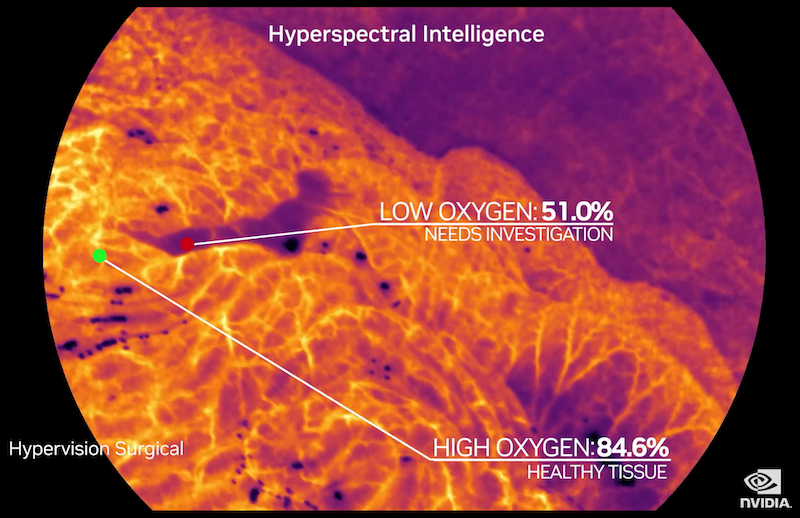 How will it spend the money?
The main focus post-raise is on technology validation, Ebner says. It has plans to complete UK clinical evaluation studies on colorectal and brain surgery in the coming year. It's also secured grant funding to conduct an investigational clinical study at three sites in the UK.
He says the company is looking for potential strategic partners in surgical robotics, surgical microscopy and surgical vision. It's also growing its team from six to twelve, with a focus on operations, sales and tech, including a head of technology.