For a company that has raised $700m in venture capital financing, has a $1bn+ valuation and has completed six acquisitions in under a year, SaltPay has a remarkably low public profile.
Indeed, SaltPay has virtually zero online presence other than its own website. There are no mainstream press reports or interviews, and a Google search lends little insight into the two-year-old European payments company. 
But some are paying attention at least.
High-profile investors, including Hedosophia and Tiger Global, are among those who recently participated in SaltPay's April $500m Series C, according to two sources.
So what is SaltPay? What's its big strategy? Why are investors buzzing about it? And why is the startup sweeping up tiny payments firms?
Sussing out SaltPay
Founded in 2019, SaltPay has taken an unusual approach in quickly building a pan-European cooperative of payments components, targeting small and medium merchants.
In real terms, that means several different payment brands now sit under the SaltPay group across Portugal, Hungary, the Czech Republic, Iceland and the UK following an aggressive acquisition strategy ("they're spending like crazy," one peer commented).
It also means the group does everything from merchant acquiring and issuance (eg. card processing and transactions), to offering credit, to providing a broad suite of software services, like spend management and loyalty schemes.
SaltPay's "rollup" strategy means it now employs over 800 people globally. It has doubled its staff in the last few months; drawing graduates from top schools like the London School of Economics.
If all that doesn't sound like your everyday, early-stage startup... it's because it isn't.
SaltPay is led by an experienced founding team, headed up by Eduardo Pontes, a Brazilian entrepreneur who previously cofounded Stone — a Brazilian payments acquirer that went public in 2018, and is described as South America's Square. His cofounder Ali Mazanderani was also a board member at Stone.
The "Stone gang" have each invested personally into SaltPay, an insider told Sifted, and its founders remain the largest shareholders (the full list of investors remains undisclosed).
The "next Adyen?"
SaltPay claims it is building Europe's "go-to" payments and operations hub for small and medium enterprises, with its broad suite of efficiency-building and automated services.
The company told Sifted it currently counts over 60k merchants across its various subsidiaries, largely concentrated in Eastern Europe with UK expansion next on the roadmap.
Aside from distributing directly to European merchants, moreover, it is also developing a software and infrastructure arm — akin to a fintech-as-a-service platform —  to rent out globally.
That could put the company up against everyone from WorldPay to Marqueta, as well as point-of-sale providers like SumUp or Viva Wallet.
Nonetheless, in a rare interview, Chairman Ali Mazanderani argued SaltPay was tapping into a market that is still underinvested in.
I'm super passionate about local entrepreneurs, especially in tier two towns, especially underserved areas... the market just doesn't really speak to

them.
"All the focus, in the fintech space, is...enterprise, online, acceptance or digital banks. But we are interested in helping the family-owned restaurant outside Newcastle, for example," he said. "I'm super passionate about local entrepreneurs, especially in tier two towns, especially underserved areas... the market just doesn't really speak to them."
Mazanderani commented that SaltPay is using "customer-centricity" and its sprawling network of services to differentiate itself.

Today, SaltPay's ambition is so vast that one analyst said SaltPay is known in investor circles to be "selling [itself] as the next Adyen."
Still, Mazanderani poo-pooed the comparison.
"Our focus is simply on putting the small businesses first," he told Sifted.
Buy, not build
What's striking about SaltPay so far is its 'buy buy buy' approach to growth.
Over the last year, SaltPay has used its funding arsenal to go on an M&A warpath, scooping up six startups over the last 12 months — including Iceland's Bogun and London's YoYo Wallet.
Mazanderani, who spent a decade in private equity, says the acquisitions are an "augmentative approach." In layman terms, that means SaltPay has radically changed its subsidiaries' compositions (although it's kept most of their original management in place).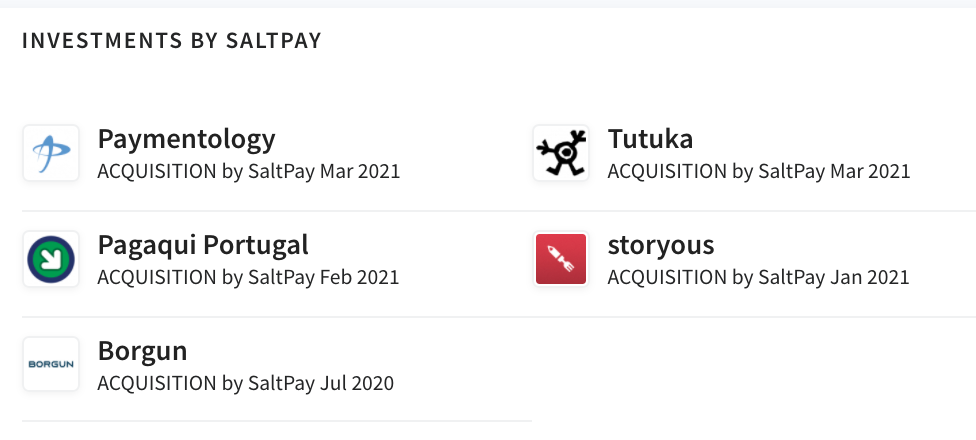 For outsiders though, SaltPay's M&A strategy has raised eyebrows.
One analyst Sifted spoke to described it as a "weird PE rollup of companies", while another questioned why SaltPay was "hovering up all sorts of mediocre companies."
Meanwhile, an ex-SaltPay employee questioned whether "buying companies left right and centre," would lend a lack of focus.
The ex-employee also said that the takeovers has been bumpy at places like YoYo, claiming that some staff the person had spoken to there were "confused" about the leadership and direction of their company after SaltPay took a majority stake.
"[SaltPay] need to be very aggressive with growth, or they won't get foothold in a very competitive market....that's why they're buying...but you can't merge random groups together, and expect it to all work out [immediately]," the individual told Sifted, speaking on the condition of anonymity.
Nonetheless, Haakon Overli at Dawn Capital argues there's a clear logic to private equity growth approaches like this.
"It's a pretty smart thing to do...It's more common than you think," he told Sifted. "Plenty of Dawn's companies have grown very strongly with selective acquisitions."
Keeping tabs
For all intents and purposes, SaltPay describes itself as a London startup, but in reality, it looks more like an established global cooperative.
Filings in the US show the SaltPay group officially domains in the Cayman Islands.
Meanwhile, its staff are spread across London, Portugal and Czech Republic, as well as tech hubs in South Africa and Iceland.
In terms of regulation, SaltPay is licensed across Europe via its subsidiaries. For instance, in the UK, SaltPay is regulated via YoYo Wallet, which it acquired last year and has an e-money license. FCA records show SaltPay previously used passporting agreements from Iceland.
If that's not enough, SaltPay also appears to have a small European venture arm. Public records show the firm has taken minority stakes in several fintechs, including Iceland's Noona.
Indeed, SaltPay remains something of an enigma. It's still unclear what it's building underneath the bonnet, and its approach to growth makes it an anomaly among other London fintechs.
Still, Europe's finance community is now beginning to take note of SaltPay, eyeing a new contender intent on shaking up the sector.