Virtual events platform Hopin has officially become the fastest-growing European startup ever, in terms of the time it has taken to reach a $5bn valuation, according to data compiled by Dealroom for Sifted. The company has a new benchmark for what 'hockey stick growth' really means.
Hopin, which has seen huge demand for its software as corporations have moved events online during the Covid-19 pandemic, was founded in June 2019 and only launched its first product in March 2020. Last week the company raised a $400m Series C round at a $5.65bn valuation.
That means that Hopin hit the $5bn valuation mark in just one year and nine months. By contrast, it took Roivant Sciences, the next fastest in European history, three years and three months to reach that valuation, according to Dealroom. It took UK electric vehicle startup Arrival five years and eight months, London-based fintech Revolut five years and streaming company Spotify eight years.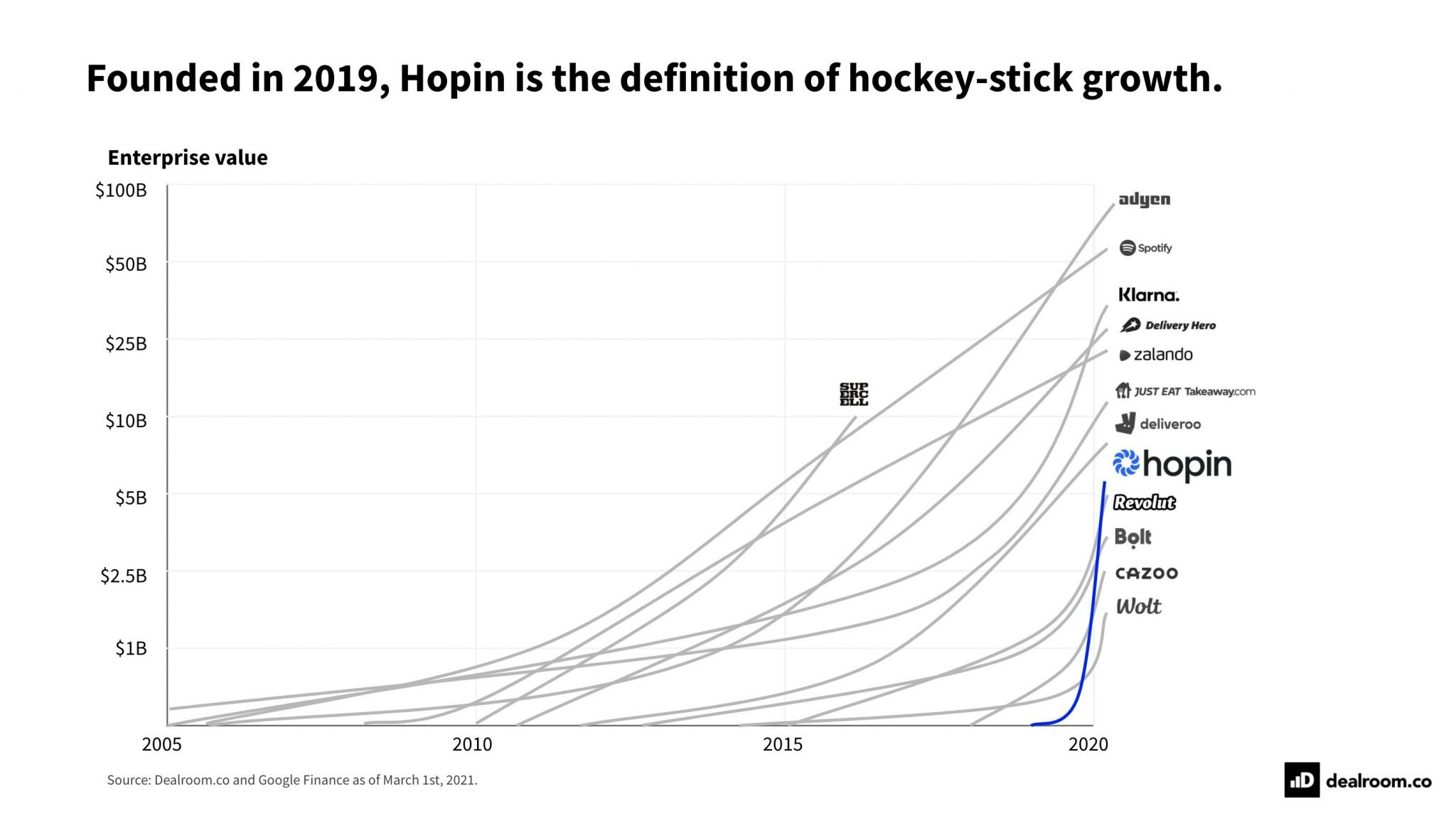 In short, Hopin has made previously 'fast-growing' European startups like Deliveroo or Klarna look pretty sluggish in terms of how they have increased their valuations.
Hopin is not the fastest growing startup to reach $5bn in the world, however. Zhongan, an insurance company founded by Jack Ma and others reached $8bn in 20 months, according to Dealroom.
But Hopin's still one of the fastest of all time.
And it's also worth taking a moment to reflect on how big $5bn really is. If it were a listed company it would be more valuable, for example, than retailer Marks & Spencer (£2.9bn market cap), WH Smith (£2.5bn market cap), Manchester United (£3bn market cap), Euro Disney (€1.8bn market cap) and Aston Martin (£2.2bn market cap).
Hiring too
Valuations are clearly not the only metric for a startups' success or growth. But Hopin has been speeding ahead pretty nicely in other areas as well.
Take hiring. The company had 12 employees in March 2019, according to LinkedIn data, while today it has more than 400.
It has also been quick to add clients. Since November, Hopin has added 30k customers including American Express, The Financial Times and Hewlett Packard, bringing the total number of organisations it has worked with to more than 85k.
It has also acquired two other businesses — mobile app development company Topi (for an undisclosed amount) and video streaming company StreamYard (for $250m) — and says it will continue scoping out opportunities to develop its platform technologies in areas such as video and mobile.
Revenues are growing fast as well. If Hopin keeps growing at the current rate, it will hit $100m annual recurring revenue within a year — the "gold standard" for software investing, according to Salesforce Ventures' Alex Kayyal.
Zeitgeist
Founder Johnny Boufarhat and his team have created a great business but have also managed to capitalise on two mega-trends happening at the moment.
One is the loose monetary policy by central banks pushing up prices of growth assets in general. And the other is how the coronavirus pandemic has accelerated the digitisation of the global economy — in this case with events moving online.
That means that investors are pricing in an enormous opportunity with a frenzy not ever seen in Europe before. It has made Hopin a striking example of what can happen when product-market fit meets product-zeitgeist fit.
What are the European companies which reached a $5bn valuation the fastest?
Hopin — 1 year and 9 monthsRoivant Sciences — 3 years and 3 monthsAcerta Pharma — 5 yearsArrival — 5 years and 8 monthsZalando — 5 years and 11 monthsSupercell — 6 years and 1 monthRevolut — 5 years and 2 monthsCRISPR Therapeutics — 7 yearsRocket Internet — 7 yearsSpotify — 8 years