We've all heard the bear case for European tech. Europe is home to just a tenth of the world's privately held tech "unicorns" worth over $1bn. Every year, roughly three times more is invested in US and Chinese tech companies than in Europe. Pretty much all of the key platforms that define the digital economy (e.g search, social, mobile operating systems) are controlled by US or Asian companies.
But all is not lost. According to two senior European digital policymakers, three of the continent's most influential investors and one of its most high-profile ecosystem players, Europe has a path to bounce back and take a leadership position in global tech over the next decade. This is thanks to its expertise in frontier tech, its powerful institutions, its ability to attract talent and the improving landscape for funding and government support.
"It's not too late; we have the strength," said Gerard de Graaf, director at the European Commission responsible for defining and implementing the strategy for Europe's digital economy. "Yes, maybe we're embarrassed [about being so behind]. Maybe we should have acted more decisively… but we're ready to go, we have the potential and the means. So, let's get going on it," he said.
He was speaking at a panel organised by Sifted and Dealroom for the launch of its EuropeanStartups.co data platform, which is curating all European startup data in one place with the aim of facilitating informed conversation and collaboration across the continent's different ecosystems.
Others on the panel were Saul Klein from the venture capital firm LocalGlobe; Klaus Hommels from the venture capital firm Lakestar; Megumi Ikeda from the corporate venture capital firm Hearst Ventures; Roxanne Varza from the startup hub Station F; and Peteris Zilgalvis, head of the digital innovation & blockchain units at Digital Single Market in the European Commission.
Here is the panel's bull case for Europe:
1) The tech giants over the coming decade will not be platforms like Google and Facebook. They will be based on frontier technologies which Europe has a good chance of developing.
Google dominates search in Europe. Facebook dominates social. The two together dominate online advertising. US companies also control Europe's most prominent mobile operating systems, video streaming services, cloud services and business-to-business commerce.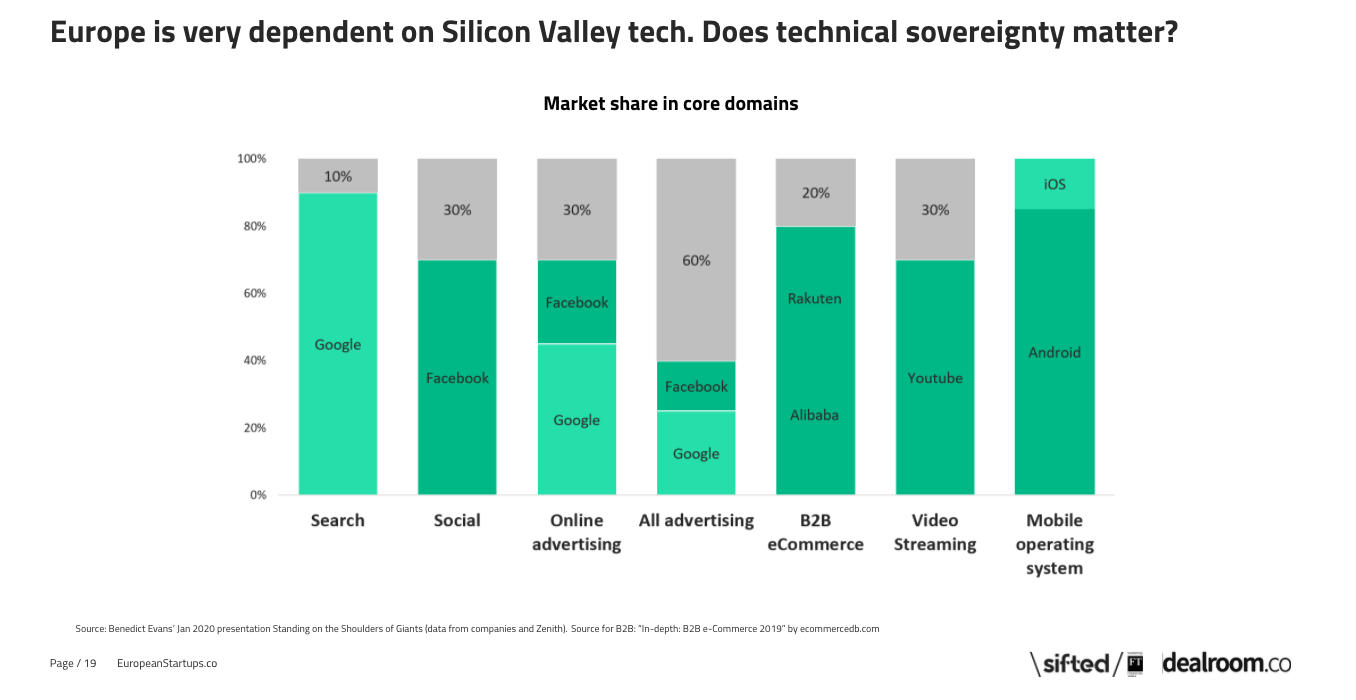 But according to Yoram Wijngaarde, the founder of data company Dealroom: "We can take comfort that the biggest companies of the next 10 years will probably look nothing like Facebook or Google and so creating them is still up for grabs."
He predicts that "the next 10 years are going to be more about frontier tech like robotics and semiconductors, and basic needs like healthcare, food and finance", areas where Europe has significant expertise. Europe is home to five of the top 10 global computer science universities and a third of the world's top 100 universities in engineering and technology.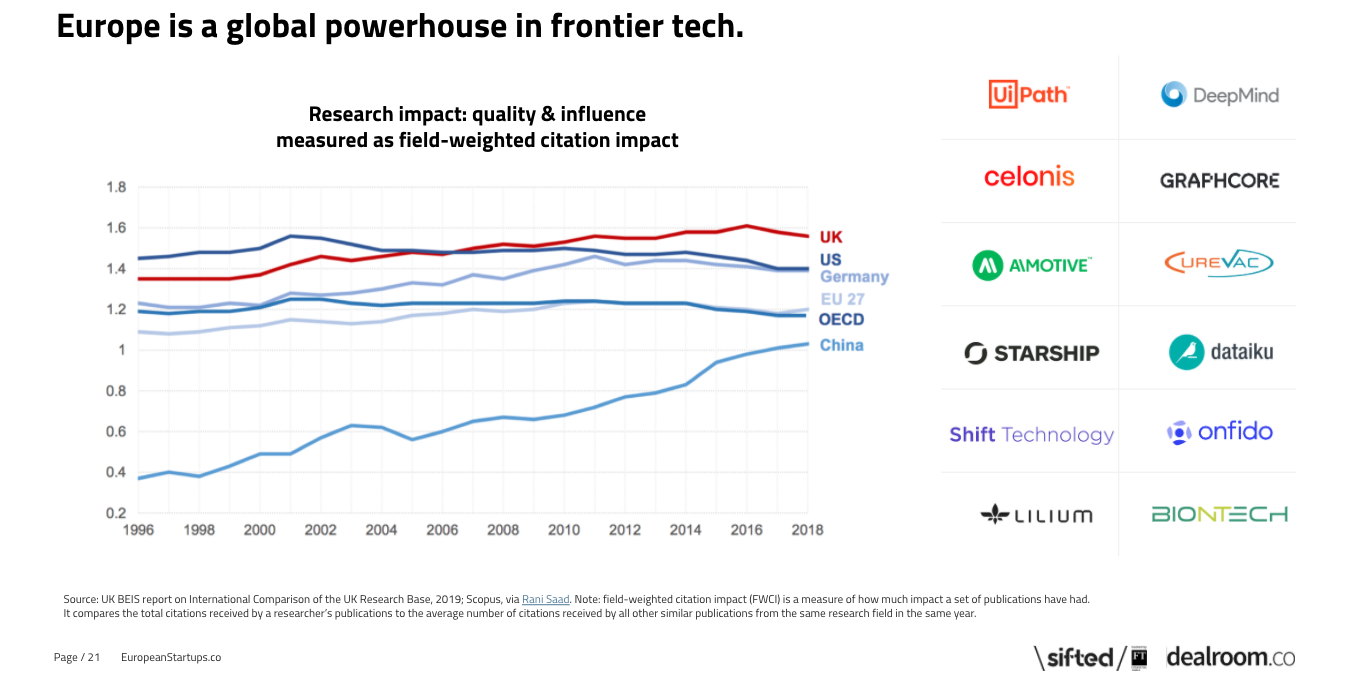 Zilgalvis from the European Commission said that the continent was strong in fundamental research and Brussels was soon to come out with fresh proposals for Europe's future development of blockchain, quantum technology, 6G technology, internet of things, high-performance computing and that "very much our focus is on deep tech".
He said that this does not mean that the Commission has no ambitions at all-around building world-beating digital platforms of the kind that are around today but "definitely deep tech and really vitalising investments in them [is important to us]", he said.
This sentiment was echoed by a prediction in a report by Slush last week: "One of the five most heavily funded industries in 2030 will be one for which the term hasn't been invented yet."
2. Europe has swiftly and efficiently been supporting tech companies through coronavirus.
Europe has quasi-government financial groups such as Bpi France, KFW, the British Business Bank, which have always supported tech companies in various ways.
This made it particularly easy for Europe to quickly respond to the coronavirus crisis, with nations collectively pledging nearly €9bn in funds to help support tech startups and put them on a strong footing.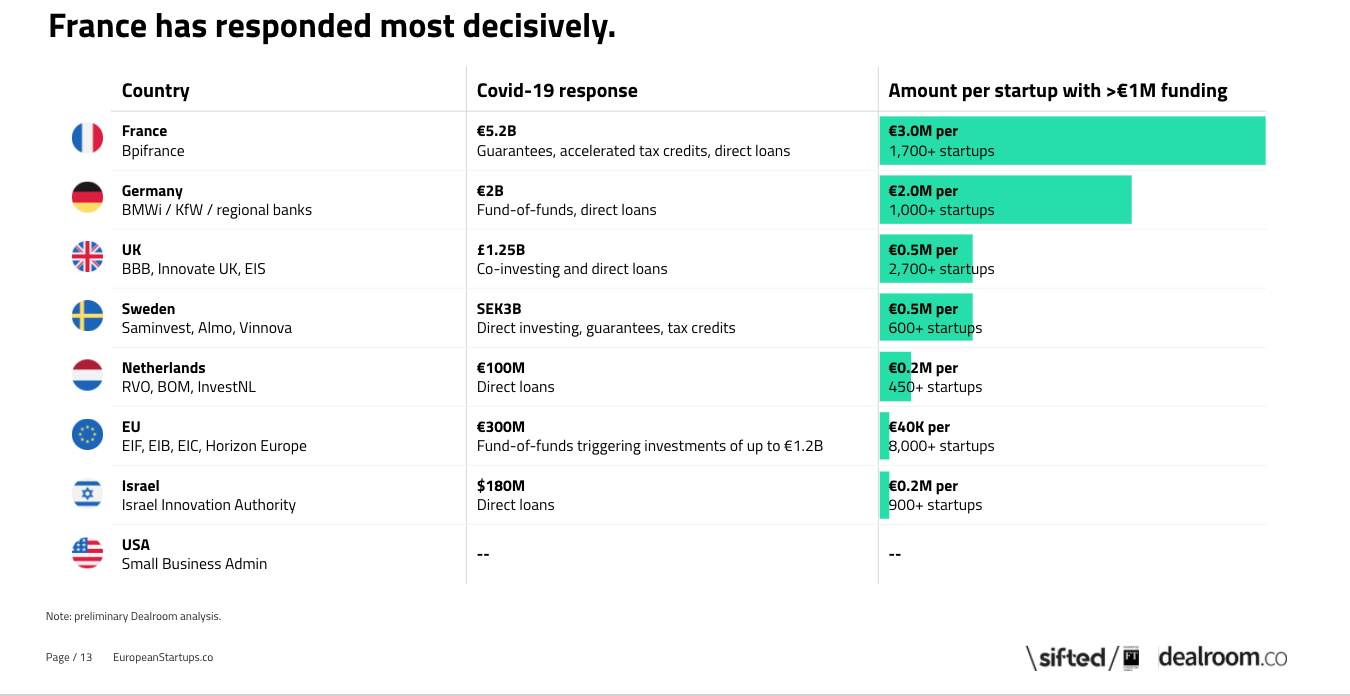 It's something that has not happened in the US — where job losses at startups have been wildly higher than in Europe — or in China where the model of state control is different entirely.
While the counter-argument is that it will keep poorly-performing "zombie" startups alive for longer, Varza from Station F says that this €9bn will help the ecosystem emerge stronger from the crisis than others. "I think this is a perfect example of European governments actually being really successful," she said.
She said that in a huge survey done by Station F last month, founders were unusually complimentary of the government.
"We tried to get people to tell us about the difficulties of getting government support, but actually they were extremely, extremely positive in a way that I had not seen before Covid-19."
De Graaf added that keeping the European startup ecosystem alive and moving forward in the short term has been a huge priority for the Commission: "We have quite a thriving startup community in Europe, fledgeling and promising, and we don't want it to be washed away as a result of the Covid crisis… So that is certainly a major point of attention."
This is all on top of the €10bn war chest being envisioned for the European Innovation Council to create "the biggest deeptech equity fund in Europe" and the €13bn budget for the European Research Council for research grants.
3. Tensions between China and the US is an opportunity.
Europe is neither the US nor China. That might not sound like a huge achievement in itself, but it could be a structural advantage at a time of growing tensions between the two countries.
This is because, according to Klein from LocalGlobe, it might make sense for companies to put their operations in Europe to be able to trade globally, which could help build up the amount of money, tech and talent on the continent.
"If you want to be a global company, you can no longer base yourself in the US, because that excludes China as a market," said Klein. "If you want to be a global company, you can no longer base yourself in China because the US is not an available market."
He adds: "So if you want to be a global company the only place other than Africa or Southeast Asia [is Europe]… Europe has a massive global opportunity here for the next 20 years."
4. Remote working is changing the game and playing to Europe's strengths
If we are increasingly working from home in a post-coronavirus world, then there will not be the same premium on being in a tech hub such as Silicon Valley. Why not be on the beach in Portugal or Croatia instead?
Klein from LocalGlobe said that while it was still early to tell exactly what the impact of coronavirus would be on remote and distributed working, there was definitely a trend towards remote companies which is something which could benefit Europe.
"In Europe, no single market, no single geography has been substantial enough historically to create global tech leaders… and therefore working across boundaries, working across locations and with different cultures has become a sort of indigenous strength."
He said that Europe was well equipped if this becomes more of a global trend. "We see more and more companies that are fully remote or are comfortable being remote. Because Europe is distributed by its very nature this is something that Europeans I think could be very, very good at."
Varza also said it was an opportunity to use talent from all across Europe and not just in the big hubs: "This is a huge opportunity for all these European companies… Everybody's working remotely. Now we have all this talent. Why don't we go after it and leverage it somehow?"
Ikeda from Hearst Ventures said that remote working was not necessarily going to help Europe, but was going to lift competition everywhere. "I think the competition is going to become fierce. You want that remote engineering job, you're going to have a lot of competition for that."
5. Europe has areas of innovation where it is already world-beating
All of the panellists pointed to areas where Europe is world leading, for examples in public services such as health, energy and aerospace which could be the basis for rising to global tech leadership over the coming decade.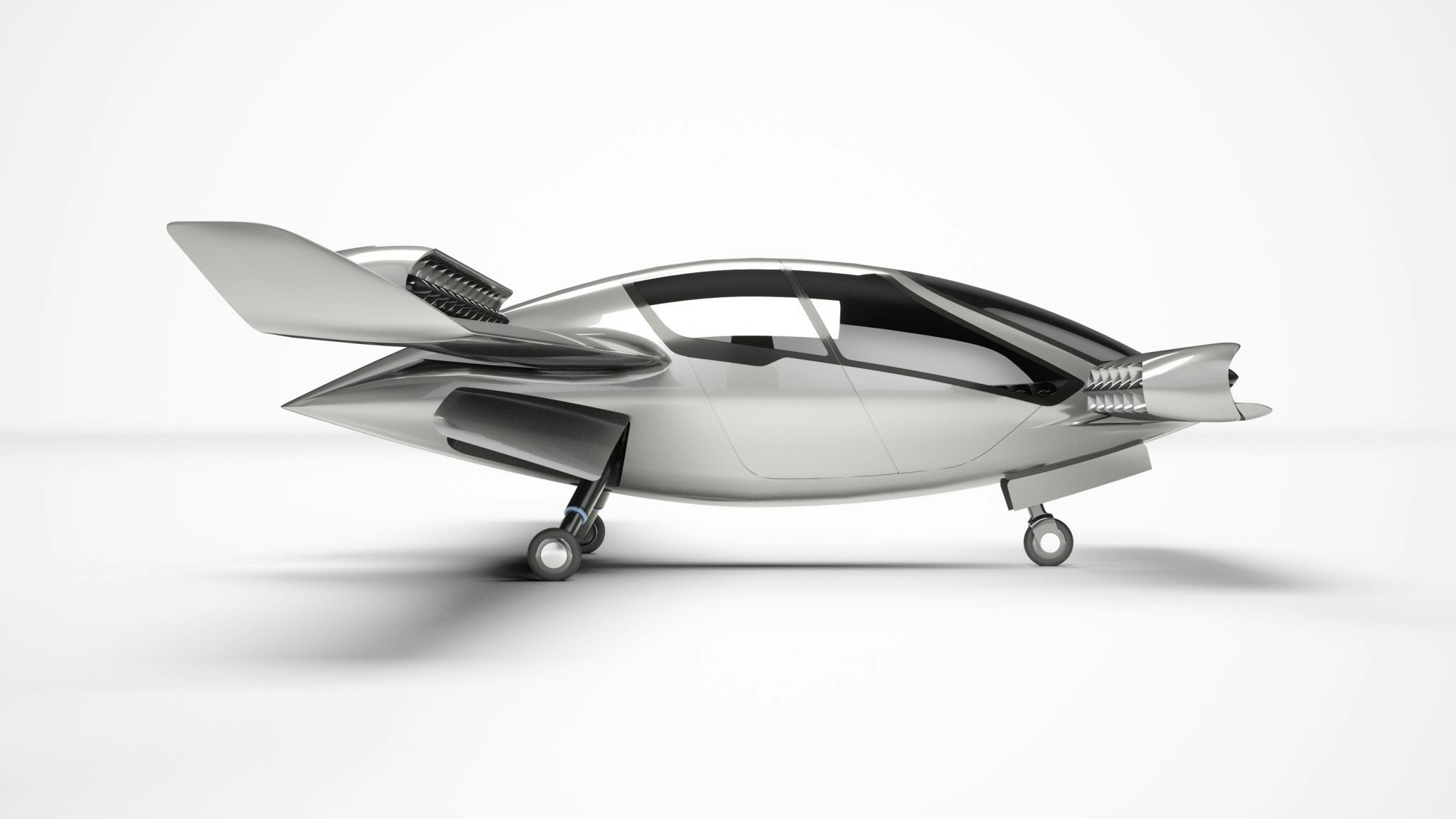 De Graaf said: "We are good in a number of areas like public services, we're good in health. We're good in energy. We're good in mobility. And we have a vision; we want to become a carbon-neutral continent. We want green tech, and we're strong in research, deep tech, education, fintech, so we don't need to copy like Facebook or B2C or marketing or social media.
"Where Europe really needs to move is these deep tech technologies where we are stronger... so, let's not copy the US or China. We've got plenty of good practices in Europe. We know we have the capacities. We have everything. We've got all the assets, we need to just bring all the ingredients together and make a nice spaghetti carbonara."
Klein from LocalGlobe also adds that other areas where global tech champions will emerge over the coming decade are in non-discretionary sectors (e.g food, housing, education, finance, transports and energy) rather than discretionary (e.g social media). Some of these non-discretionary sectors are areas of strength for Europe like energy and transport.
Hommels from Lakestar said that there is still in Europe a sense from some people that being an entrepreneur is about the lifestyle not the technology.
"Entrepreneurship isn't buying a Mac, going to Soho House and ordering avocado toast with a fried egg. It's the person who cares about technology — whether it's protein based foods, vaccines or whatever it is, it's someone that is totally obsessed with an idea, puts their life for eight years on one number in the casino and tries to solve a problem that serves mankind by technology."
But he said that this is hopefully changing to the benefit of Europe.
6. Europe is a great place to live and can attract talent
The war for global tech leadership is to some extent a war for talent. 55% of US billion-dollar startups have immigrant founders. Why did Sergey Brin or Elon Musk move to the US and not Europe?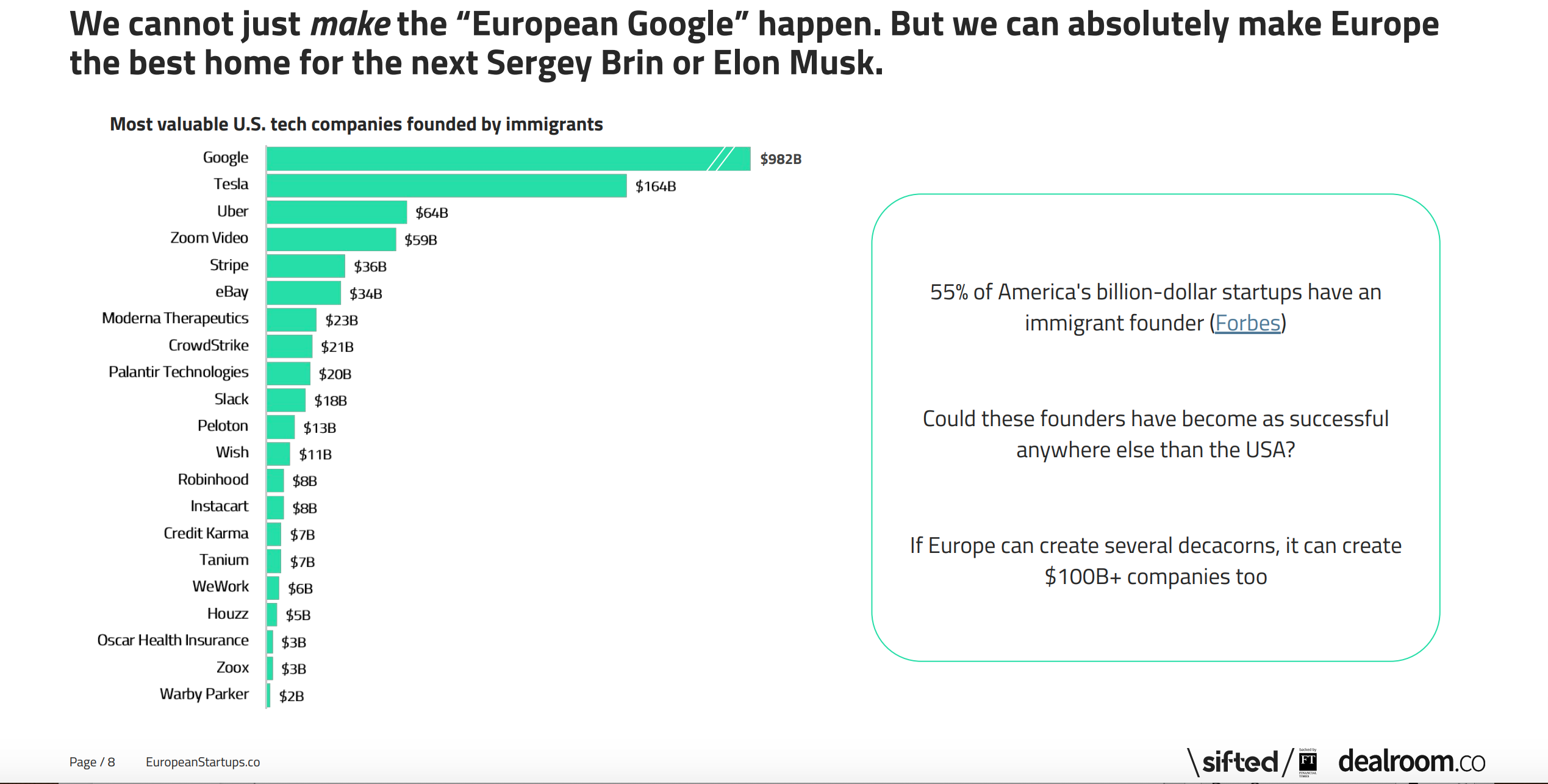 So, there is an argument that ⁠— with more money into the ecosystem, more talent, more remote working and more technological development ⁠— Europe can also attract talent thanks to its values, sophistication and style.
De Graaf said: "We're not China. That's our unique selling point for Europe. And we have values and values are reflected in the way we do things. We have cultural diversity, I mean, values like fundamental freedoms and the GDPR. I mean, not everybody in the world likes it, but it's a clear value that Europe is protecting and is meant to build trust.
"And so I think it's important because look what the Chinese and the Americans like about Europe, it's our values, it's sophistication. I mean, if you sell something like fashion, the value does not come as much from the raw materials but from the design, the beauty, sustainability, the societal values Europe stands for. It's the kind of image we create and people outside associate Europe with. People want to be part of that.
Hommels from Lakestar said that many of the reasons to be in Europe were emotional, but all the more profound for that.
"I think it's fantastic to live here… you sit on a plane and in one hour you are in southern France, you are in Croatia, you are in Amsterdam, London or Paris. When situations like Covid come, there is a sense of inclusion, where everybody has a huge degree of solidarity.
He adds: "You have systems that have been built to support everybody who is not on the winning side so that you don't go from a few to 46m people unemployed, but you have labour rules that really take care of people. I think this is an advantage that every founder should see.
"Now that is built not to optimise if you have a tailwind, but to give you a very, very caring home, if there is sunshine and there's rain, and you have a cultural diversity that makes it fantastic for you to live in, and for your kids to live in."
7. European governments care about digital innovation more than ever.
De Graaf from the Commission said that at every level of government there is a real focus on greater digital sovereignty, and acknowledgement that Europe is behind in the tech arms race, and an understanding that Europe needs to do better over the next few years — concerns and ambitions which did not exist in the same way a few years ago.
"I think before at the highest political level it was always difficult to get the heads of states to talk about digital," he said. "Now, they're talking about digital all the time. I mean, Angela Merkel was in the Bundestag [the German parliament] the other day and what did she speak about? Europe needs to be much stronger in digital. We need greater digital autonomy, we need to invest much more and we need to have the right policies in place, and fast. So I think the [political] conditions are there now for a major leap forward."
Klein from LocalGlobe said: "Europe is a collection of hundreds of millions of people, incredibly strong research bases, unbelievably strong emerging tech talents, and from what I'm hearing from the European Commission — and I know what we all hear from our national governments — there is a real appetite to move to the next level, particularly given the Coronavirus crisis."
8. European tech ecosystems are getting more connected (in spite of Brexit)
One of the traditional problems in Europe is that the different tech ecosystems have been poorly connected. With different legal structures, languages and cultures investors in France have tended to invest in French startups, Spanish investors in Spanish companies and German investors in German companies.
But there are signs that this is changing, according to Ikeda from Hearst Ventures, who cites venture capital firms like Hoxton Ventures and 42CAP, which have been doing deals right across mainland and Eastern Europe. "People are spreading their wings," she said.
Klein from LocalGlobe said that this should continue despite Brexit. Varza from Station F says that the "scout" model helps, with Venture Capital firms increasingly employing people in other countries to help them with dealflow and to understand different ecosystems. This has existed in the US for some time, but is only just picking up in Europe.
"I've been really kind of intrigued by the scout model that I feel is just starting to pick up in Europe… I feel like that's also something that's a little bit underdeveloped here and now we have a lot of funds that are going into this space," she said.
9. Europe is already closing the gap, albeit slowly
European tech startups broke records last year with $34bn in venture capital funding, a 40% jump on the previous year as funding for US and Asian startups stagnated.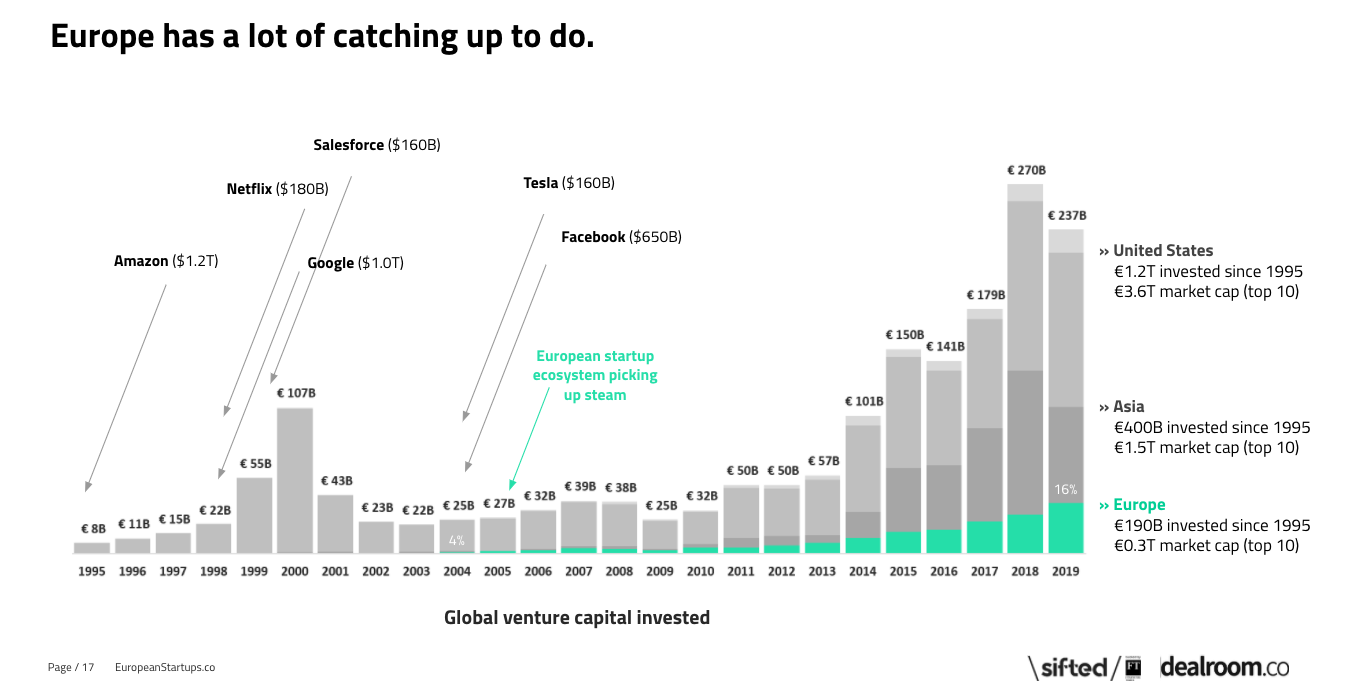 Europe has shown it can produce large tech companies.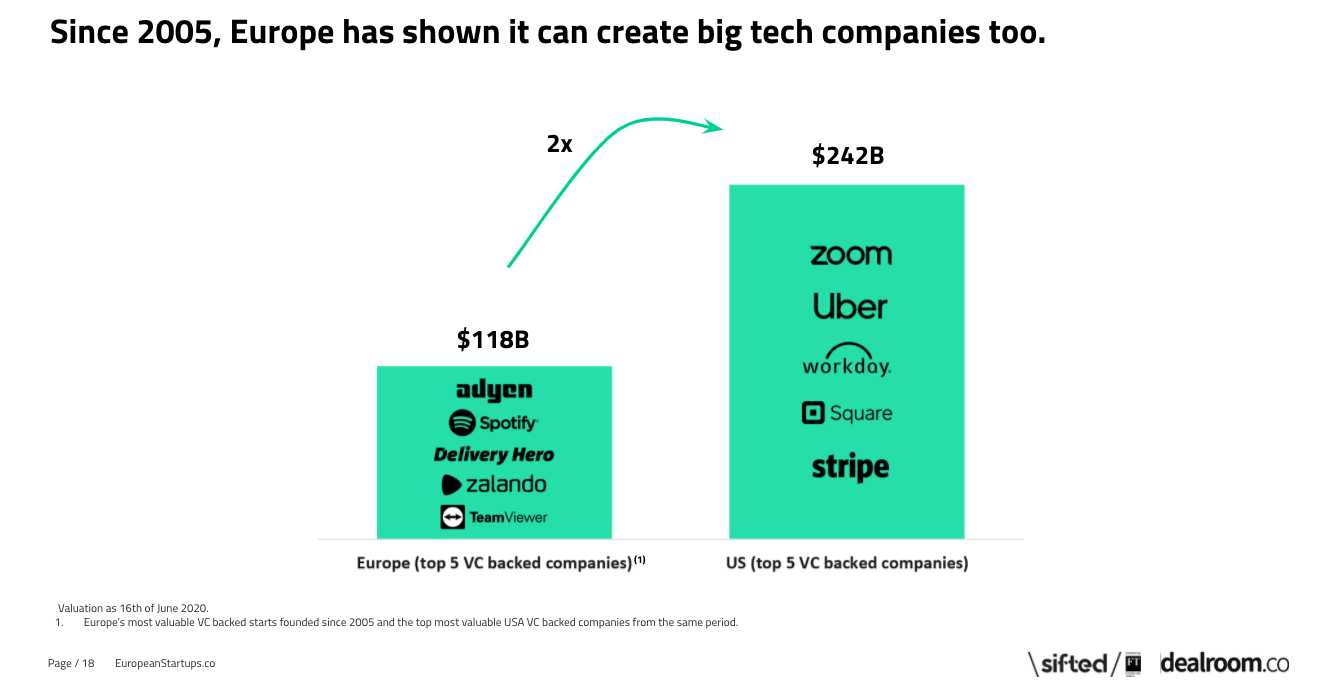 And there is increased interest from the US and Asia

De Graaf said that this all needs to be faster: "If you look at the kind of relative progress, we'll take another 50 years before it is at the level of the US and that is way too long. So we need to step up, we need to be much bolder. As governments, we need to be more entrepreneurial."
There is also a problem in scaling companies. While Europe has quite a lot of private equity and mid-market buyout firms, and also a reasonable number of seed and Series A investors, there is a lack of people doing larger venture capital rounds (investments of $10m to $50m) which can hamper growth at the Series B kind of stage.
De Graaf adds: "If we don't have many big companies in Europe, it is often because it is too difficult to scale. So we should start increasingly talking not just about startups, but about scaling, not the Googles, necessarily, or Facebook. But companies that are successful need to be able to grow in the Single Market and become successful European companies and compete globally."
But ultimately there is at least some traction. There is now no doubt that European tech is developing faster than ever before. But the big question is whether it is developing fast enough to keep up over the next 10 years and become a true global leader.
Register here for a follow-up workshop on using the  EuropeanStartups.co data platform on Friday the 3rd of July at 11am BST.