Silicon Valley has the Paypal "Mafia", the Stanford "Mafia" and the Berkeley "Mafia". On the East Coast, there's a Harvard "Mafia". It's well known that these clusters have supported founders of world-leading startups. 
In Europe, you might point to the Skype "squad". Europe's growing fintech alumni have also backed and founded numerous companies.
But can anyone name any famous founders from Oxford or the Technical University of Munich?  
Cue crickets chirping.  
As a student founder studying at the University of Oxford, I can attest that there is no role model alumni founder. It makes building an incredibly lonely journey. And I'm sure that other student founders and graduates have felt the same. Even the lone genius needs to be inspired by a greater lone genius.
The answer? We need to build the same myths around alumni startup founders like those in the US. 
These alumni groups do exist
It's easy to name Oxbridge alumni who are prime ministers, parliamentarians and leading scientists. Yet we cannot recall any notable Oxbridge-educated startup founders. The same goes for other "unicorn universities" throughout Europe.
But there are great companies built by alumni at these institutions. Taavet Hinrikus of Wise attended INSEAD. Philippe de Chanville, cofounder of France's ManoMano, went to LSE. The simple problem is that no one has built myths around them.
Let's start with Oxford.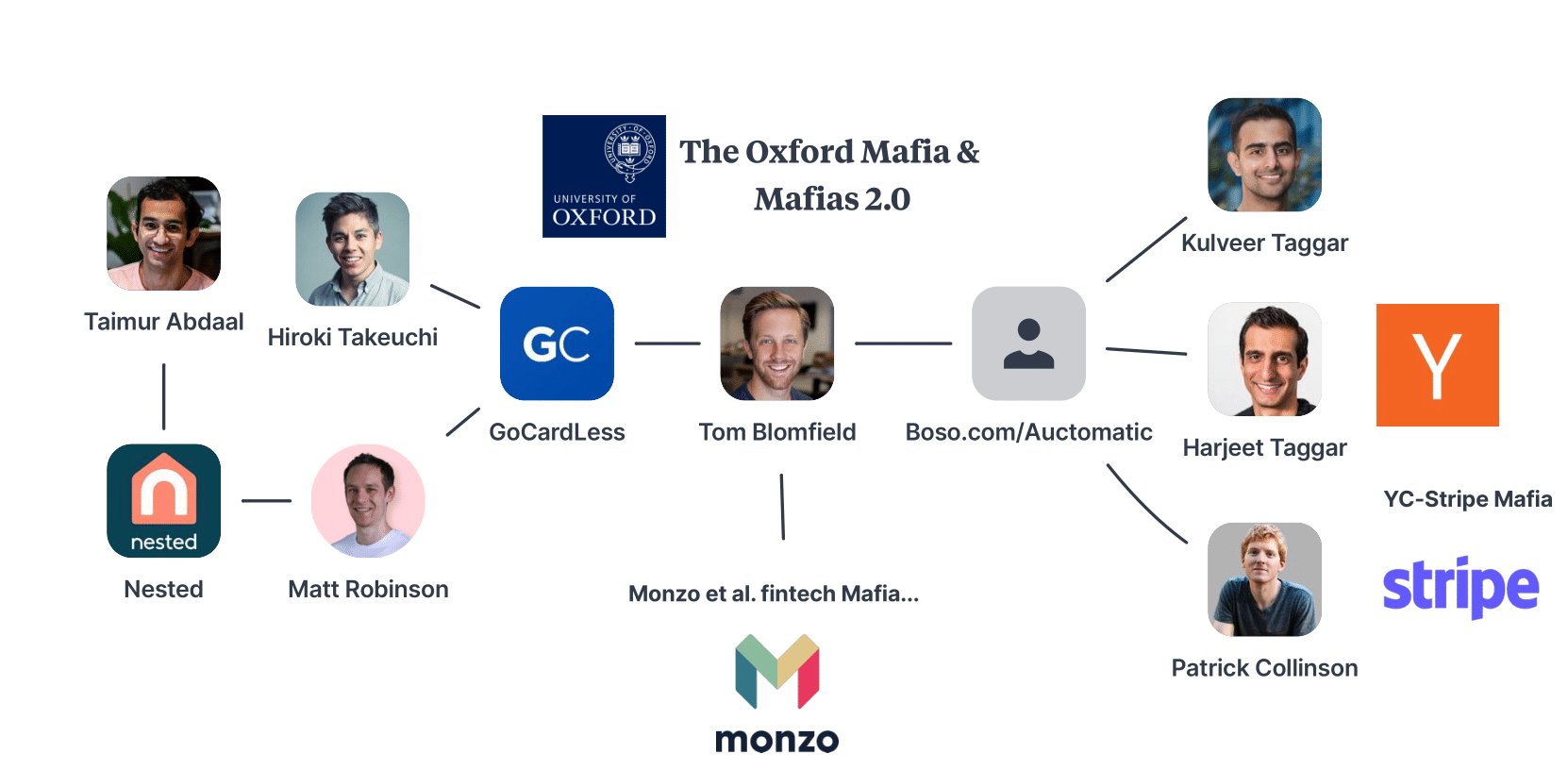 Here is a generation of Oxford-educated founders, starting with Tom Blomfield, most recently cofounder of Monzo and GoCardless. This network has led to the Monzo et al fintech Mafia, and its equivalent for Y Combinator-Stripe (literally, as Ryan Breslow would say).
The successive generation of founders include: 
Husayn Kassai, Eamon Jubbawy & Ruhul Amin founded Onfido, an API for identity verification; 
Oxford Thiel Fellow Nicholas Shekerdemian started Headstart, a platform that removes biases from the recruiting process;
David Hsu, founder of Retool, a no-code product to build internal tools; 
Jamie Cox and Gary Wu, cofounders with Hsu at a previous venture, founded FluidStack, the Airbnb for GPU power. In 2020, they started TreeCard, a planet-friendly debit card.
Other Oxford-educated founders include Torsten Reil, who dropped out of his PhD in biology back in 2001 to build NaturalMotion, a gaming development company. It was sold to Zynga for $527m in 2014. Reil later founded Helsing, a defence AI company that raised a $100m Series A round from Spotify founder Daniel Ek. In addition, Oxford Science Enterprises has invested in numerous deeptech spinouts. There is also a new generation of founders beyond tech. 
The problem is that students do not know these founders
A similar network of alumni founders exists at all of Europe's elite institutions. However, students do not know them because:
Sifted Newsletters
Sifted Newsletter
3x a week
We tell you what's happening across startup Europe — and why it matters.
Founders themselves do not wear school names as a badge of honour (compared to their Stanford/MIT/Harvard-educated counterparts)
European universities suck at alumni engagement compared to US. 
Let a thousand myths prosper
Europe's "unicorn universities" need founding myths with European characteristics.
They need to give their students aspirations. We need myths for a new generation of the Rebellious Intellectually Curious Hustlers (RICH). 
Stanford has branded its Symbolic Systems major as a pipeline to tech. Oxford could rebrand its Philosophy, Politics and Economics degree from an (expired) passport to power to a community of proper builders. Cambridge ought to brand its Natural Sciences course as a deeptech founder pipeline. European universities like INSEAD and Technical University of Munich (TUM) can aspire to be "the school for fintech" or "the school for enterprise SaaS".
But we can't depend on universities. While they might create cutting-edge research, they are the vestiges of a dying era.
We need the recipients of myths (students), the creators of myths (social media and news sites) and the subjects of myths (founders) to work together. We need to build a culture that builds.
And what's better than that? We need to build a culture that builds inclusivity too. Our role model founders also need to include women and people from backgrounds not traditionally represented in tech. You may notice that the alumni groups above I mentioned above do not include any women.
Myth-building needs to include diversity so that it is inspirational and relatable. 
If you are an European-university alumni founder, here is how you can contribute:
Teach courses;
Support hacker houses;
Mentor for early-stage incubators; 
Be a good role model.
Work with your alma mater! 10X founders build worlds. And you can start building worlds by building a strong brand on campus.
The best part of it all? You will pass the baton and inspire our next generation.