Swedish electric driverless truck company Einride has raised a $110m Series B funding round, which will be used to roll out its services faster to customers in Europe and the US.
Though the company, founded by Robert Falck in 2016, was groundbreaking in being the first company to operate autonomous, all-electric freight vehicles on public roads, it has always been very modestly funded compared to competitors like Nikola — valued at $3.3bn in a SPAC deal last year.
When you have half the money you have to be twice as

good.
"We want to be one of the frontrunners in this space, and I am grateful for our investors for having the confidence that we can deliver," Falck told Sifted in an interview, adding that the deep pockets of competitors did not worry him. "When you have half the money you have to be twice as good."
The round has brought in new investors Temasek, Soros Fund Management LLC, Northzone, Build Capital and Maersk Growth. It is the latest in a series of investments into digital, sustainable logistics companies by the investment arm of shipping company Maersk, which has also backed companies like Loadsmart, Forto and Huboo.
To be honest our pipeline is bigger in the US than in

Europe.
Expansion in the US is the key plan following the fundraising. Einride, which has grown to around 100 staff, already works with customers like Coca-Cola, Oatly, Lidl and Electrolux, but plans to expand this list.
"To be honest our pipeline is bigger in the US than in Europe. New technology is often adopted first in the US and US customers are beginning to see that going electric will give you the competitive edge," said Falck.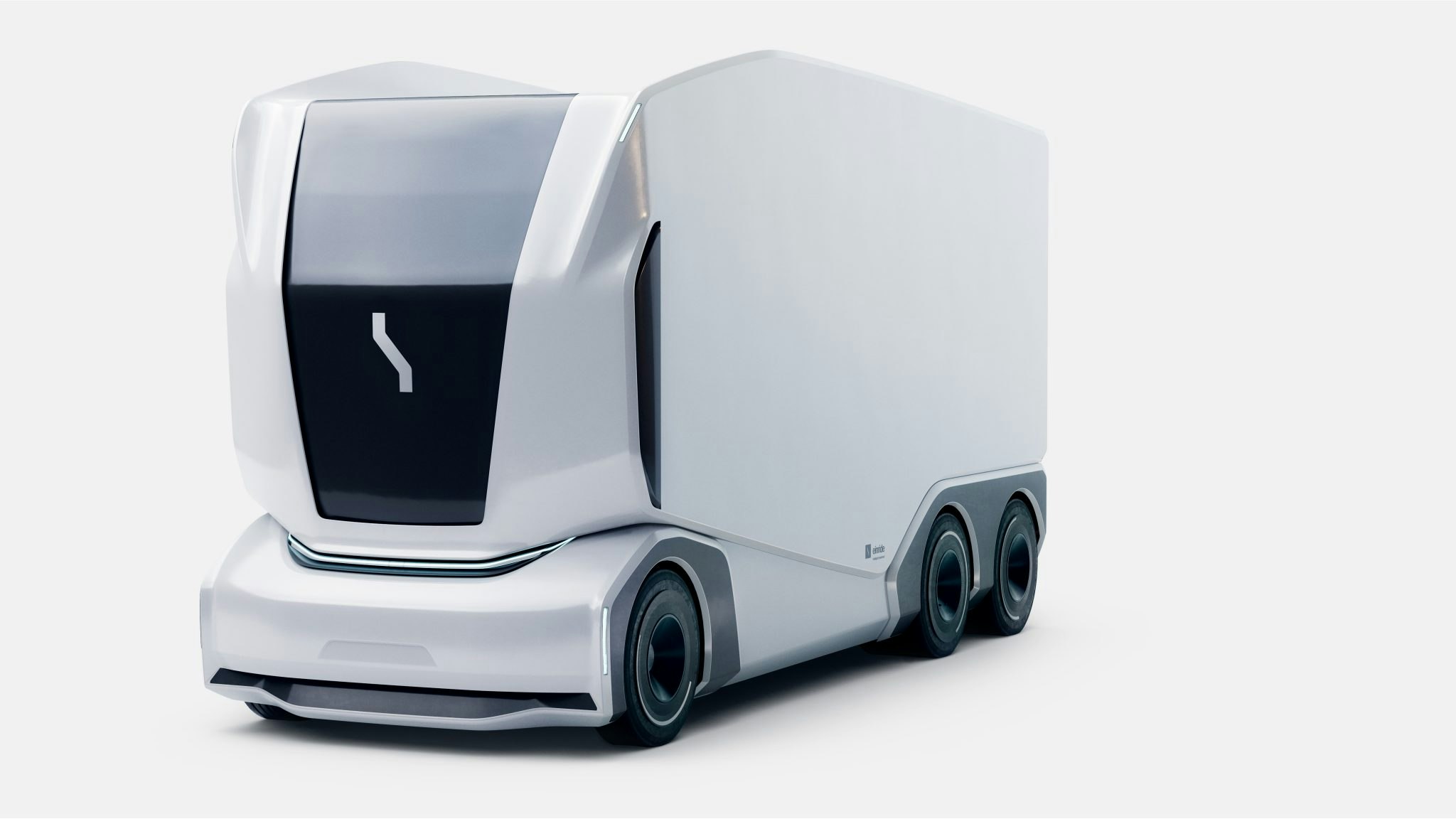 You don't buy an Einride truck — or "pod"— as the company likes to call them. Customers subscribe to a monthly service for a certain amount of transport capacity, and Falck says Einride works out cheaper than competing services that use diesel fleets. Saving money is usually what clinches the deal — with the prospect of cutting CO₂ emissions by up to 94% the icing on the cake. Road freight accounts for some 7% of global CO₂ emissions, and companies are increasingly interested in finding ways to cut back.
The global market for freight trucking was worth $4.2tn in 2020, according to Global Industry Analysts Inc — $1.1tn of which was in the US. Falck says some 30-40% of that should be electrified immediately because it makes for a better business case.
Self-driving is still part of the plan
Electrification is one of the main focuses at the moment as the possibilities for getting self-driving trucks on public roads is still extremely limited. Einride's public road permit is limited to one public road in Sweden, for instance, and while it ran a long self-driving pilot project with German logistics company DB Schenker, this was discontinued due to business uncertainties in the pandemic.
Still, Falck sees electrification and self-driving as "two blades of the same sword" which will both eventually transform the trucking industry and make it more sustainable.
"We started with an ambition to change freight transport. I was worried that if you made diesel platforms autonomous you would lock them into the system for longer. There is a big shift happening in the industry and we needed to act quickly."
Autonomous vehicles are already dominant inside the factory, it seems logical to take it beyond the

gates.
Falck's vision is for a series of smaller electric trucks ferrying goods around autonomously, a natural extension of the way goods are already transported by self-driving vehicles inside factories and warehouses.
"Autonomous vehicles are already dominant inside the factory, it seems logical to next take it beyond the factory gates," he said.
Unlike the Silicon Valley technologists who started autonomous car companies like Waymo and Aurora mainly to solve their long Bay Area commutes, Falck has a background in logistics — he formerly worked at Volvo Trucks — and has always seen goods as the logical place to start self-driving.
Hydrogen isn't
Falck told Sifted in a previous interview that he started Einride "to annoy the industry" because, back in 2016 few of the incumbent truck companies were taking electrification seriously.
Since then, the automotive industry has been catching up, though. Volvo recently announced three heavy-duty electric truck models and is aiming for half of its European sales to be electric by 2030, similar to the ambitions of Volkswagen-owned Scania. Meanwhile, Daimler, the world's largest truck maker and Volvo have teamed up in a joint venture to create hydrogen fuel cells for the heavy-duty long-distance trucks for which electric batteries may not be an option.
I don't like the prospect of a fully-loaded hydrogen truck taking out a whole

block.
Falck isn't worried about the competition, and he is openly sceptical about the prospects of hydrogen fuel cells.
"Hydrogen is still 10 to15 years off even the pilot stage, let alone scaling," he said. Plus, there is much more risk of hydrogen vehicles having a catastrophic accident.
"I have worked on tests and trials of hydrogen as an engineer and there was always a problem of when there was a malfunction, who do you send to inspect the truck? How long do you wait to make sure it is safe? I don't like the prospect of a fully-loaded hydrogen truck taking out a whole block if it goes wrong," he says.
IPO on the horizon?
Given that it has only just raised a Series B round, it is still early days for Einride, but Falck hints that an IPO is likely to be on the cards one day.
"Our core ambition is to drive change," he told Sifted. "I believe that to be a gamechanger you need to have a public space for your funding as well."