Mass cyber attacks and data breaches threaten digital security globally in 2020, making cutting-edge software vital for the cyber safety of organisations.
Big companies are taking cybersecurity more seriously than ever; the World Economic Forum found that cyber attacks and data fraud ranked third amongst Covid-related business concerns. It's a challenge for many organisations — but also an opportunity for startups.
According to the LORCA Report 2020, investment into UK cybersecurity startups in 2020 has increased by 940%, compared to the same quarter in 2019 (which had already reached an all-time high of £521m). New cyber startups are springing up all the time, too; a new cyber business is registered every week in the UK, while vacancies for cybersecurity jobs climbed by 22% year-on-year in 2019.
But there's a worry that the bigger, more established cyber companies are attracting the majority of this capital; 94% of investment into cyber in the UK in 2020 has been directed at growth-stage companies.
That's where Kaspersky steps in.
Kaspersky to partner with outstanding startups
Cybersecurity giant Kaspersky has launched its Open Innovation Programme to work with B2B tech startups with a developed minimum viable product (MVP), to help them scale globally and potentially invest in them. 
The aim of the programme which is now in its second year, is to discover and nurture new forms of innovation and work with startups to develop revolutionary cybersecurity projects.
Vitaly Mzokov, head of innovation hub at Kaspersky, says: "In a constantly changing world, customer needs are rapidly evolving. Kaspersky aims to meet these growing demands by delivering innovative cybersecurity solutions and supporting growing businesses in the industry."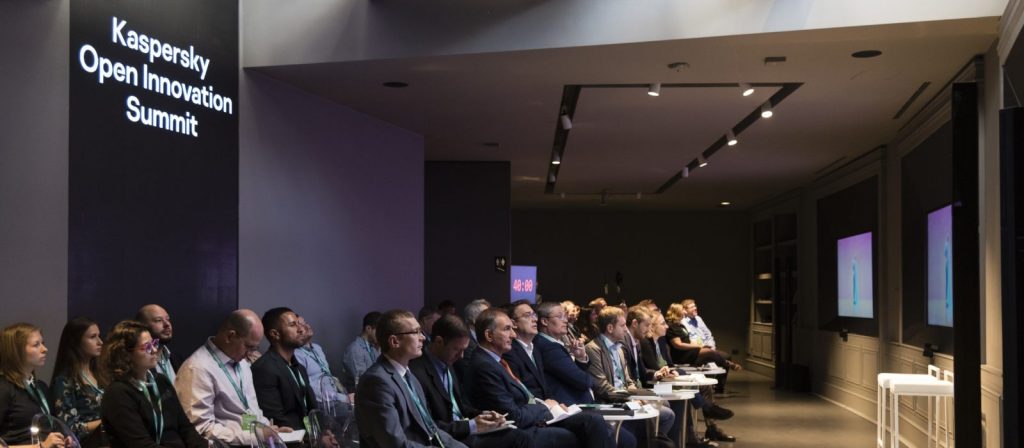 Key benefits of Kaspersky's innovation programme
Startups can progress their cybersecurity initiatives through the programme in a number of ways.
Land an illustrious client
Kaspersky, a multiple award-winning, multinational organisation, is a significant client for tech startups entering the world of cybersecurity software.
"A world where innovation not only improves our everyday lives, but empowers us to build a better future. That's our mission." — Kaspersky
Kaspersky's cybersecurity software protects over 400 million users and helps 250,000 corporate clients worldwide. Its portfolio includes solutions and services to suit a wide range of customers.
Successful applicants will be granted access to the company client base, paving the way for networking opportunities and a competitive edge on cybersecurity projects.
Pilot cybersecurity projects with experts
Running a successful pilot project for a product or solution is complicated.
The process takes in-depth planning, training and A/B testing across functions.
An assigned Kaspersky project manager will help startup leaders to launch and grow pilot projects, offering expertise, feedback and product validation throughout the process.
Develop and promote solutions
Successful candidates will pitch their cybersecurity initiatives to Kaspersky's jury of experts, who will discuss on the day potential opportunities to work with the startup.
Kaspersky's team will also market their chosen candidate's product through strategic multi-channel and event marketing, making credible cybersecurity projects seen and heard internationally.
The opportunity for partners to integrate with Kaspersky products is also possible.
Experience programme perks and services
Kaspersky's programme offers multiple perks to startups with best-in-class cybersecurity ventures.
Tech experts will be at hand throughout the collaboration process to develop cybersecurity software with innovators, ensuring consistently high-quality output. Startup leaders will also have access to several Kaspersky products, including endpoint security and internal tech communities.
The perks continue with tailored business advice from a designated project manager, who will support team and technology integration and share critical trends in cybersecurity with candidates.
International exposure is the key benefit of the programme.
Important application details
The programme does not have an application fee.
Applicants must have a legal entity, product or prototype, and several closed deals or ongoing pilots.
Applicants must present advanced products or solutions to potentially work with Kaspersky. Startups must be B2B with particular focus on small to medium-sized enterprises.
"Business leaders are forging ahead with their digital business initiatives, and those leaders are making technology-related risk choices every day. Increased cyber risk is real — but so are the data security solutions." — Gartner
The global cybersecurity market is worth $173bn in 2020. It is predicted to be worth $270bn by the year 2026.
As trends in cybersecurity evolve at an exponential rate year-on-year, corporate and startup leaders must join forces to keep up.
For more details and to apply to take part in the challenge, click here. The closing date for online applications is September 13, 2020.