New regulations announced in Barcelona on Friday have placed a limit on the number of shared electric mopeds in the city. Now, a maximum of 6,958 vehicles will be permitted on the city's streets, divided evenly between 21 providers.
That means just 331 vehicles per e-moped operator.
For leading Spanish urban mobility platform Cooltra, this means that of the 1,600 vehicles it currently operates in the city, more than 1,200 must go.
And it's not only mopeds that are going — with 80% of the fleet on the way out, a substantial number of the 80 people employed on Cooltra's operational side in Barcelona, who swap and recharge batteries, could be fired.
No boss ever wants to lay people off en masse, but the new regulation is creating questions that will be even more complicated to answer, according to chief executive and cofounder Timo Buetefisch.
"We also have fixed investments. Our charging hubs where we load the batteries overnight are very complex building structures with very expensive installations. It's very expensive to implement these and we can't just move them and rebuild them in Madrid," he says.
Bad for users too
Buetefisch is also concerned that e-moped users' experience will be greatly compromised. People may need to download apps from many providers in order to find an e-moped near them, as with so few scooters allowed per operator, they'll be spread out far and wide across the city.
"A user doesn't want to download 17 different mobility apps to their phone," he says. 
The same criticism has been made of Copenhagen's decision to split an electric kick scooter tender between 10 operators. Fredrik Hjelm, chief executive and cofounder of Swedish e-scooter startup Voi argued in Sifted that it makes much more sense for cities to choose just a handful of providers for micromobility services, and hold them to high standards.
An occupation of the public space?
Buetefisch believes that Barcelona's decision, which he says is based on outdated research from 2017, is far too conservative. "They should have just been more generous and, let's say, a little more progressive," he says. "I always said [the city] should have been at least 10,000 vehicles."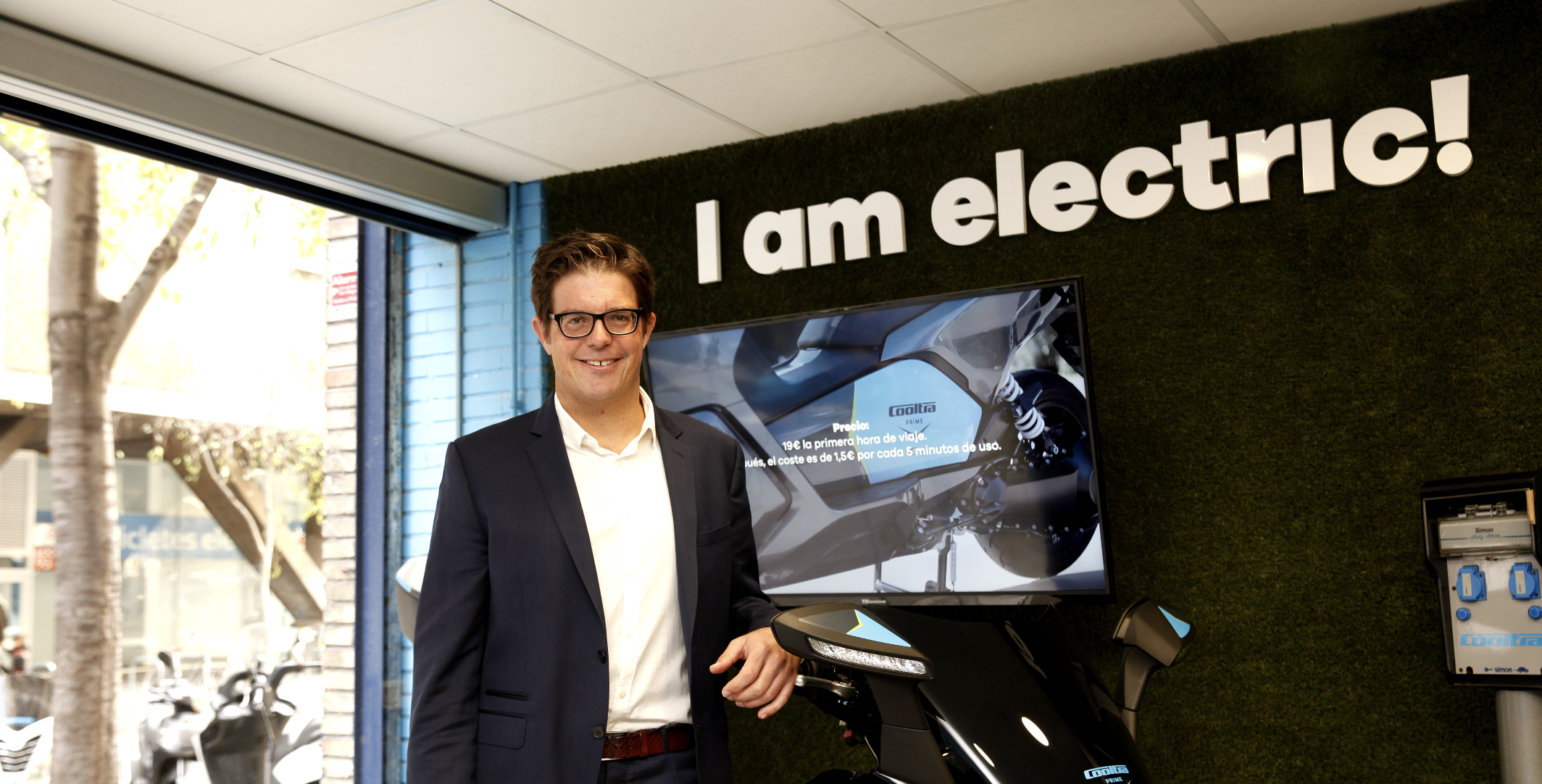 One of the reasons for what Buetefisch sees as heavy-handed regulation is a growing concern among citizens about a free-for-all for private companies like Cooltra, who could potentially dump hundreds of vehicles in the public space without oversight.
Buetefisch believes that this is more a matter of perception than an accurate picture, however.
"The thing is that because all of our vehicles are branded in the same way, people see these scooters more. And some citizens have the feeling that we occupy public space which I would understand, if the number was 30,000, but it's not. If you look on a normal street, only 2-3% [of mopeds] are shared mopeds. People think we are occupying more space because we are more visible," he argues.
A crowded field
Whether you agree with them or not, regulations like these make life significantly harder for companies like Cooltra, which already operate in a highly competitive market.
Rival moped sharing startup COUP went bust last year, citing the high costs of recharging batteries and vehicle maintenance, which made the business uneconomical.
Cooltra, meanwhile, was profitable in 2019, a success that Buetefisch puts down to lean operations, dedication to customer service and scale — today the company is active in six countries with more than 950,000 users.
Despite this, since founding his company 14 years ago Buetefisch has learnt that it must have at least 1,000 vehicles in any given city to achieve profitable economies of scale. 
And while Cooltra will be able to survive the limit to 331 vehicles in Barcelona, due to its size as a company, other smaller providers might not.
Where next?
Despite the prospect of reducing his fleet in his hometown by 80%, Buetefisch remains philosophical about the future of electric moped sharing, saying regulations like this is part of large scale change to more environmentally sustainable mobility.
"It's a transformational process. Old vehicles don't disappear from one day to the next, so we have to create the offer," he says. "Take Barcelona, the idea is to reduce the number of 350,000 combustion vehicles, and the ideal scenario in five years would be 50,000 of those replaced by shared vehicles." 
Buetefisch says he would like to see more creative policy making from public officials, suggesting the possibility of "scooter islands", where shared vehicles could be parked separately from their privately owned counterparts to reduce tension.
He also sees a scenario where companies like his would have to change their role, if municipalities were to offer an all-in-one mobility app, as they already do in the German cities of Augsburg and Nuremberg.
"There will be an app that will integrate different operators, so you can switch between car sharing, bike sharing, public transport, scooter sharing etc. That's where I think the industry is going," he says.
Buetefisch insists that, due to dealing with disconnected regulators in multiple municipalities, the future of electric vehicle sharing is too dynamic to predict accurately. He is, however, sure that Barcelona's decision is just a road bump on a journey to lower emission, shared mobility solutions in our cities.