To understand the secret of France's entrepreneurial boom, take a close look at state bank Bpifrance, an economic beast whose tentacles reach into every corner of this nation's innovation ecosystem.
Between direct and indirect investments, Bpifrance poured €1.6bn into French tech startups and venture funds in 2022 alone, up from €1.51bn in 2021. Since 2016, those investments total €7.2bn.
There's barely a French startup it hasn't touched. Last week, the government unveiled its latest French Tech Next40/120 list of the nation's most promising startups. A closer look at the cap tables of the 120 companies reveals that 51 raised some kind of direct investment from Bpifrance, according to Dealroom.
And many more — if not all — received indirect money from Bpifrance via its fund-of-funds, which has made it a limited partner in at least 56 VC funds that operate in France.
But the money is only the start of the ways the bank helps startups, including organising hundreds of events each year, mentoring and networking.
Even in Europe, where government investment in the economy is de rigueur, Bpifrance stands apart. And, a decade after its creation, its mission continues to expand with programmes to stop climate change and rebuild France's industrial base.
At the heart of all these spiralling efforts lies a core strategy: betting big on startups to provide the solutions.
"There is only one thing that interests us, and which is our mandate, is to help French entrepreneurs realise their potential," said Bpifrance's executive director Nicolas Dufourcq during a recent appearance at the French Senate. "Moreover, we think that there are not enough entrepreneurs in France so it means multiplying the number of entrepreneurs."
A bank for entrepreneurs
Understanding how Bpifrance pursues its mission to support innovation can be daunting. The bank pumped €67bn into France's economy in 2022 through a vast array of investments, loans, financing guarantees and export insurance. The goal is to spur innovation, research and entrepreneurship at companies new and old, big and small.
So let's take the case of just one business — quantum computing startup PASQAL — to demonstrate how Bpifrance is attempting to transform the nation's innovation economy.
PASQAL emerged from research being done at France's Institut d'Optique led by cofounder Alain Aspect, who won the Nobel Prize in physics last year.
The launch of the company coincided with the French government's creation of a €2.5bn deeptech programme (since expanded by another €1bn) to be run by Bpifrance. The goal: create 500 deeptech startups annually that were based on breakthrough scientific research in areas like quantum computing, robotics, life sciences and semiconductors. The challenge: researchers and entrepreneurs couldn't see eye to eye.
Bpifrance set about changing this with a team that toured universities and research labs to talk up the roles of entrepreneurs and the potential for such work to have a much larger impact on society.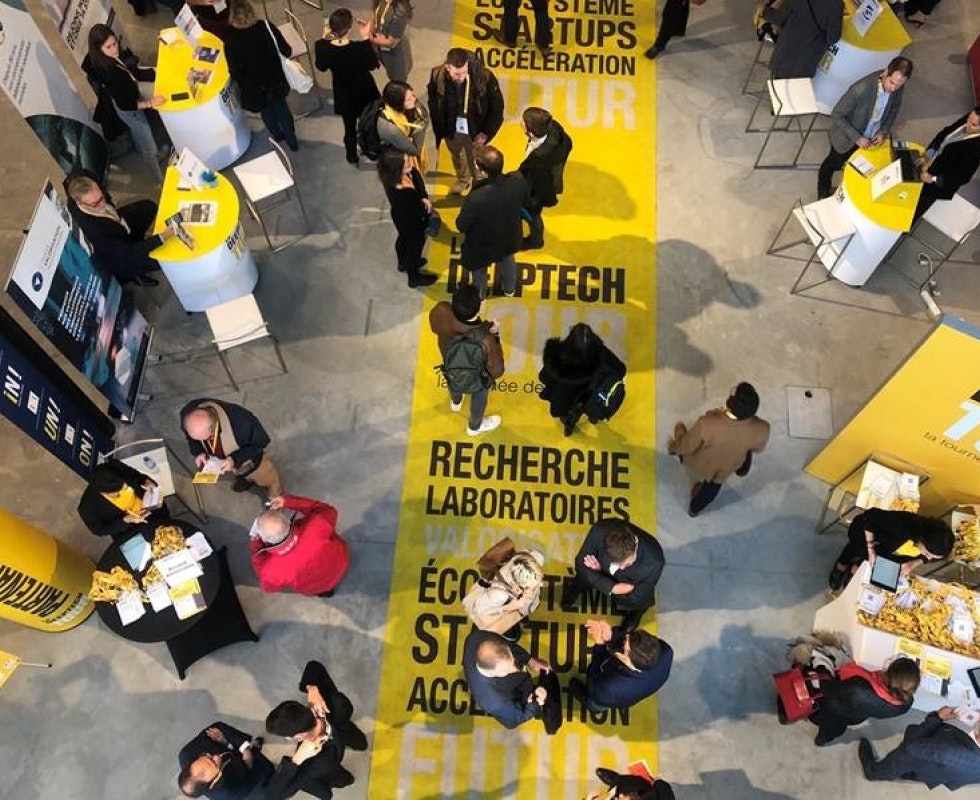 The so-called Deep Tech Tour has so far made 35 stops hosting more than 20k undergraduates, doctoral students and researchers to give them a dose of inspiration along with some practical guidance on how Bpifrance can help spin science into a startup. The bank has also partnered with France's national research agency and its 13 tech transfer offices to give a boost to entrepreneurial-minded researchers through online tools (including an idea sense checker and an online deeptech platform to help researchers, entrepreneurs, and investors connect).
Of course, this initial blitz of activity was too late to help PASQAL CEO Georges-Olivier Reymond, who had already spent a year trying to structure a licensing deal with France's research agency, CNRS. But with a deal in hand, Reymond was very quickly contacted by a Bpifrance representative who was eager to explain all the programmes that could be of help.
PASQAL received a €60k grant through Bpifrance's Bourse French Tech Emergence fund in 2019 that allowed Reymond to hire his first employee. That fund is part of Bpifrance's Innovation Financing, which allocated €4.47bn in loans, research subsidies and grants in 2022.
For PASQAL, the next step was a seed round in 2020 for an undisclosed amount. As part of that round, Bpifrance provided €250k in convertible options through the Digital Venture fund, an early-stage fund that matches each €1 from private investors up to €250k.
This kind of non-dilutive support is especially welcome for early-stage startups, says Reymond. "This really helps when we talk to other investors," he says. "We keep more of our value which makes us more attractive."
Along the way, Bpifrance also provided two loans totalling €2m to keep things moving until PASQAL was ready to raise its Series A. PASQAL also won Bpifrance's innovation competition i-Lab, which came with another €400k grant, adding up to a total of €2.71m in financial support during this embryonic phase. In 2022, Bpifrance spent €389m on innovation competitions like i-Lab, i-Nov and i-Demo to boost innovative ideas in different sectors.
Through every stage, Bpifrance remained proactive in finding ways to support PASQAL.
"You don't have to ask because they will call you and say, 'Hey, George, I have this programme you might be interested in.' It's amazing," Reymond says. "It can be hard to find the right programme suited to your needs because they have so many, but they will help you find the ones you need."
Along for the ride
Bpifrance's Rolodex of contacts and introductions facilitated the company's Series A round of $30.5m in June 2021. The round was led by Quantonation, a Paris-based quantum VC firm, but also included money from Definvest, the Defense Innovation Fund which is managed for France's military by — you guessed it — Bpifrance. Other participants in the round included Luxembourg-based Runa Capital, Daphni and US-based corporate venture fund Eni Next.
Quantonation and Daphni also have received money from Bpifrance via its fund of funds. Bpifrance allocated €900m to VCl funds in 2022 (including Singular, Iris and Xange), up from €725m the previous year, according to its 2022 annual report.
The goal was to help VC funds leverage this money to attract outside investors. According to Dealroom, French VCs closed €3bn in new funds in 2022 compared to just €250m in 2012. But it was also intended to attract more foreign investors like Runa and Eni Next, which accounted for as much as 84% of French startup funding in Q3 2021, according to a recent State of the French Ecosystem report by Eurazeo partner Alexandre Dewez.
"Our strategy from the beginning is to have an ecosystem that is entrepreneur friendly and where it is trendy to become an entrepreneur," says Paul-François Fournier, senior executive vice president for Bpifrance Innovation. "Our financing tools permit us to accompany many, many startups. But the second pillar of this strategy is to develop the venture capital industry in France so that it can also attract international investors."
PASQAL has continued to gather momentum as it co-develops its quantum technology with corporate partners. That helped it raise a €100m Series B in January 2023, which was led by Singapore-based growth equity fund Temasek, but also included direct investment from Bpifrance through its Large Venture Fund. That Large Venture Fund invested €363m in 27 startups (including Younited and Homa Games in 2022), up from €287m in 33 companies the previous year, a push that no doubt cushioned the blow as other venture funding dried up in 2022.
"PASQAL truly illustrates the excellence of French research and the competitiveness of the French quantum ecosystem," wrote Julien Bacaer, a VC investor at Bpifrance's Large Venture fund, on Medium. "But we are convinced it's only the start of a bigger success story and we just scratched the surface of the company's potential."
Even now that PASQAL has blue chip customers such as Airbus, Siemens, and Johnson & Johnson, and development partnerships with chip giant Nvidia, Bpifrance is finding new ways to support its growth.
One is on talent: PASQAL has 100 employees but plans to double that number in 2023. The bank offers a database of potential recruits for high-level executive positions.
Another: international expansion. Starting in late 2021, PASQAL participated in Bpifrance's Immersion International programme, which starts with an intensive boot camp. Startups receive presentations about ecosystems outside of France where they may expand, including tutorials on local business culture, legal and regulatory issues, coaching on pitching and market studies. That was followed by a week-long immersion in Texas where Pasqal execs and life science startup Avatar Medical (2 of 15 French startups which travelled to different North American cities) attended conferences and were introduced to key high-level individuals who could help them navigate the terrain.
A third: network. The bank is cosponsoring the Q2B Conference in Paris this May, an event dedicated to discussing the market potential for emerging quantum technology. PASQAL will be on stage. Last year, Bpifrance either organised or sponsored 574 events of all sizes around the world to connect entrepreneurs and investors, establish communities among founders and encourage students to become entrepreneurs. That includes its own annual mega innovation conference, Bpifrance Inno Génération (BIG), where Reymond spoke and which draws more than 60k people to Paris' Accor Arena.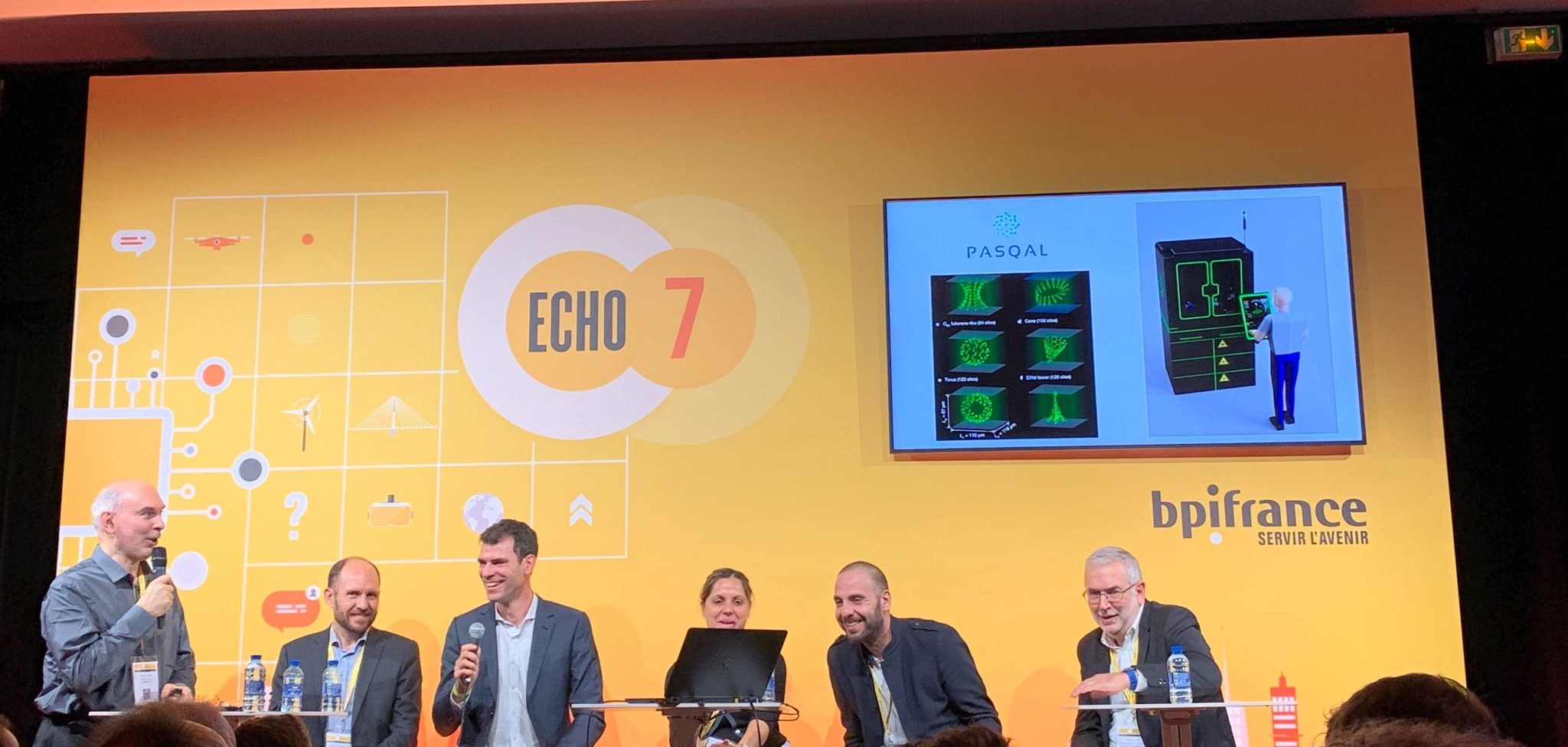 On top of all of that, Bpifrance has offered PASQAL grants intended to help companies study new markets and identify commercial prospects.
"It's not a big amount of money, but everything helps when we're at this stage," Reymond says.
​​By the numbers, this deeptech bet seems to be paying off. According to Bpifrance's statistics, France produced 250 deeptech startups in 2021, up from 150 in 2019. As such, the government announced in January that it was allocating another €500m to the deeptech programme, for a total now of €3.5bn.
"This is a long-term effort to encourage a new ecosystem of startups that is even more tech-focused," Fournier says. "Despite the [funding] crisis, or perhaps even because of the crisis, we must prepare for the future and continue to invest."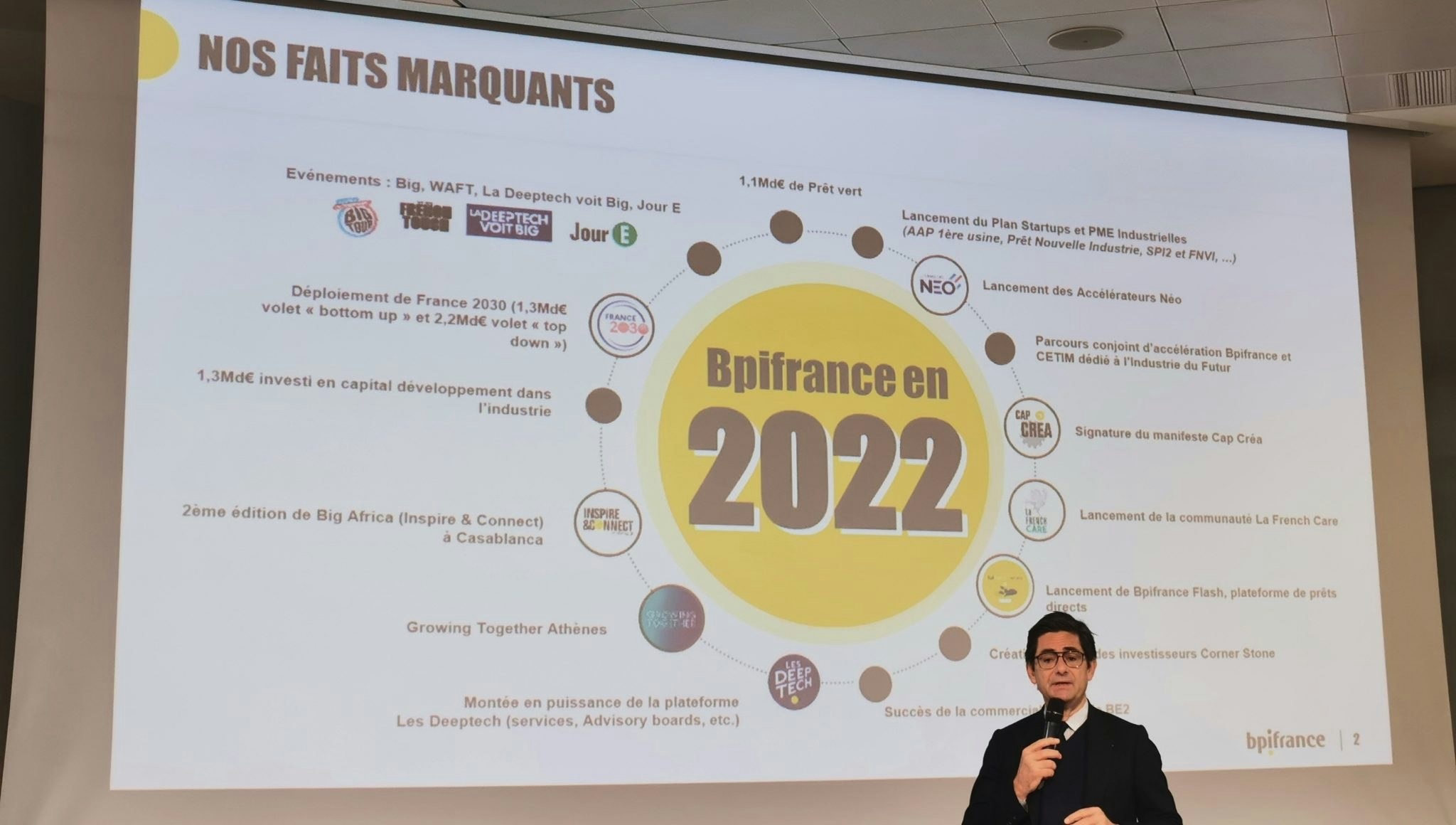 A bigger envelope
There can be carping in some corners that French startups are too dependent on Bpifrance's largess, or that there is not enough transparency around the performance of VC funds receiving its backing.
Perhaps the most wide-ranging evaluation of Bpifrance was conducted in 2021 by France's national audit institution, the Cour des comptes, at the request of the National Assembly. The auditors overall found "encouraging initial results" from Bpifrance's first decade, citing the increased number of startups and funding that had vaulted France into Europe's upper entrepreneurial ranks. Still, despite the positive numbers, the auditors wrote that it is hard to know how much credit Bpifrance should get because it is "difficult to quantify" to what degree this financial and non-financial aid is responsible for the acceleration of innovation in France.
Others remain far more effusive. Former French Digital Minister Fleur Pellerin, who created the La French Tech programme in 2012, credited the bank with turning the tide.
"One of the issues we had was what we called the 'Death Valley' of financing," she wrote recently on LinkedIn. "Thanks to the creation of Bpifrance and its critical role in structuring both the VC and the startup ecosystem, the FrenchTech has substantially bridged the gap that separated France from the UK or Germany in terms of innovation dynamism."
Bpifrance's role has won surprising support across France's normally fractious political spectrum. Dufourq, who has led the bank since its creation, recently won approval by the National Assembly for his third five-year term with hardly any dissent.
Meanwhile, the French government continues to broaden Bpifrance's mandate.
That includes managing much of the €54bn France 2030 plan unveiled by Emmanuel Macron in October 2021. The goal is to invest in everything from electric vehicles to hydrogen to agricultural technologies to low-carbon-emission planes; basically, a grab bag of innovations that could reshape the economy and daily life.
The bank now also co-manages a €40bn climate plan to back climate tech startups but also to underwrite expenses through loans and studies by traditional businesses as they invest in the transition to more eco-friendly modes of energy consumption.
And Bpifrance has turned its attention to rejuvenating a manufacturing sector in France that has long been in decline. Last year, Bpifrance announced a €2.3bn programme using some of that France 2030 money to encourage the development of new factories in France through a variety of financing tools such as loans, investment, insurance and loan guarantees. That will include a new National Industrial Venture Fund (Fonds National de Venture Industriel or FNVI) to invest in some of the most innovative manufacturing projects.
The goal is to leverage these emerging deeptech products, like perhaps eventually PASQAL's quantum computers, and ensure that they are built in France. Dufourq, during his annual press conference to present Bpifrance's results, said industrialising deeptech innovations presents an important opportunity for the bank because financing is difficult and projects can be long and expensive.
"We want to participate in the new wave of innovation which, beyond digital, is appearing in traditional sectors," he said.
Those types of support await PASQAL should it reach mass commercialisation and need to build its quantum technology at scale. If that happens, Reymond has faith that Bpifrance will be there for every stage of the journey.
"What I like with them is that they are very supportive as an investor," Reymond said. "They're clearly not here to make just an IRR. They are really here to help a company work and be successful. And they are here for the long term. And yes, they played a pretty big role in PASQAL, and I'm sure they will keep doing that."