After raising €600m in fresh funding — and doubling its valuation to €4bn — Estonian startup Bolt is moving into the speedy grocery sector.
The company describes itself as 'the European super-app', offering ride-hailing, scooters and takeaway services, and says its latest funding will go towards Bolt Market, the company's new 15-minute grocery delivery service.
"Bolt can offer a better and more affordable service thanks to the synergy between our product verticals," the company's CEO, Markus Villig, told Sifted. 
Bolt's funding comes from new investors Sequoia, Tekne and Ghisallo, as well as existing backers G Squared, D1 Capital and Naya. The Tallinn-based company, founded in 2013, last raised €150m in December 2020.
Bolt Market
With Bolt Market, the company's looking to capitalise on the on-demand grocery market — currently one of the hottest sectors in Europe. The industry's seen strong investor appetite since the pandemic hit, with companies like Getir and Gorillas bringing in large funding rounds.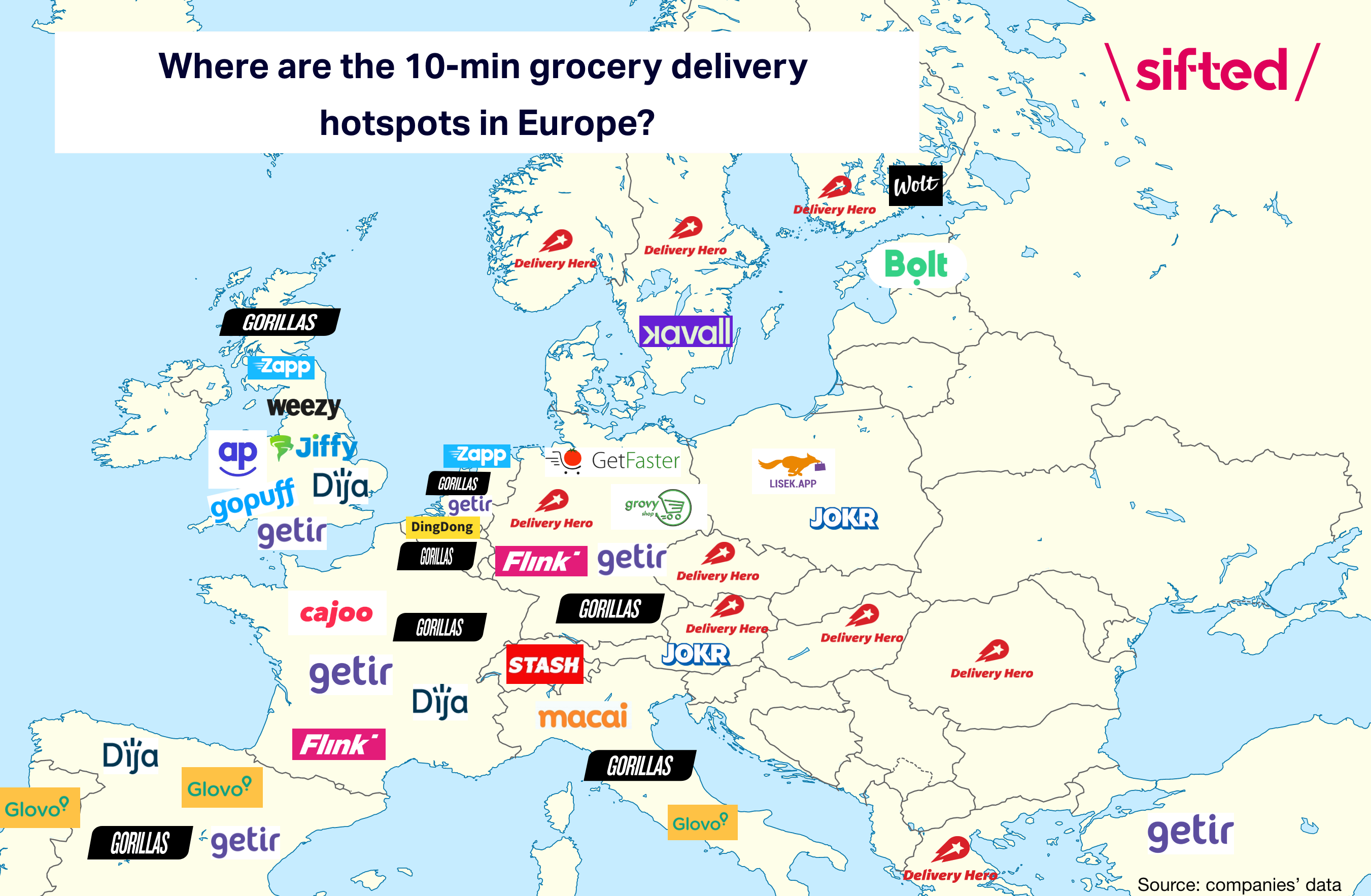 Bolt Market is already being piloted in Estonia, and will roll out soon to Latvia, Lithuania, Romania, the Czech Republic, Poland, Slovakia, Croatia, Portugal and Sweden in the coming months. (These are currently some of Europe's less competitive markets for on-demand grocery.)
"We will start with the capitals, with plans to expand to more cities in the future," says Villig. 
Bolt's not the first takeaway company to pivot into the market. Spanish food delivery platform Glovo started experimenting with dark stores back in 2018 and, in 2019, Germany's Delivery Hero followed suit, launching dark stores in Turkey. 
Bolt will also operate out of dark stores in cities — places where food is stored specifically for delivery — as well as working with supermarkets directly. 
"Bolt Market is essentially a 'dark stores' business model, meaning we will deliver essential goods to our customers within 15 minutes. On top of that, we also aggregate supermarkets on the Bolt Food platform and plan to scale this business model in the future. We believe there's high potential in both business models," says Villig. In this, it's not alone: Deliveroo, Glovo, Uber Eats and Wolt all also partner with supermarkets.
Bolt won't disclose how many dark stores it will be opening, but says it's planning to operate 'hundreds' in the coming years.
Villig says the fact that Bolt works across different verticals means the company has something different to offer consumers, compared to the existing cohort of on-demand grocery players. 
"We're used to competing in highly crowded and competitive markets — we've been doing it in ride-hailing and food delivery for years," says Villig.
Europe's 'super-app'
Bolt describes itself as 'the first European super-app.' It's a concept popularised in Asia, where companies like WeChat and Alipay offer consumers a one-stop-shop for everything from communication to finance, ride-hailing and online shopping. 
Bolt started off with ride-hailing, before opening its takeaway delivery service, Bolt Eats, in 2019 and then Bolt Mobility in 2020, offering electric scooters in cities across Europe and Africa.
"Thanks to the shared overheads and passing our previous experience and technology on to new products, we are able to offer all these services to our customers more affordably," says Villig.
He says there are no immediate plans to move into any further sectors, but that the company is considering other services in mobility for the future.