Armenia is best known for its long and tragic history, fearsome chess players and fiery Ararat brandy. But in the late 20th century it also acquired a reputation as the Silicon Valley of the Soviet Union. The small Caucasian nation of 3m people boasted some the country's best technical institutes and many of its smartest engineers.
The trouble was that so many of them fled Armenia in the 1990s as the country slid into post-Soviet chaos. But last year's peaceful "velvet revolution" and renewed investment interest from Armenia's 8m-strong diaspora have revived hopes of an economic resurgence and have fuelled a new phenomenon: an energising brain gain.
With experienced entrepreneurs returning home from the US and a new generation of engineers attracted to the bustling capital of Yerevan from Russia and Ukraine, Armenia is determined to follow Israel in becoming the next Startup Nation. The two countries certainly share a lot in common: a lack of natural resources, reverence for brain power, technological ingenuity - and antagonistic neighbours. Sandwiched between Turkey and Azerbaijan, with which they are still technically at war, Armenians joke that they would trade 3,000 years of troubled history for a better location.
Nina Achadjian, a partner at Index Ventures and diaspora member who raised a $10m Armenian investment fund in 2015 called Hive, says that the country boasts a history of entrepreneurship and a culture of survivorship that makes it particularly fertile ground for startups. "There are a lot of talented mathematicians and engineers in Armenia who can be hired for a fraction of the cost of Silicon Valley," she says.
[caption id="attachment_2210" align="aligncenter" width="599"]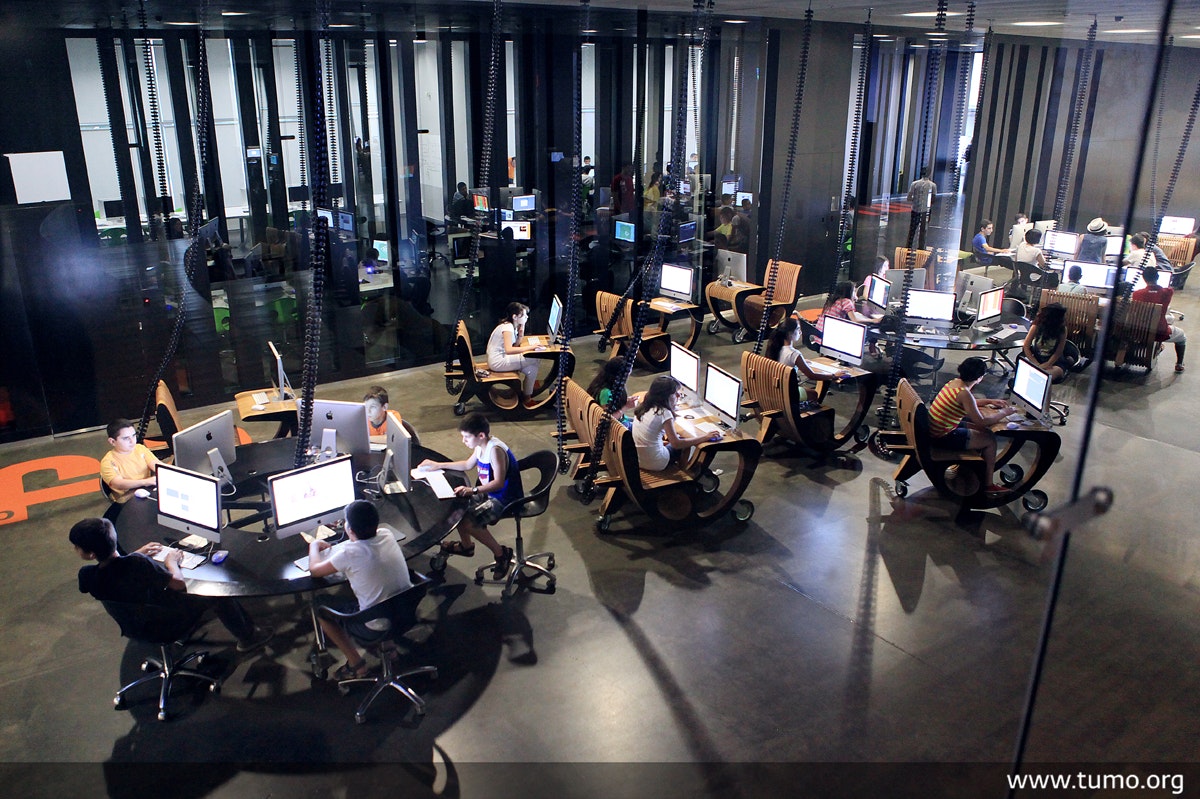 Tumo Center for Creative Technologies[/caption]
More than 15,000 people work in Armenia's tech sector, which accounts for about 6% of GDP. Several western firms, including Lycos and Synposys, have successfully run offices in Armenia for years employing hundreds of software developers. But some of these engineers are now "graduating" from such companies to found their own startups.
A new generation of coders is also emerging from Armenia. One innovative new educational institution is Tumo, which runs after-school classes for thousands of students, encouraging them to acquire mostly self-learned digital skills. Tumo runs four centres across Armenia and is expanding soon to Paris, Beirut and Tirana.
A prominent businessman in Yerevan says the revolution has opened up new possibilities for Armenia and the progressive, but inexperienced, government of prime minister Nikol Pashinyan is almost operating as a startup itself. "But we need free courts, democratic elections, and government to pass laws and make the tax system easier to develop business," he says.
Here are three of the most interesting new firms:
PicsArt
Armenia's best-known startup is PicsArt, an image sharing and editing app, which claims to be the world's biggest creative community with 130m unique users operating in more than 30 languages. Having taken in $45m from the likes of top VC firms Sequoia and Insight Venture Partners, PicsArt may be on the way to becoming the country's first unicorn. "We had the right product, and the right timing, and the right team," says Mikayel Vardanyan, PicsArt's chief product officer. "The unicorn effect will happen very soon."
Although it was launched in 2012 in San Francisco, PicsArt has the bulk of its operations and most of its 380 employees in Armenia. It has also opened offices in Russia and China, which it hopes will become a big growth market. Walking around the company's industrial-chic offices in Yerevan, one difference to many other tech firms quickly becomes obvious: half the employees are female and the average age is below 23. "If you want anything done ask an Armenian woman," says Vardanyan.
Users are able to share and edit images in any way they want, crowdsourcing global creativity. PicsArt makes money from premium subscribers and by running brand or celebrity campaigns for the likes of the Swarovski jewellery business or AJ Mitchell, the American singer-songwriter. Designers and fans can co-create Instagram-friendly images deepening levels of engagement.
PicsArt has also become an interesting platform on which to follow the shifts in global moods and popular culture. The service was widely used by Armenians last year, for example, to signal support for the peaceful insurgency of Nikol Pashinyan, the leader of Armenia's velvet revolution, now installed as prime minister. "We have a lot of data that shows us what is happening where. We can pick up on a lot of trends and memes," says Vardanyan.
What are PicsArt's ambitions? "World domination and maybe an IPO," says Vardanyan. "We would list in the US."
2hz
Davit Baghdasaryan is a great example of an Armenian repatriate. After working for 9 years on the West Coast of the US, the software engineer and his wife returned to Armenia in 2017 looking to reconnect with family and explore new business opportunities.
He quickly teamed up with Arto Minasyan, a physicist from Yerevan State University, and founded 2hz, a noise reduction technology company that is generating a lot of international interest. "Arto knows how Armenia works and I know how the US works," says Baghdasaryan.
Like so many startups, the 2hz founders knew they had some interesting audio technology but were initially clueless about how to apply it. "We had no experience in audio so we approached the problem in a different way, from a maths and physics perspective. We built an app that can understand what is a human voice and separate it from everything else," says Baghdasaryan.
The two founders needed a go-to-market strategy and developed their business thinking at Berkeley University's Skydeck accelerator. "We spent 6 months over there. They invested $100,000 and then we raised $1.5m from US VCs," he says. "What we have today is pretty unique and we want to scale it to become a big business."
Over the past two years, the two founders and a team of 8 researchers have trained their ML programs on tens of thousands of human voices, allowing them to identify any voice in 10 minutes and filter out background noise. They are currently negotiating with smart speaker vendors to use their technology on tens of millions of devices.
Their app called krisp.ai enables clearer communication via a Skype call, for example. The strategy is to build an app business around Krisp, which will be the new name for the company. "It is not just a noise cancellation app but also improves productivity during calls made by remote workers. You can take a call with a crying baby in the background or from a busy Starbucks," says Minasyan.
Baghdasaryan says that the startup scene in Yerevan still lacks a dense network of angel investors and experienced entrepreneurs who can provide early stage money and expert advice. But he has no regrets about his move back to Armenia.
"It was a great decision. There is a lot of talent here," he says. "There is no way I could have found these people in the US because Google and Facebook would have already hired them."
"Armenia has gone from being an outsourcing country to an interesting tech centre. I have no doubt that when the economy develops and people from abroad see these opportunities a big percentage of them will move back."
D'efekt
Nane´ Toumanian was excited to have been chosen for Apple's international women entrepreneurs programme allowing her to spend time recently in Cupertino. But she is even more excited about the startup she helped found last year in Yerevan called d'efekt, a "creative playground" that allows users to apply different effects to video.
After studying architecture and working in graphic design for 10 years, four of them in Paris, Toumanian started experimenting with video art and thought she could turn her idea into an interesting business, launching a startup with two friends, Tatevik Gasparyan and Vahagn Khachikyan. "I am an artist, the other guy is a nerd, and the third one is a realist," says Toumanian, who is the company's CEO.
They have bootstrapped the company's expansion so far but are now looking to raise seed money from two VCs and develop a marketing plan. "So far we have not done any marketing for the app. Everything is happening because it is happening," she says.
https://www.instagram.com/p/BsrR1Y0BIIj/?utm_source=ig_share_sheet&igshid=9icksf9tr7m9
D'efekt's technology enables users to apply 14 different effects in real time to video creating some striking images. One video of a Frida Kahlo image, created by a Toronto photographer Helen Breznik, has been viewed more than 6.3m times on Instagram.
The company makes money by charging users $1 to $2 for some of its more complex effects. It also costs extra to remove the company's branding watermark from the videos. It has been releasing a new effect every month. "The app is only 20% of what we want to do," she says.
D'efekt is operating in a crowded and faddish market but Toumanian argues that it is offering something unique. "There is no other app that has these kinds of effects," she says. "We want each of our effects to be like art and that is not so easy to replicate."
Yerevan is becoming a good place to develop a digital business, she says. "Compared with Silicon Valley, software developers earn nothing here. But they are the highest salaries you can get in Yerevan."
She also argues that in cyberspace nothing is dependent on location. "You can be anywhere in the world." That thinking has a particular appeal in Armenia: after centuries of regional strife, the country may have finally found a way to rise above its troubled neighbourhood.
This article has been changed to reflect that Mikayel Vardanyan is PicsArt's chief product officer, not its chief technical officer