The Apprentice's Alan Sugar and Entrepreneur First (EF) cofounder Matt Clifford are engaged in a comical public spat about whose organisation is doing more for the overall economy. 
It's a battle between a 72-year-old businessman and a young entrepreneur who has been instrumental in the formation of some of the continent's most successful tech startups.  
It all kicked off after Clifford argued in a City A.M. column on Wednesday that The Apprentice, a British business-style reality game show modeled on a US programme formally hosted by Donald Trump, is "bad for business".
Clifford claimed the BBC show "has skewed people's perception of what starting a business is about" and that many candidates have little to no business acumen — something that is only too apparent to anyone that has ever watched the show. 
The column didn't go down well with Lord Sugar. "What a load of boll..ks by the non achiever @matthewclifford," wrote the London-born billionaire in a tweet containing a link to the article. Lord Sugar went on to tell Clifford that he would do well to "recognise" how winners of The Apprentice "are making a load of money" and employing over 400 people. 
Clifford responded with a crushing reply. As the internet kids would say, Clifford well and truly pwned Lord Sugar in a follow-up tweet where he drew direct comparisons between The Apprentice and EF.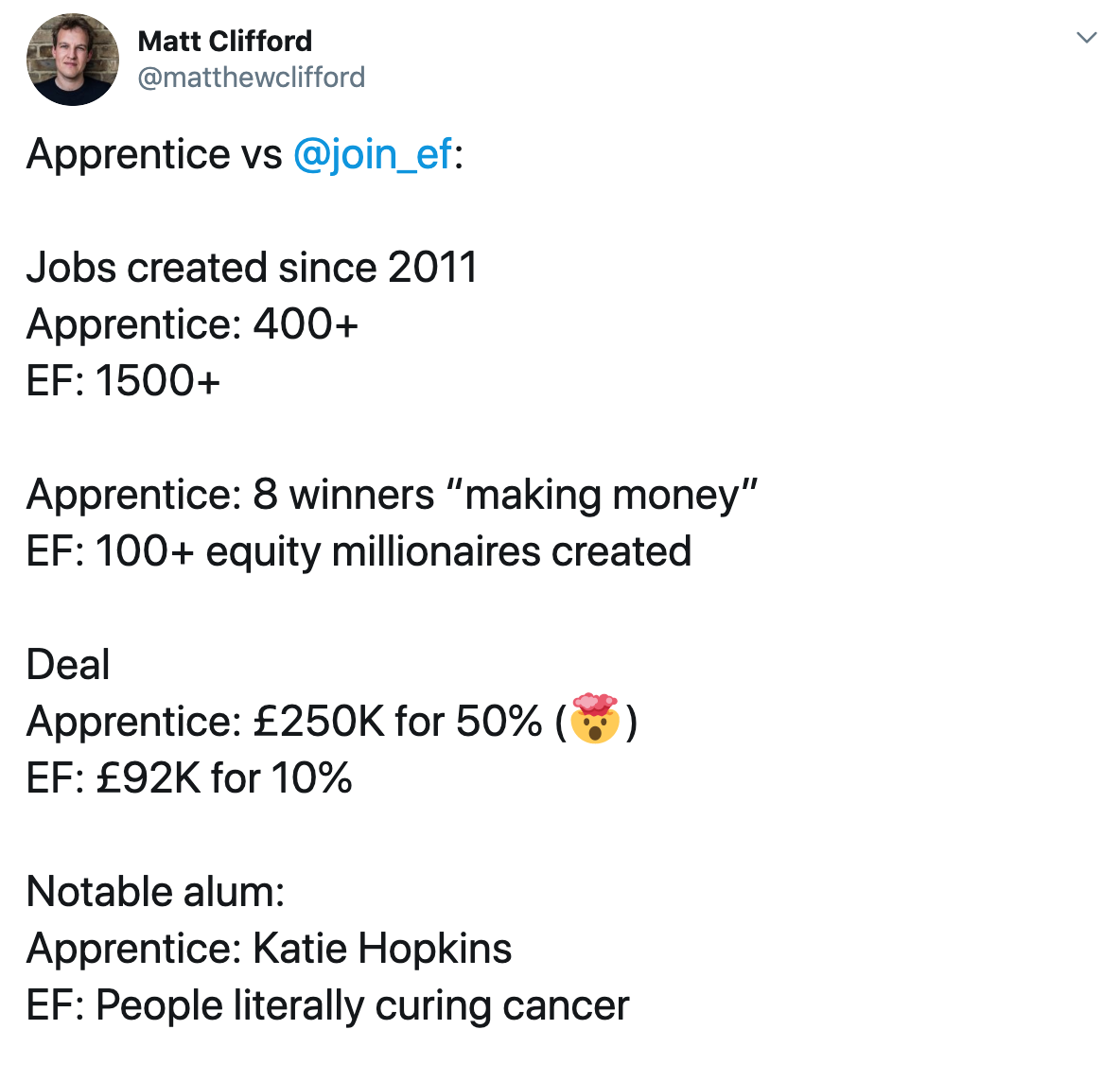 Venture capital investor Fred Destin congratulated Clifford on "schooling" Lord Sugar in guerilla marketing and company building. 
For those of you that don't know, EF was founded in London by Clifford and Alice Bentinck in 2011. It started out trying to convince super-smart graduates from Oxford, Cambridge, Imperial and other universities to shun a career at places like Goldman Sachs or McKinsey in favour of launching a startup that has the potential to change the world.
EF gave the aspiring entrepreneurs a stipend to live off in exchange for a small chunk of equity in the business that they created. In February EF raised a new $115m fund, which it is using to make follow-on investments in its cohort companies.
The EF programme — sometimes referred to as Europe's Y-Combinator, referring to the US accelerator famous for spawning multi-billion dollar businesses like Stripe, DropBox and Airbnb — has produced companies like Magic Pony (acquired by Twitter for $150 million in 2016) and Bloomsbury AI (acquired by Facebook in a deal worth up to a reported $30 million). The fact that Silicon Valley giants are snapping up EF's startups speaks volumes. 
There have been numerous other successful EF exits. The company claims that it has now helped up to create 230 companies in London, Berlin, Hong Kong, New York, Paris and Singapore, collectively worth over $1.5bn. Meanwhile, there are far fewer examples of big, successful companies set up by someone who won or appeared on The Apprentice. In Sifted's humble opinion, EF might just have won this one. 
Speaking to Sifted on Thursday Clifford added: "I think what we're proud of is making founding a company accessible to more than a thousand of the world's most ambitious people. Those people have achieved a lot so far — both financially and in terms of impact — but we really feel that we and they are just getting started.
"It's a decade-long journey to build a great tech company and the average age of our portfolio is about 18 months old (even the oldest companies from the current model are only 4.5 years old), so the journey is really just beginning. But when we look at companies like Cleo, Tractable, Magic Pony, Open Cosmos, AimBrain, Kheiron Medical, Flexciton, PolyAI, Bloomsbury, AtlasML, etc., etc., it's clear that something quite special is happening."
Lord Sugar did not immediately respond to a request for further comment.